What games would you recommend for Mother (Earthbound) fans?
Mr. Saturn
8 years ago
at Jul 7 2:08
-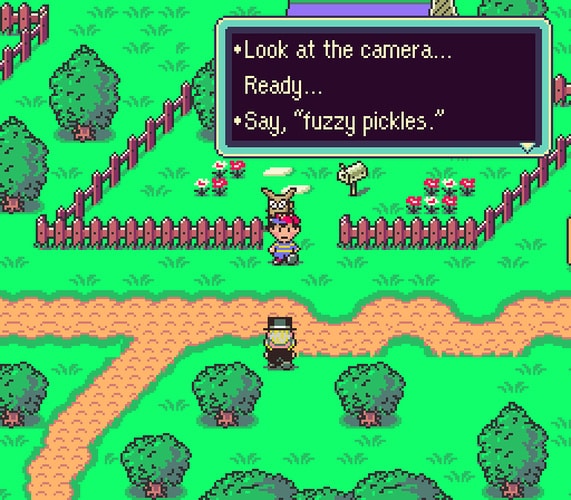 My
list of games
includes
Chrono Trigger
Dragon Quest IV and V
Yume Nikki
Super Mario RPG
Shigesato Itoi's No. 1 Bass Fishing
Costume Quest
The World Ends With You
Contact
Secret of Evermore
Maniac Mansion
Golden Sun
Moon: Remix RPG Adventure
Thanks for recommending games.
Yotsuya
8 years ago
at Jul 12 21:15
-
Maybe the Pokemons or the other early-mid 90's RPG's they are still porting to the DS and 3DS are in the same flavor.

It's been a couple months since I've been through that section though, my DSi is dying a slow death.
vapor
8 years ago
at Jul 13 2:26
-
Ah, Mother. My list here tends to draw parallels between presentation over story conent. Check 'em out!


Mario & Luigi and Paper Mario series (various)
Quirky, funny, cute, and colorful. It doesn't get very deep or thought-provoking like Earthbound/Mother 3, but is entertaining with interesting characters and enemies.

Dragon Quest: Rocket Slime (DS)
Quirkiness overload! As with the Mario games, not deep but just bursting with characters and color!

Radiant Historia (DS)
Takes the time-traveling mechanics of Chrono Trigger and turns it on it's head. You're able to revisit any moment in history (with a little back tracking involved perhaps) It's not really reminiscent of Mother series, but it warrants a mention. At first I thought it was dull, then I really got into the characters.

Chrono Cross (PS1)
Sequel to Chrono Trigger, with an amazing story if you dig deep enough. It's not completely presented, but smart gamers should get it pretty well. Do not compare it to Chrono Trigger, and like it for it's own merits, and you'll LOVE it. You play as Serge, who is essential the Chrono Trigger, an entity that's life or death causes a split in the time continuity creating 2 different worlds, one where he is alive, another dead. It has allusions to CT everywhere, of course, being a sequel.

Illusion of Gaia / Terranigma (SNES)
A friend of mine said the reason he liked IoG so much was because it felt like a n actual journey, and it really does. You play as Will, a telepathic/kinetic boy who goes on a journey to discover his power and stop impending doom to his planet. I haven't played much of Terranigma, but it plays like IoG, figured I should mention it.

Okage: Shadow King (PS2)
While the load times are horrible, and the dungeons could use some work, this game is really a personal favorite of mine. It involves a boy that gets possessed by an evil shadow. He then has to beat all the other people in the world that are possessed. Through this, him and his shadow gain an unique friendship. It's funny and has a wonderful graphical style, reminiscent of Tim Burton or some other gothy-cute thing. This came out years before Blue Dragon and is in no way related.

Legend of Zelda: Wind Waker (GC)
Beautiful and epic. Much like the Mother series, despite it's cute exterior lies an immersive story. It's not nearly as thought provoking as the Mother series, but it definitely is a wonderful tale.

I'll ask my friend if he has any recommendations to add, since he is an Mother fanatic. He's beaten EarthBound too many times to count... I hope I didn't just name stuff you already knew about or considered!
ape
8 years ago
at Jul 13 12:01
-
Contact (Nintendo DS) - It has a similar art style and comedy to it...Never completed it (or Earthbound for that matter, I'm ashamed to say) but it really does feel almost like a spiritual sequel. It's not as solid as the Mother games are, but if you like Earthbound, I think you'll appreciate what Contact tries to be.

EDIT: Bah, scratch that. Just re-checked your original post and saw that you already have Contact. Oh well, I'll leave the post up in case others may be interested.