57

vote
31043 Views Share:
Evolution of Disney Princesses

Add image to section
Princess Snow White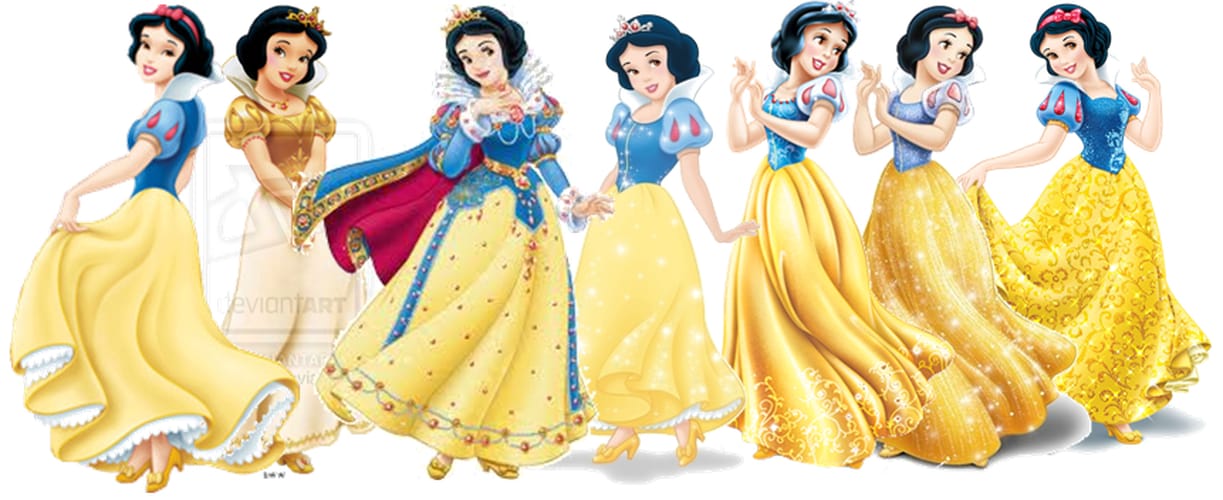 Snow White's late 2012 formal wear "redesign" did not receive many changes.
Her short black hair now has a curly appearance with her hair bow being moved to the side of her head instead of being centered in the middle. Her bow also has a lighter color. Her formerly white petticoat is now gold and her entire dress has many swirly designs embroidered onto it; the dress has subtracted some length so her shoes can be seen more clearly.
Most noteworthy, her traditionally pale skin color has been brought more in line with natural skin tones.
In some new images of her redesign, her body is changed to more like a young woman.
In early redesigns, her ebony black hair was much more crimped and her sleeves were transparent.

Add image to section
Princess Cinderella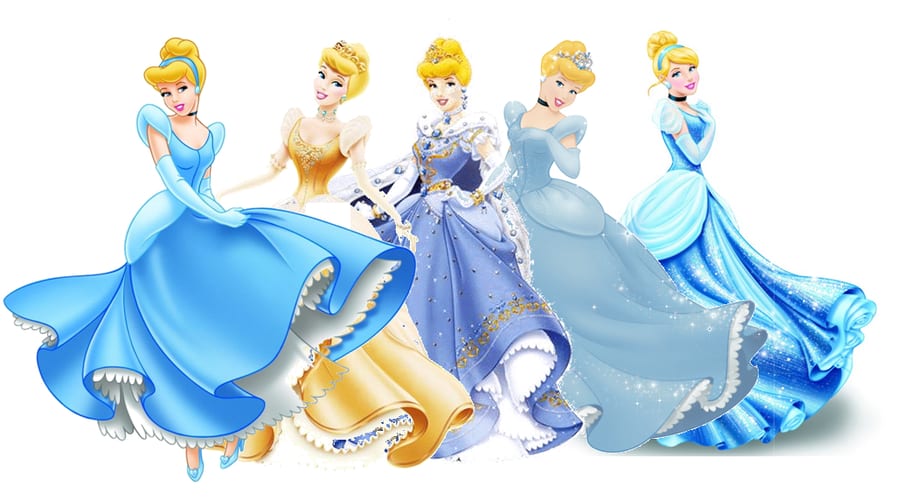 Cinderella received multiple changes in her late 2012 redesign.
Her hair is now a vivid bright blonde in color, is parted on the right side of her head and tied up into an elaborate, high chignon. Her headband no longer covers her ears, and she now has individual earrings.
Cinderella's glass slippers are now tinted bright blue rather than being clear like the original glass. The style of her sleeves are now more separated from the actual dress itself and now seem to be made of pale blue organza, as is her long evening gloves.
Her new dress is a very simplified combination of a Mantua, Robe à la Française and a Robe a l'Anglaise with strong influences from 1950s debutante gowns; particularly with the upper half of the dress. Much of the cloth is a now distinct indigo-blue color with the pale blue organza overskirt drawn back and pinned up to display the matching petticoat that is revealed by the frontal opening of the indigo gown. The hem of the dress and part of its upper half is decorated with many elaborate swirly designs. The hem also contains designs that resemble the shape of her glass slippers, and the entire ensemble is now glittery.
Cinderella's new dress has unmistakably left behind the lighter blue influence of her silver gown in the original film along with her strawberry-blonde hair, which is now a golden blonde similar to Aurora's and Rapunzel's.
This modified design of her is seen during her appearance in Sofia the First: Once Upon a Princess.

Add image to section
Princess Aurora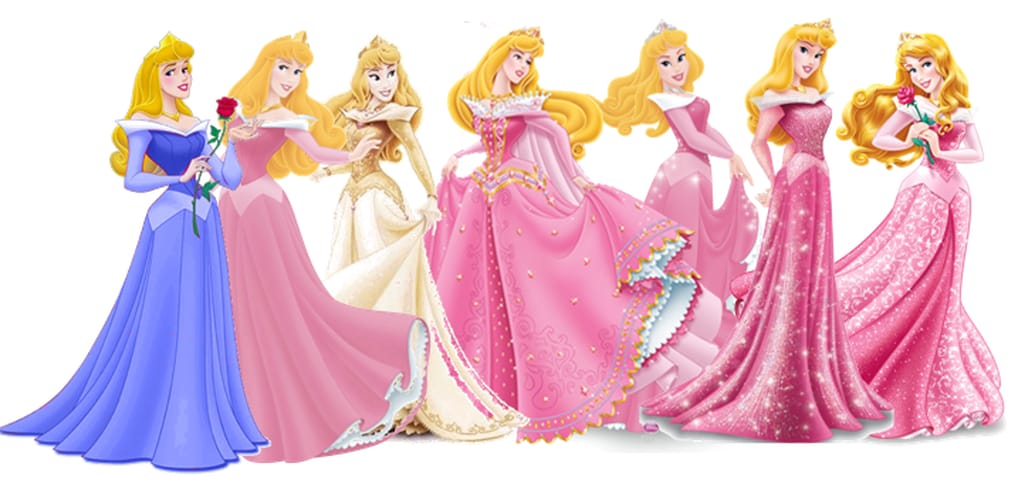 Aurora did not receive many changes in her late 2012 redesign. Her bangs no longer sport the distinctive curl in the front, and are now combed and curled more to the side like a typical hair parting. Her tiara is no longer as pointy, and the rubies that used to be studded in it have been replaced with pink rose quartz. The white shoulders of her dress are now more refined and streamlined, and no longer as sharp and pointed-looking. The entire dress itself is now decorated with swirly designs of climbing flowers and vines. This reworking of Aurora's look is carried over to the Disney Parks.
In her early redesigns, she had a long sash beneath her hips instead of the triangular cutouts, but in the current redesign, the cutouts remained in her dress.

Add image to section
Princess Ariel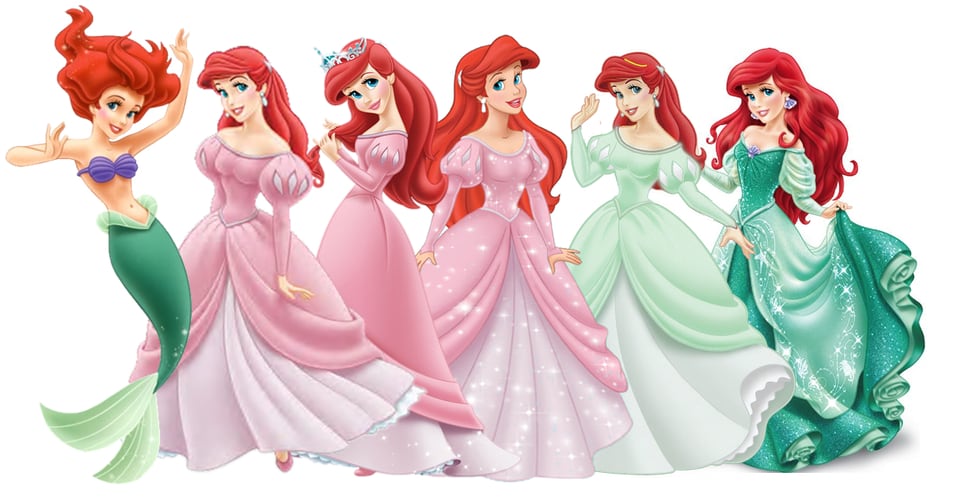 Ariel, with her new redesign, is less franchised in her mermaid form and is more focused on her human form.
Ariel's red hair, now parted more on the right side, is much wavier and greater detail is shown, and it also appears more voluminous. She is clad in a beautiful, off-the-shoulder gown that has the same distinctive sea green color as her tail, with the overskirt being a paler green that matches her tail fins as does the long, puffy sleeves covering her arms and the petticoat under her dress. The hem of the overskirt has many elaborate swirly designs which include pictures of sea-related things. She wears lavender scallop seashell earrings with a matching brooch on her dress and a pair of sea green pumps to protect her feet.
In the early redesigns, Ariel had a pale pink dress that was a revamp of her previous pink-and-white gown.
The modified redesigns in her mermaid form have added a sparkly effect to her mermaid tail, giving the impression of fish scales caught in a gradient light and a similarity to the patterns on her sea green-colored dress.

Add image to section
Princess Belle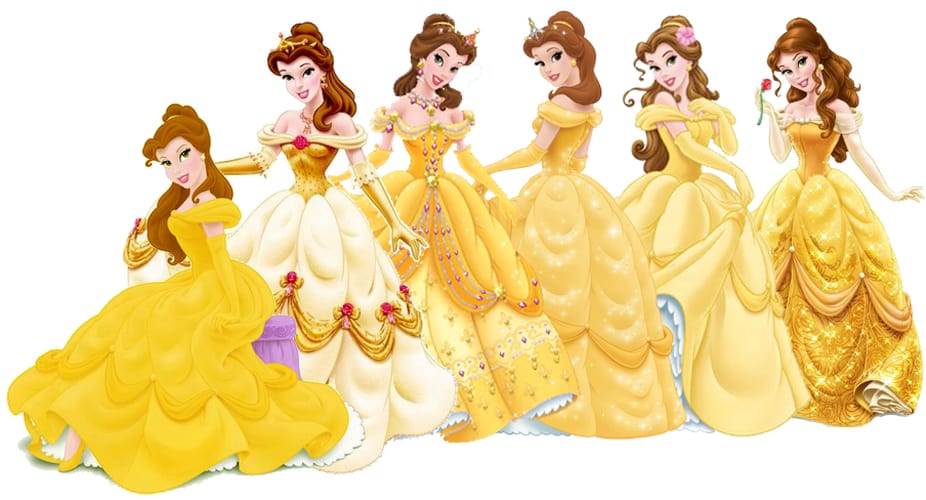 Belle received many changes in her late 2012 redesign.
Most striking of all is that her hair is much more wavy and curly in its appearance and is now more than twice its original length, all hanging down to her waist. While still parted in the middle at the front of her head, two locks of hair hang loose and frame the sides of her face. Some of her hair is swept back and pulled into a large sock bun instead of the previous fancy knot that was held in place by a gold hair clasp.
Her gown now possesses the same gold color from the film instead of the yellow color in the previous franchise, however, the bottom half is now decorated with glittery designs of roses.
The off-the-shoulder part of the dress is made of cream-colored organza and pinned in the front by three pearls of varying sizes. Her evening gloves match the color and material of the dress's shoulders.
There is a strong possibility that Belle's new appearance was very heavily based on Penélope Cruz's portrayal of her in Disney Dream Portrait Series; particularly with the waist length, curly and wavy hair.
In early redesigns, Belle's sleeves were covering her shoulders instead of revealing them.

Add image to section
Princess Jasmine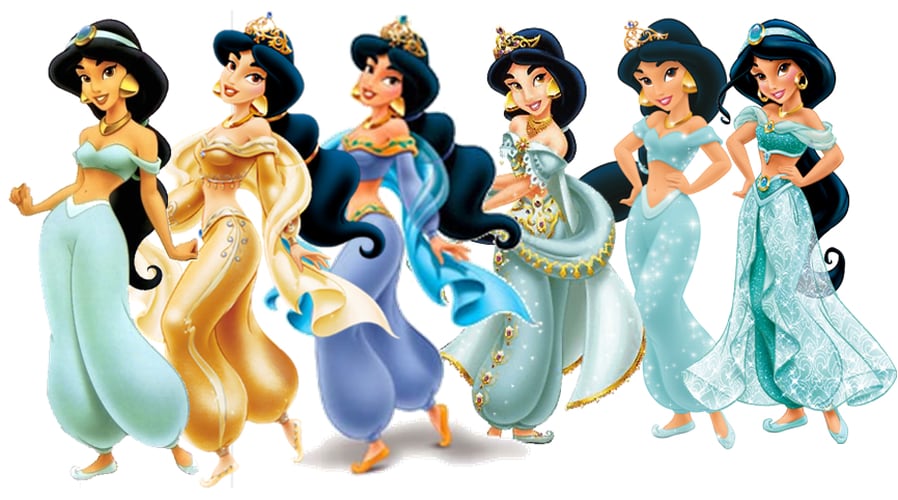 Jasmine's late 2012 redesign had multiple changes. Her hair is much more curled with a very noticeable stray strand sticking out and is now in a ponytail instead being sectioned into two like before.
Her earrings are now golden bangles instead of the previous solid, triangular earrings that covered her ears. Other jewellery includes two sapphire brooches - one on her chest and the other over her navel.
Jasmine's bedlah outfit is now teal instead of light blue and has received noticeable pale aquamarine organza shoulders for the bandeau top she wears, while the billowed pants now have a matching overskirt, with designs of Fleur-de-lys, covering much of them, making the entire outfit resemble a dress.
In the early redesigns, her top is one-shouldered instead of her redesigned top with organza shoulders.

Add image to section
Princess Pocahontas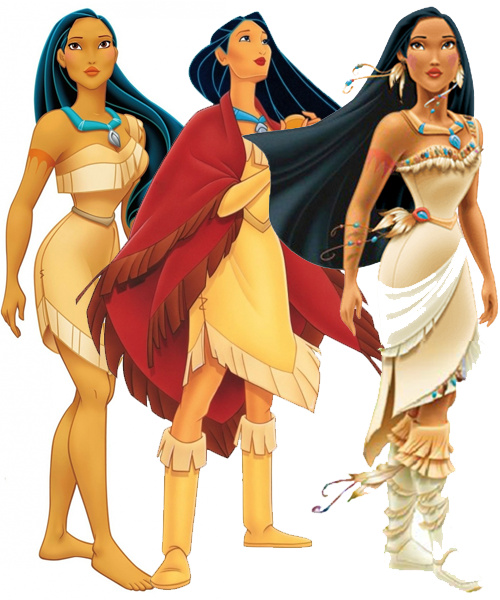 In 2012, Disney released images portraying the various official princesses in glamorized formal princess wear, which has become known as redesign that is modified and better fixed. Pocahontas received multiple changes in her late 2012 redesign. Feathered earrings with leather cords and turquoise beads at the end frame her face and her dress is now beige and more elaborate with the addition of feathers and turquoise stones. Her late mother's necklace is now gold and studded with turquoise stones instead of being a solid blue, while the pendant at the end is a blue stone instead of silver. Notably, the traditionally barefoot princess now wears knee-high soft suede boots.
Pocahontas also has another glittery redesign of her English ball gown from when she attended the royal Hunt Ball with John Rolfe at King James' palace.

Add image to section
Princess Mulan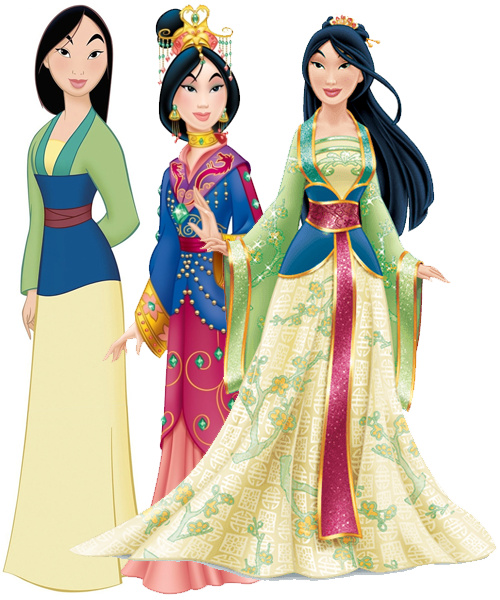 Mulan received multiple changes in her late 2012 redesign.
Mulan's face was elongated very slightly and is no longer as rounded as it used to be. The epicanthic folds by her eyes have also been sharpened a bit to give them a more narrow appearance. Her body type was also changed to a more hour glass shape from her original androgynous figure in the film.
Mulan wears an elaborate, bejeweled gold hair clip and her now waist-length hair is long and flowing. The material used in her Hanfu dress is metallic-looking in appearance and texture and still sports the same color from her old appearance. In early redesigns, her dress is more reddish with sparkles, much of her black hair is loose and down instead of having the hair clip.
Her face and the other visible parts of her skin appear to be whitened with powder, with her cheeks touched with rouge and her lips painted red; somewhat resembling a more traditional Chinese bride.
Other early redesigns included her dress being bright gold and dark red instead of green, blue and yellow.
Load more items (15 more in this list)
This is a list to show how the Disney Princesses changed over time. It all started out with six princesses and now there are already eleven. Two more will be added soon. (Anna and Elsa from Frozen) The major changes have been made in 2012 when all princesses were redesigned to create an overall united look. Their appearance is now more glittery and the swirls on the dresses fit each character individually.
Added to

32 votes
Lists That I Like
(59 lists)
list by yreesesfreak
Published 8 years ago

5 comments