10

vote
225 Views Share:
Annunciazione della Beata Vergine Maria
Beauty list created by rickterenzi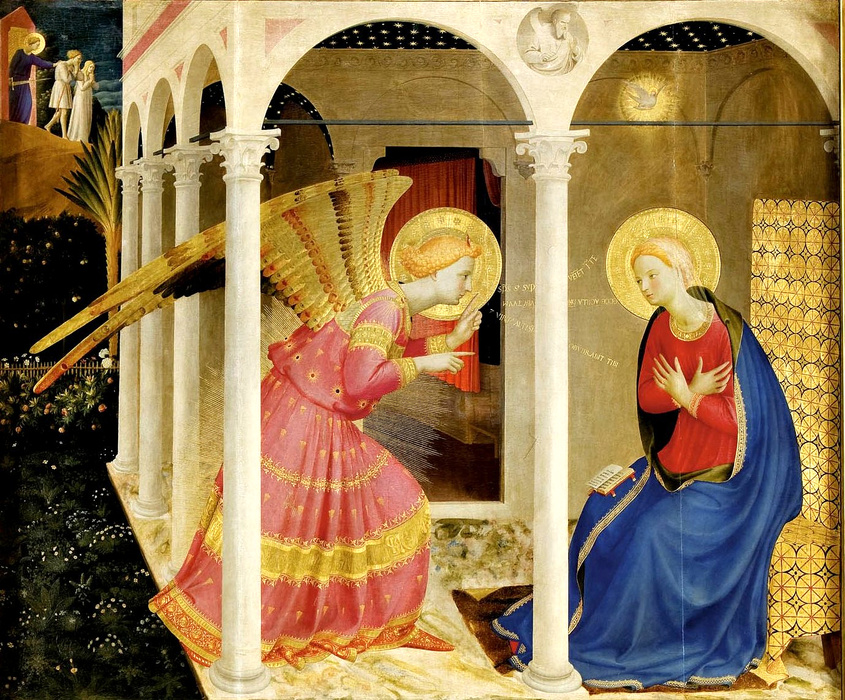 Beato Angelico,
Annunciazione
. Tempera on wood, between 1433 and 1434. Museo diocesano di Cortona.
Lucas 1:26-38 - Biblia Sacra Vulgata

26 In mense autem sexto, missus est angelus Gabriel a Deo in civitatem Galilaeae, cui nomen Nazareth,

27 ad virginem desponsatam viro, cui nomen erat Joseph, de domo David: et nomen virginis Maria.

28 Et ingressus angelus ad eam dixit: Ave gratia plena: Dominus tecum: benedicta tu in mulieribus.

29 Quae cum audisset, turbata est in sermone ejus, et cogitabat qualis esset ista salutatio.

30 Et ait angelus ei: Ne timeas, Maria: invenisti enim gratiam apud Deum.

31 Ecce concipies in utero, et paries filium, et vocabis nomen ejus Jesum:

32 hic erit magnus, et Filius Altissimi vocabitur, et dabit illi Dominus Deus sedem David patris ejus: et regnabit in domo Jacob in aeternum,

33 et regni ejus non erit finis.

34 Dixit autem Maria ad angelum: Quomodo fiet istud, quoniam virum non cognosco?

35 Et respondens angelus dixit ei: Spiritus Sanctus superveniet in te, et virtus Altissimi obumbrabit tibi. Ideoque et quod nascetur ex te sanctum, vocabitur Filius Dei.

36 Et ecce Elisabeth cognata tua, et ipsa concepit filium in senectute sua: et hic mensis sextus est illi, quae vocatur sterilis:

37 quia non erit impossibile apud Deum omne verbum.

38 Dixit autem Maria: Ecce ancilla Domini: fiat mihi secundum verbum tuum. Et discessit ab illa angelus.
Annunciation of the Blessed Virgin Mary, 25th March.
Added to