Director/screenwriter/producer/actor Sylvester Stallone got lucky when he was finally able to get his hotly anticipated
Expendables
film off the ground four years ago. The man had been running on fumes for years, able to jump-start his career again only by going back to characters that people loved him for.
Rocky Balboa
and
Rambo
, respectively, were well-made films that gave the fans exactly what they wanted. The public's rekindled interest in Stallone ultimately resulted in the birth of 2010's
The Expendables
. As of today the franchise is more or less Stallone's only remaining claim to fame and for good reason. With it he's proven himself a still relevant - as well as resilient - creative force in action cinema. A has-been '80s star who's creeping into his 70s scoring a major hit with a lead role not based on an already successful property? That's something of a small miracle. Stallone wanted and still wants
The Expendables
series to be his
Fast & Furious
, and with
The Expendables 3
never has that desire been more blatant.
Here's the elephant in the room, of which I'm going to address head-on. Yes, the theatrical cut of
The Expendables 3
was rated PG-13 much to the chagrin of the franchise's core fan base, present company included. As was expected, the home release features an unrated (read: R-rated) version that I personally anticipated with much fervor. The first two
Expendables
flicks were extremely violent, with the second film in particular featuring a bevy of big set pieces that saw the Expendables team literally blowing their foes to bits. A PG-13 rating - which Sly announced the film would receive this past May - won't allow for those extremes, so it comes as no surprise that
The Expendables 3
's bloodletting is minimal. Since the ill-fated rating was confirmed, I've been gung-ho with the assumption that
The Expendables 3
must
have been shot as a solid R and then edited down in post-production. Are those assumptions correct? Yes and no.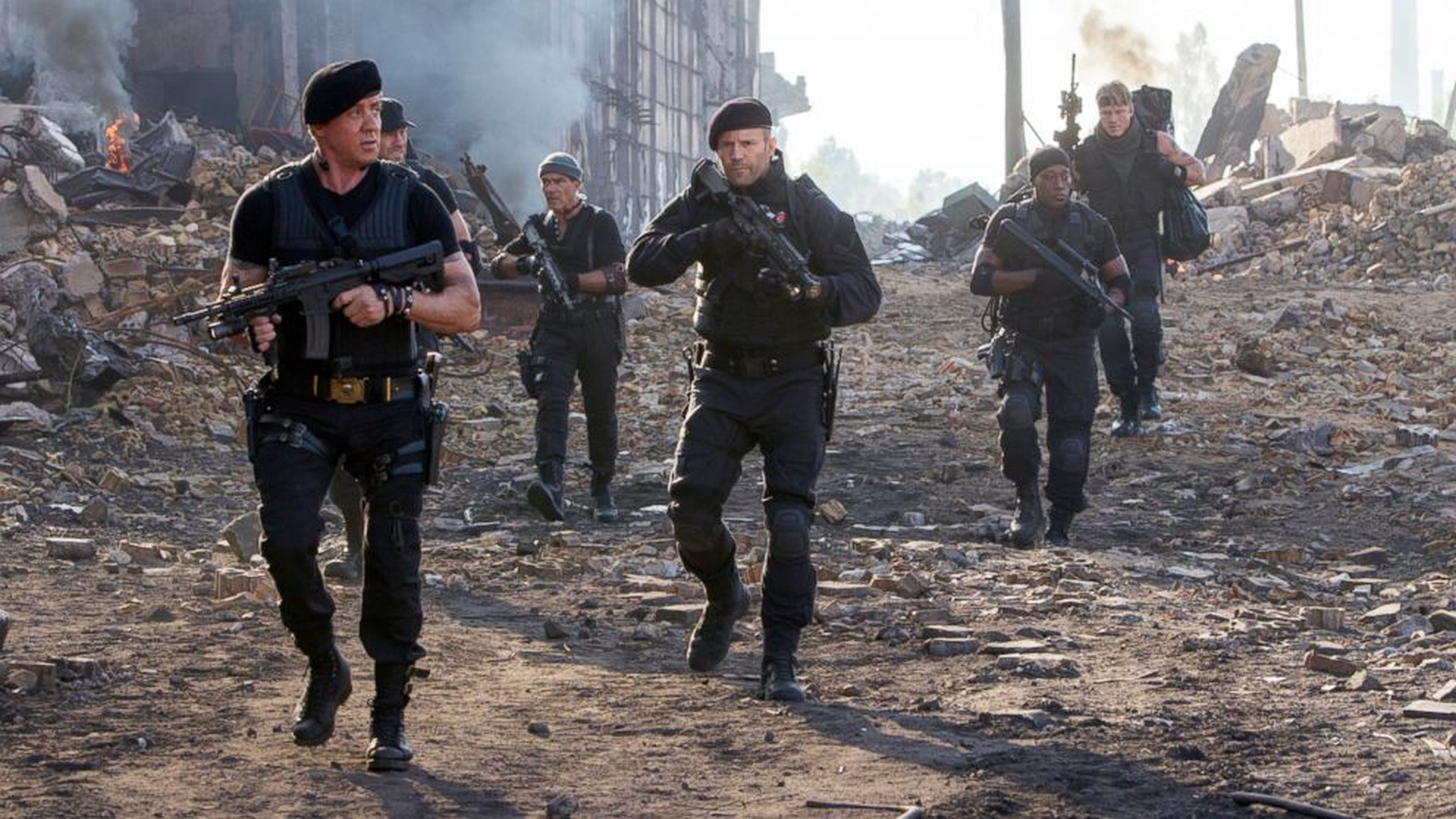 It's obvious from the outset that director Patrick Hughes, and to a larger extent Sylvester Stallone himself, were aiming for the PG-13 right out of the gate. Although Lionsgate's initial print did indeed earn itself an R, it was entirely unintended. Sly has been flirting with the rating since the first film, only backtracking and giving it an R after test screenings proved fruitless.
The Expendables 2
was
this
close to forgoing the R for the more audience-friendly rating before, again, fans spoke up and let their grievances be known. I'm puzzled that after the sort of backlash Sly got hit with twice prior he'd still be so determined on getting at least one PG-13-rated
Expendables
out the door, especially when those two previous R-rated films performed very well at the box office. But I digress.
The Expendables 3
hit theaters with the PG-13 rating in August, disappointed fans, and the box office reflected that disappointment. How does the unrated version fare?
I can see how the original cut would have gotten an R rating despite the disconcerting lack of gore, because the film is still excessively violent. You've got hundreds of people being shot on-screen, and it astounds me that filmmakers can get away with a PG-13 as long as there's no overt bloodshed or bullet impacts. The body count in this is massive. There are also two uses of "motherfucker" placed back into the audio with only one utterance of the word necessary to earn almost any film an immediate R by the MPAA. Hughes' unrated cut is more violent as a whole, showing longer takes of bullet hits (most bloodless, some not) and knife penetrations. Theatrically, these action sequences were choppy as shit, and while there's still little blood present it's just nice to see those segments without all the distracting cutaways. I was hoping for a bigger, bloodier Blu-ray release, but it appears the movie just wasn't filmed that way to begin with. There's still plenty of violence, plenty of shootouts, plenty of explosions, and plenty of fistfights for your money.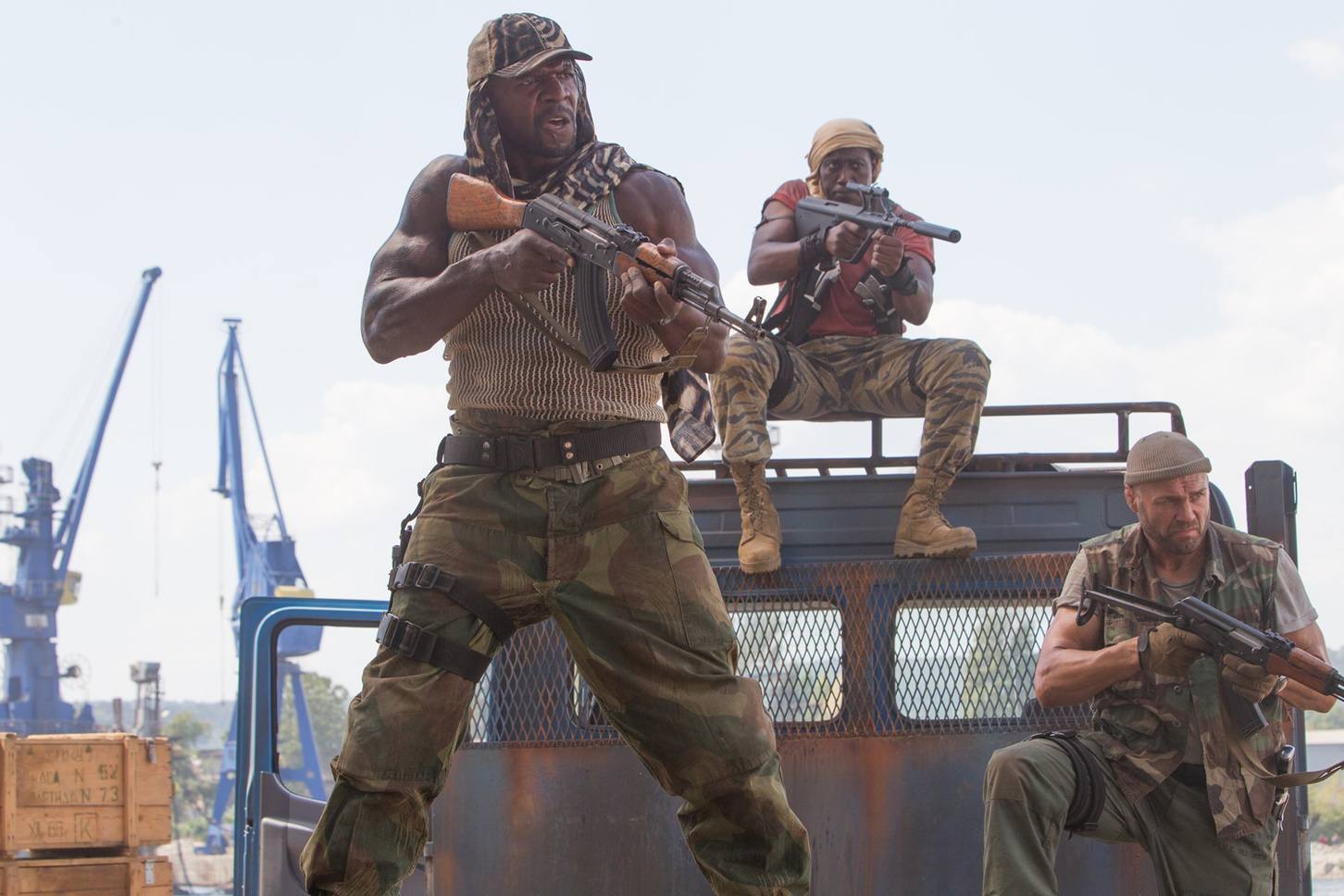 With that out of the way I'm free to talk about the movie's overall quality. Where the second film concerned itself with dipping its toes in the waters of self-awareness, the first was a downbeat and nihilistic affair. The third movie aims for somewhere in-between the two, by Stallone's own admission, and it generally works.
Expendables 3
wants to be a legit movie, not just a movie cobbled together with a bunch of '80s has-beens dropping one-liners and making quips like, "Who's next? Rambo?" It's a commendable approach that will lead to more widespread acceptance than the campy
Expendables 2
has. The self-reference is still there, though far subtler in nature. There's actually a decent story here about aging, being replaced, and being... ahem... expendable. It's a great extended metaphor for Hollywood and how it treats "washed up" actors, especially action stars, when audiences want new & fresh as opposed to old & reliable. Tonally
The Expendables 3
has far more in common with the first than the second, just leaving all the half-baked "seriousness" by the wayside this time. I could have used more humor in spots though and the reason being I find material of this sort better digested when it doesn't want me to take it seriously. For the most part
The Expendables 3
strikes a good balance between the two. Better than I expected it to, at least.
This flick is also sporting the best cast of the entire series, although it's disheartening that not everyone gets equal screen time. Jet Li, for example, has even less of a role here than in the previous movie. And what a disservice to Li that all he's given to do is fire a gun from a helicopter! Terry Crews has been one of the best things about the last two movies so it's unfortunate that his character gets sidelined early on and ends up MIA for 95% of this one. Crews has been a joy to watch throughout the series and his absence is felt. Purely by chance Stallone was able to cast Harrison Ford, replacing Bruce Willis after his money demands weren't met by the producers. Ford is a far better actor than Willis and he seems to be having a good time to boot. He puts in a perfectly serviceable performance, his inclusion just seems a bit out of place.
For the sake of the plot, Barney Ross (Stallone) decides that he doesn't want any of his friends killed by main baddie & ex-Expendable Conrad Stonebanks (an unbelievably good villainous turn by Mel Gibson) so he goes on the hunt with mercenary recruiter Bonaparte (a fine showing by Kelsey Grammer) to enlist a collection of suicidal cannon fodder. Ross wants revenge on Stonebanks for nearly killing fellow Expendable Hale Caesar (Terry Crews) and so doesn't expect to make it back. Ross certainly isn't hiding his feelings of indifference from his new group. Kellan Lutz (Smilee), Victor Ortiz (Mars), Ronda Rousey (Luna), and Glen Powell (Thorn) make up the new blood, and it should go without saying that they don't hold a candle to the originals. Specific mention goes to Rousey who gives by far the worst performance in the entire film, if not the entire franchise. If Sly wanted a capable MMA fighter for the part, why not just go with Gina Carrano? The group as whole are about as exciting as watching paint dry and as much fun as athlete's foot.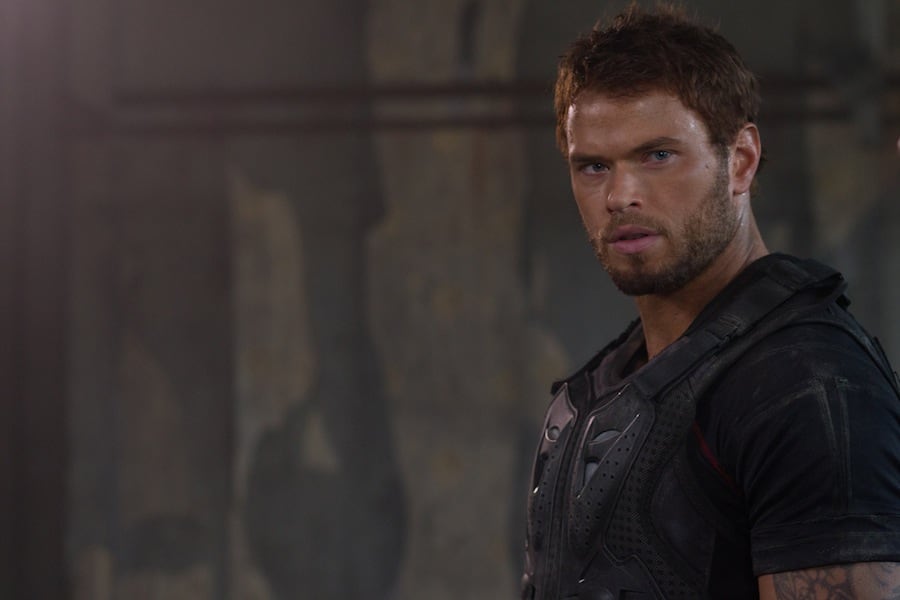 Truth be told, however, they take up a lot less screen time than I was led to believe. They're captured by Stonebanks not long after their introduction, making way for the movie's third act wherein Ross and his old team reunite to take out Conrad. We're then promptly introduced to Antonio Banderas' enjoyably funny Galgo as he assists Ross after his narrow escape from Stonebanks. Galgo acts as comic relief, played with full intent by Banderas to be grating. He's squirrely, energetic, talks a mile a minute, but is strangely likeable. Banderas is and has been an incredible actor for a very long time and successfully pulling off a character like this speaks volumes of his talent. Any other actor would have turned him into a complete disaster. Banderas also handles himself exquisitely during the film's last half hour - a half hour that is one big action sequence, by the way. He's jumping over tables, leaping out of windows, shooting fiercely and quickly, and on the list goes. He displayed a surprising physicality most actors his age just don't possess any longer.
Mel Gibson - who positively upstages everyone he's sharing the screen with - is undoubtedly the highlight of this movie. He makes for an intense, intimidating, downright scary villain and is easily the best actor this franchise has been able to secure. Gibson is obviously slumming it in a movie like this, but don't tell him that. He's so ruthless, so cold, and so menacing; he really bit into this character and he's giving him all he's got. In a fantastically acted scene where Ross and the younger Expendables "capture" Stonebanks during an arms deal (where Robert Davi puts in a surprise cameo as a Russian weapons buyer), it's the first time we really get to hear much from him. The hour beforehand shows us glimpses of him, mostly silent takes, and when we finally get to hear him go at Barney... Watch out. Gibson is downright chilling. Stallone steps his game up here too, obviously feeling a touch outclassed by Mel. While their characters are at odds with each other and meant to harbor a shared hatred between them, the two actors worked wonderfully together. They had great on-screen chemistry, in turn making their rivalry truly palpable.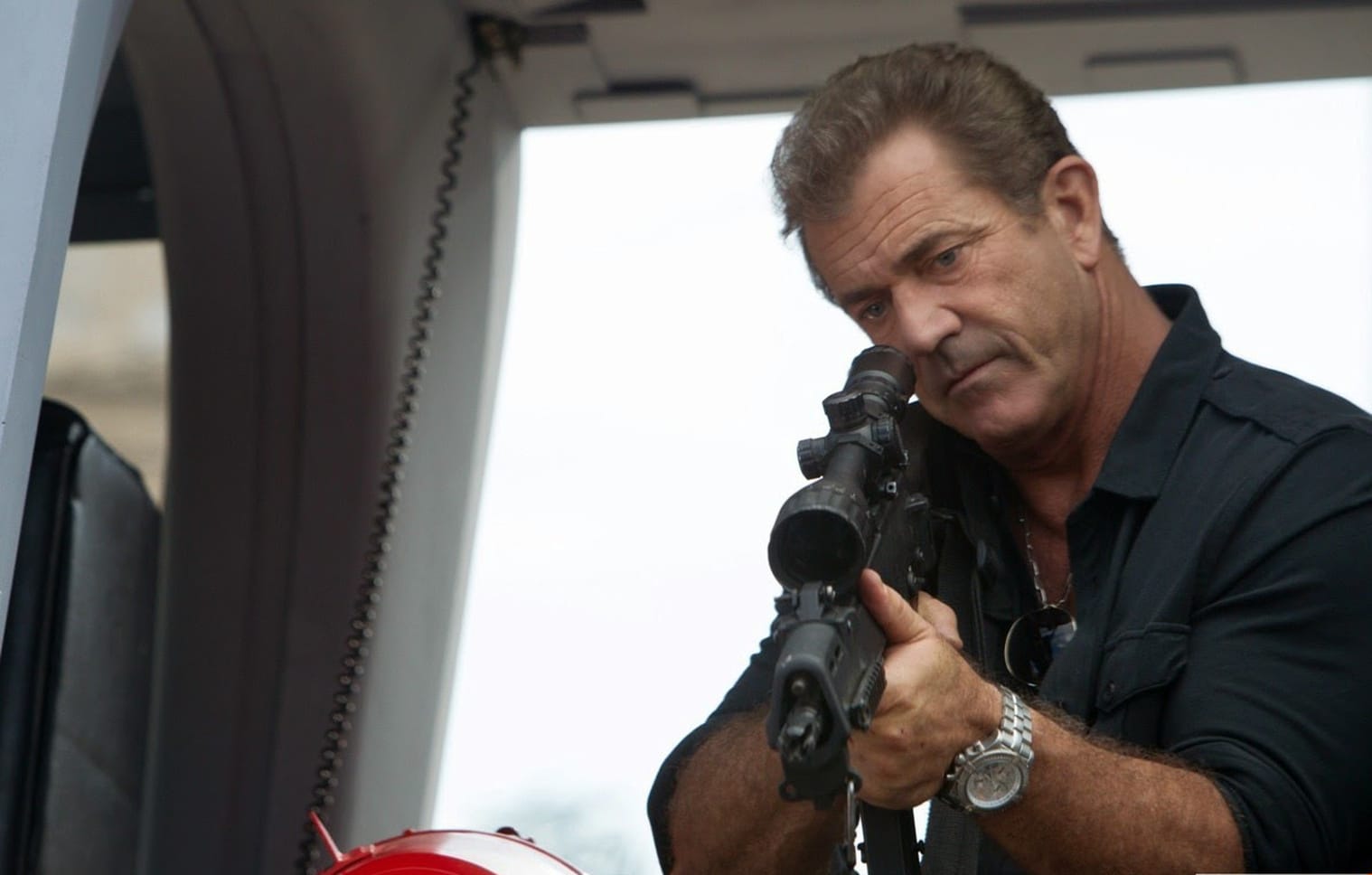 You come to these for the action though and that's precisely what you're going to get. The unrated version of
The Expendables 3
clocks in at a daunting 131 minutes, making it the longest
Expendables
flick yet. About 30 minutes too long by my calculations. The first and second films were each about an hour and 40 minutes; well-paced, taut, and just enough character development to keep things from devolving into complete mindlessness. There's a lot of plot in this one, and that can be an issue. Granted, it's a far better plot than it really needed to be - with some nice emotional moments & a dash of social commentary for good measure - it's still lugging around a grueling second act that drones on and on. And those 30 minutes I mentioned above belong mostly to Lutz, Rousey, Ortiz, and Powell, further proof that their characters could have been cut from the film entirely with no consequence.
A longer runtime also affords this one longer action sequences, and Hughes is up to the task. The first 30 minutes alone are two action bits back-to-back. A mission to rescue Doc (Wesley Snipes) from a prison transport train starts things off, followed up by Ross and his team running into Stonebanks for the first time. These are some of the most intense and well-shot action sequences of the entire franchise. Unfortunately, this one also has the misfortune of having what is possibly the
worst
CGI work I've seen in some time. From what I understand the budget is the same as the second film - around $100 million - so I'm not sure how it's such a step down from the prior film in this regard. The cardinal rule
The Expendables 3
breaks as far as CGI is concerned is that they attempt to build entire structures with it. It should be used to enhance real objects and locations, not utilized to create the world around the actors. It looks far too fake, as if Ross and his team were superimposed into a random first-person shooter videogame. A scene with Stallone and Grammer in a car driving through the desert is particularly dreadful. Remember those scenes in older sitcoms where the actors are sitting in an obvious mock car as a screen behind them projects an image to simulate movement? Yeah, it looks that bad.
The most glaring flaw I see
The Expendables 3
has is too much Stallone. I understand the complaints against the young Expendables, I understand the complaints against the PG-13 rating, and I understand the complaints against the underuse of a handful of cast members. What I don't hear much about is Stallone stealing so much of the runtime away from most everyone else. The two prior films mixed things up, gave everyone a standout scene or two, and let Stallone stick to the shadows when necessary. Here, he's front & center and it just gets tiresome.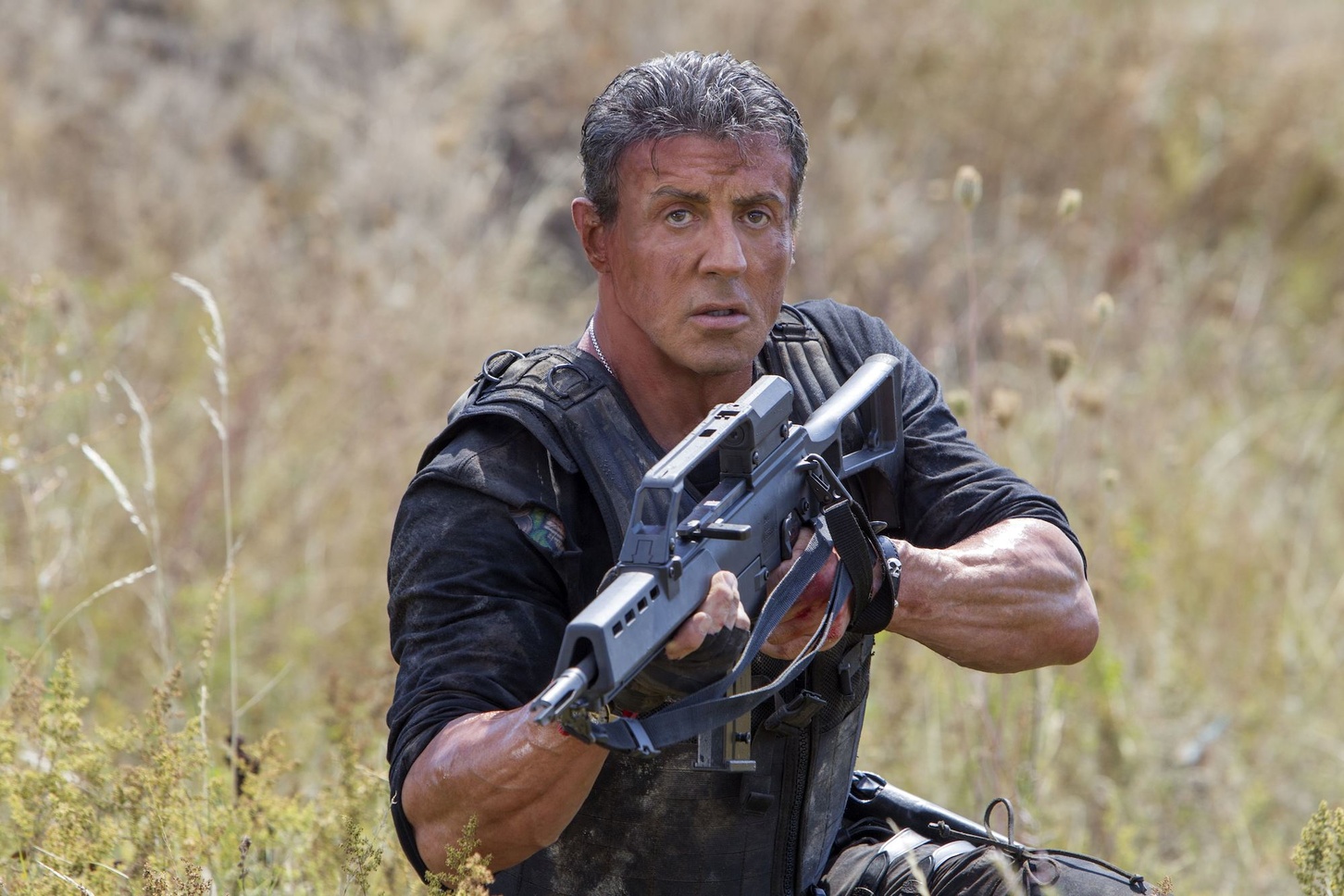 What saves this movie from its negatives is by simply having fantastically orchestrated action from top to bottom. Hughes' firefights are lacking the blood & viscera you'd expect from so much gunfire, but I can easily overlook it as it's all so well-staged. I applaud his choice to use nice steady shots as well. Making out the action, at least in the unrated cut, is much easier than most modern action films. The camera stays in one central location and focuses where it needs to. There's a lot happening during these action sequences, lots of choreography, and lots of different camera angles. To Hughes' credit it's very easy to follow. He knows his way around an action sequence, I'll give him that. Cars crash, buildings crumble, thousands of rounds of ammunition are fired, and tanks are destroyed. You name it. The PG-13 doesn't affect the intensity of the action for the most part, which is a relief.
I'll admit it. I expected
The Expendables 3
to be a mess. I suppose if you're looking for hardcore, R-rated action you're not going find the film's positives all that positive. Maybe I've just hit the age where I'll take a decently made action flick over a gratuitously violent one any day of the week. It's not without faults, however, and I'll probably always wonder what a truly R-rated
Expendables 3
could have been, but it delivered where it needed to. You've got the best cast assembled so far and it comes so close to realizing the ambitions Stallone envisioned for this franchise four years ago. Easily the best acted in the bunch, not to mention sporting some of the best action beats as well, taken for what it is
The Expendables 3
is thoroughly enjoyable and that's the biggest compliment I can give to a film like this. All Stallone wants these to be is nostalgic, escapist action flicks. At that, they succeed.
The Expendables 3
is one big TNT box of fun.
8/10