''I understand. You found paradise in America. You had a good trade, you made a good living. The police protected you and there were courts of law. So you didn't need a friend like me. Now you come and say "Don Corleone, give me justice." But you don't ask with respect. You don't offer friendship. You don't even think to call me "Godfather." You come into my house on the day my daughter is to be married and you ask me to do murder - for money.''

The aging patriarch of an organized crime dynasty transfers control of his clandestine empire to his reluctant son.
Marlon Brando
: Don Vito Corleone
When it comes to naming the greatest and most influential motion pictures of all time, Francis Ford Coppola's 1972 masterpiece
The Godfather
is a title that is practically guaranteed to be among the many listed. Famed director Stanley Kubrick called
The Godfather
a candidate for the best film ever made and
"without a doubt, the best cast."
He's not wrong.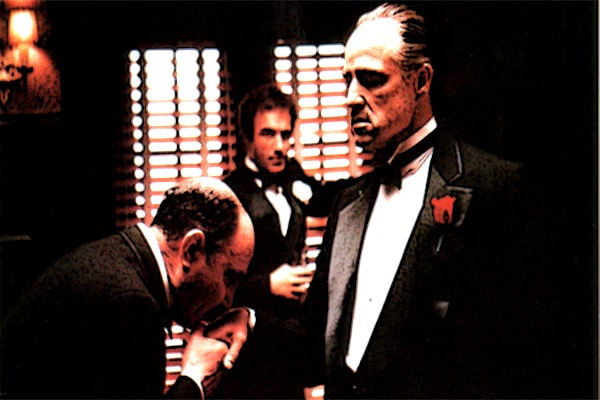 Based on a superbly written novel by Italian American novelist Mario Puzo, the film revolves around a fictional 1940s Sicilian crime family based in New York. The family is run by a wispy-voiced, puffy-cheeked man named Vito Corleone (Marlon Brando) whom has, for the most part, moved away from the days of violence in favour of peace and prosperity without blood-shed and above all things, lectures on the topics of friendship and loyalty.
When an attempt is made on Vito's life, his two sons (James Caan, Al Pacino) and his adoptive son (Robert Duvall) take control of his dynasty and fight to keep him alive and what unfolds is a repeat of days gone by and the world regarding the Mafia is exposed to a enthralled, gratuitous audience.
The Godfather
runs at being nearly three hours in length and part of this is due to the fact that it follows Mario Puzo's novel almost to the letter, every scene bring the book to life.
Coppola's film will without a doubt satisfy the purists, and even to those who have not had the privilege of reading Puzo's fantastic book, this is still a more than enjoyable way to spend three hours. Even at such a length,
The Godfather
never fails to keep our eyes focused upon the screen.
''I'll make him an offer he can't refuse...''

We have great characters in what is possibly the greatest cast ever assembled for a film. Marlon Brando was great; that was an automatic victory. Although what really impressed the audiences of 1972, and what still impresses people, are the performances of the combined supporting cast. Names such as Al Pacino, Robert Duvall, and James Caan, whom are at icon status today, were unknown before the release of this Picture. Al Pacino, in particular, gives a noteworthy performance that garnered him an Academy Award nomination and made the producers whom initially wanted to ban him from the role feel slightly embarrassed by their wrongly stormed assumptions. Al Pacino is undoubtedly the character in the film whom is shrouded by the curtain of irony.
When we first see him, he's not implicated or involved in the family/Mafia business. He's passive, quiet, reflective, shy, with a clean record, and a returned home war hero. Then, when he has to assume a Family role to defend his father, he slowly turns into the image of his predecessor and by the time the film ends, Pacino is the exact opposite of how we first saw him.
The people surrounding him all deserve mentions as they all excel in their respective roles; Diane Keaton as Pacino's love interest, who watches him change before her eyes, James Caan as the fiery-tempered brother, Robert Duvall as the Family consiligere, and one of my favorites, Al Lettieri as the villainous, steely-eyed Virgil Sollozzo, whom fits the exact image of how I pictured the character from the novel.
There is the fantastic element that the whole realm of the story takes place in the world of the Mafia. There is none of the tired old elements of, shall we say, detectives trying to uncover the Mafia and take them down or civilians whom become victims of the organized crime families. With this method, we successfully connect with and understand the motivations of the characters while the outside world, law and otherwise, simply lie in the background. The outside world meant little to the Mafia, and thus it means little to us as well.
What's beautiful about the film is in the regard
The Godfather
does not make attempts to glorify the Mafia. Yes, we do identify and sometimes feel for the characters in this brutal setting, but never do we justify their consequences or actions with humanistic pardoning. When director Francis Ford Coppola tries to give us horrifying violence, he delivers effortlessly. As he noted in his commentary on the film, Coppola worked hard with his pyrotechnics crew to make all shootings and killings in
The Godfather
look authentic and realistic as opposed to making them obvious simulated fakery. He uses blood, but not so much to the point where it becomes over the top, but just enough to make it convincing and fool audiences into believing this is the real deal.
The Godfather
obviously was an enormous hit when it was first released. It garnered
3
Academy Award wins included Best Picture of the Year and broke box office records that would not be topped until
Jaws
(1975) was released three years later. Al Pacino, James Caan, and Robert Duvall were all secured nominations in the Best Supporting Actor category but surprisingly none of them won. It also spawned two successful sequels, one of which I feel is actually superior to the original. Thus now Francis Ford Coppola has worked with Robert A. Harris to restore his famous trilogy and give it the pristine print that he always wanted audiences to see it in. Among other films such as
Lawrence of Arabia
(1962),
Vertigo
(1958), and
Spartacus
(1960),
The Godfather
is certainly a film that deserves a beautiful restoration so that it may live on and be remembered, in our collective minds for generations to come.
''It's an old habit. I spent my whole life trying not to be careless. Women and children can afford to be careless, but not men.''
10/10