"This is the nature of war. By protecting others, you save yourselves."

In the hands of legendary filmmaker Akira Kurosawa, a simple tale of seven samurai hired to protect a village from marauding bandits is transformed into a unique and mesmerising action epic of sustained tension and stoic humanity. It would ostensibly seem that stacking further praise onto Shichinin no Samurai (Seven Samurai) is futile after over five decades of critics doing so already, but there's no harm in offering a little more warranted love for this masterpiece.



Inarguably, Japan's most prevalent cinematic export is the samurai movie, and the most important samurai picture in history is Akira Kurosawa's Seven Samurai. An action epic 18 months in the making, Seven Samurai impacted the way the samurai genre was viewed, and advanced its status. In addition, Kurosawa's 1954 masterwork shattered the formulas for both the jidai-geki (Japanese period film) and the chambara (Japanese swordplay film) by deconstructing and reassembling the Bushido samurai code, and by gazing through the lens of history at Japan's post-war struggle toward capitalism, democracy, and a new social and cultural identity. In the process of altering Japanese genre forms to suit his own proclivities, director Kurosawa created an engrossing, timeless tour de force. While critics during the '50s were dismissive of Seven Samurai, it has since achieved an almost mythical status, and was selected by a group of '00 critics as the Best Japanese Movie of All-Time.


Set at some point during the feudal era of Japan (circa late 16th Century) when lawlessness was rife and bandit gangs roamed the country-side, Seven Samurai concerns a small village that faces the prospect of again losing their valuable crops to a band of vicious marauders. The villagers abide by the advice of their elder, and set out to hire Ronin (masterless Samurai) to defend them. Despite offering little reward in return, a veteran samurai who has fallen on hard times answers the request and proceeds to round up a group of warriors. Upon arriving at the village, the samurai begin preparing for the impending attack, and teach the villagers to fight.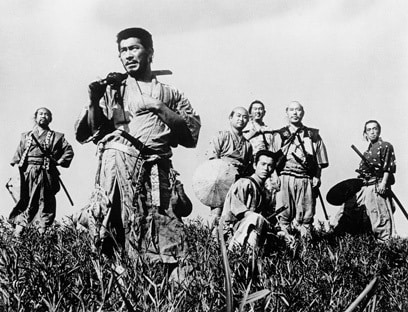 Curiously, for a film which is customarily perceived as the standard-bearer of samurai movies, Seven Samurai is an atypical entry to the genre. More typical samurai pictures concentrate on a sword-wielding, superhero-type protagonist who triumphs over an overwhelming horde of foes. Kurosawa's Seven Samurai, on the other hand, offers a group of flawed protagonists, some of whom are not skilled fighters. And, in large part due to the melancholy tone adopted by Kurosawa for the film's dénouement, the samurai's victory is ultimately hollow and unsatisfying; it feels like more of a defeat than a victory.


The premise may appear straightforward if examined at face value, but the execution is brilliant. Kurosawa allows the narrative to unfold quietly and calmly over three distinct acts. Act 1 establishes the plight of the villagers, and tracks the characters as the samurai are rounded up. In the second act, the samurai arrive and train the villagers to prepare for battle. The third and final act chronicles the epic battle between the bandits and the samurai. Once again, straightforward if taken at face value, but Kurosawa was deft enough to allow space for meticulous character development. Thus, during the passionate, riveting and intense final action scene, a viewer will care about and consequently cheer for the protagonists. The only fault of Seven Samurai is that, despite the daunting 210-minute runtime, only three of the samurai are fully realised - the other four "secondary" samurai are only sketchily developed, and are therefore poorly delineated when it comes to the battles.



Those who've never seen Seven Samurai may be intimidated by both its foreign origins and its three-and-a-half-hour running time, but they shouldn't. Seven Samurai is blessed with the type of momentum that long movies usually lack. True enough, the proceedings get somewhat tedious at times during its mammoth runtime, but the pace is generally strong. Additionally, the film displays the mastery of the technique of "deep focus" - Kurosawa continuously presents everything in focus, and different things usually transpire at different depths. These compositions are impressive, and fascinating to behold. The incredible action sequences within Seven Samurai, especially the final showdown, set a new precedent not only for samurai movies but also for Hollywood productions and all forms of foreign cinema. Let's not forget that Kurosawa's notion of epic cinema precedes the work of such esteemed filmmakers as David Lean (Lawrence of Arabia).


Seven Samurai may be an ensemble motion picture, but none of the cast members shine brighter than Kurosawa's favourite actor; Toshirô Mifune, whose character of Kikuchiyo is larger-than-life. Mifune was given a prime opportunity to show off his range here, playing Kikuchiyo as a stumbling drunk, a playful clown, a brooding man who reflects on his unhappy past, and a skilled fighter. Veteran performer Takashi Shimura - yet another of Kurosawa's frequent collaborators - provides the voice of wisdom, reason and patience in the role of Kambei. Standing in direct contrast with Kikuchiyo's flamboyance, Shimura presents his character as an authority figure who commands respect through mere presence. The third major samurai of the titular group is Katsushiro, who's played by Isao Kimura with an effective mixture of energy, naïveté, and the eventual realisation that battle is not all glory. Of the four remaining samurai, only Kyuzo, played by Seiji Miyaguchi, stands out, primarily because he's so different from his comrades. Soft-spoken and reserved, Kyuzo primarily uses his sword as his voice. The other three samurai are largely interchangeable, and their personalities won't begin to distinctly emerge until one's third or fourth viewing of the movie.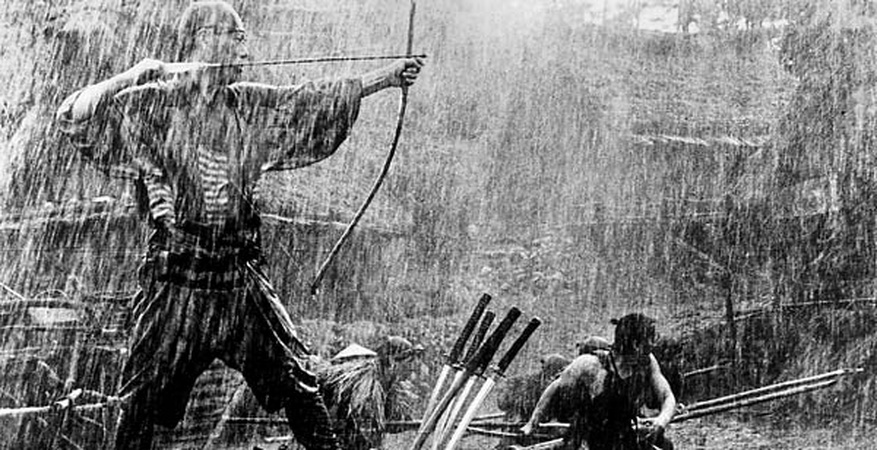 It's difficult to single out the elements which make Seven Samurai such a masterpiece. Everything, from Kurosawa's meticulous attention to detail to the amazing action to the genuinely heartfelt human drama unfurling beneath, comes together wonderfully. A few years following the movie's 1954 release, Seven Samurai was remade by John Sturges as The Magnificent Seven, which replaced 16th Century Japan with the American West, and replaced samurai with cowboys. The tremendous success of The Magnificent Seven inspired an international trend towards samurai imitations, and ultimately led to the "Spaghetti Westerns" of Sergio Leone and others. A well-deserved reputation.

9.5/10