Eric Calderone A.K.A the Dude Who Makes It Possible to Listen to Lady Gaga
*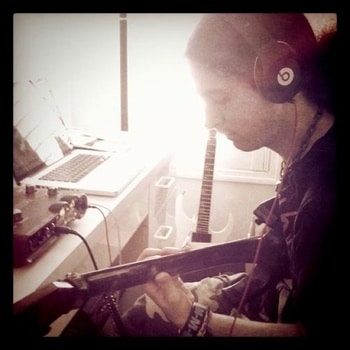 My first english review, my first review of a guitarist.
It must be clear that I'm not a guitarist, so maybe I'm gonna say some bullshits (with grammar errors too), but I'll try to speak about this guy anyway because I think he's a fuckin' phenomenon.
I discovered him a couple of days ago, while searching for some covers on YouTube.
His name is Eric Calderone, an american guitarist (of italian origin, I guess ...) that turns almost everything into gold ... pardon, metal.
From soundtracks, to video games themes, to popular songs sung by LMFAO, Ke$ha, Rihanna, or Lady Gaga.
Check out a couple of his videos before continuing (here are some of my favourite) ...
★
Bad Romance by Lady Gaga Meets Metal
★
Take It Off by Ke$ha Meets Metal
★
Party Rock Anthem by LMFAO Meets Metal
★
Scatman (Ski Ba Bop Ba Dop Bop) by Scatman John Meets Metal
★
Requiem for a Dream (Lux Aeterna) Meets Metal
Done?
I'm an editor and video maker, so the first thing I liked was the way he shot the videos (image and sound editing).
Image: only him, with funny nerd t-shirts (or costumes/make up) often related to the song, and his guitar, a beautiful military style Guerilla. Nothing else, except for some posters in the back.
There are also a couple of cool montages structured like parodies (
Low by Flo Rida feat. T-Pain Meets Metal
and
Rocky Meets Metal Metal
, for example), matte shots (
Dragon Ball Z Meets Metal
) and videos completed by images taken from the movie related to the cover he's playing (
Back to the Future Meets Metal
).
After turning on the camera, he winks at us and starts to
" play the guitar just like ringing a bell "
(... I hope you got my brilliant citation). He seems to have a lot fun while doing this damn difficult things ...
Sound: I'm a rock/metal music fan, so another thing I liked was the backing track. I really appreciated the arrangements (especially the drums and the second guitar) and the work he has done with the voices of the original tracks. I also found really interesting the way he put the movie cues into the backing tracks of the soundracks covers.
Last but not least, even if he looks like a cartoon, this guy is a genius. With his exceptional arrangements he makes the songs really better than the originals. He also has a super technical way to play that remembers me of
Yngwie J. Malmsteen
(especially here:
Rock Me Amadeus by Falco Meets Metal
). Shredding, fingerpicking and a super fast tapping that makes your brain go crazy.
All the songs performed in the videos can be downloaded for free on his
website
(notice the word
free
... I would have paid for them!). He also recorded two albums (
Hollywood Shred
, 2010, and
No More Heroes
, 2012) that can be found on iTunes.
This guy has definitely become one of my heros, and he made me proud of being italian for the first time in my life.
Enjoy!
www.youtube.com/user/331Erock
_______________________________________________
* The title is a citation.
" Dude makes it possible to listen to Lady Gaga "
is the title used by a YouTube user to describe the
Bad Romance by Lady Gaga Meets Metal
video. I found it funny, 'cause I thought the dude got the point ...