Released in 1968, this self-titled album, commonly referred to as The White Album, is a standout amongst their already effervescent discography. Whilst it lacks the easy listening of A Hard Day's Night (1964), the consistency of Sgt Pepper's Lonely Hearts Club Band (1967) and the fluidity of Abbey Road (1969), The White Album is arguably the band's most inventive record.
A diverse album of influential classics, the track list includes such identifiable numbers as
Helter Skelter
,
Revolution 1
,
Happiness Is a Warm Gun
,
While My Guitar Gently Weeps
and
Dear Prudence
. The latter has been covered by many other artists, including a brilliant version by new-wave punk group Siouxsie and the Banshees, one of the strongest Beatles covers to date. It is an accessible album for everyone. It has songs reminiscent of their earlier work (
Ob-La-Di Ob-La Da
,
Don't Pass Me By
,
Honey Pie
), songs that were in keeping with their post 1966 sound (
The Continuing Story of Bungalow Bill
,
Piggies
,
Rocky Raccoon
) and some ingenious compositions that were well ahead of their time (
Wild Honey Pie
,
Helter Skelter
,
Sexy Sadie
). It is effectively their decade spanning sound condensed into one double album, which is possibly the greatest idea they could have had.
The album is a work of recording genius, with some of the tightest, best produced and well executed songs of their career. The sweeping arrangements of
Savoy Truffle
,
Good Night
and
Honey Pie
and the ambitious complexity of
Helter Skelter
,
Everybody's Got Something to Hide Except for Me and My Monkey
and
The Continuing Story of Bungalow Bill
contrast excellently with the gorgeous simplicity of
Blackbird
,
Julia
and
Mother Nature's Son
. Whilst the album as a whole is comparatively minimal to the big band sound of Sgt. Pepper, Magical Mystery Tour and Revolver, The White Album isn't without its magnitude, as highlighted with some of the previously mentioned songs that use such arrangements. However, it definitely has a nice, simpler sound overall, signified from the offset with its stark white cover. Their more relaxed, acoustic tone can be traced back to their stay in India, where they wrote many of the songs included. Incidentally, the calming effect juxtaposes with the tumultuous period in which these tracks were first conceived.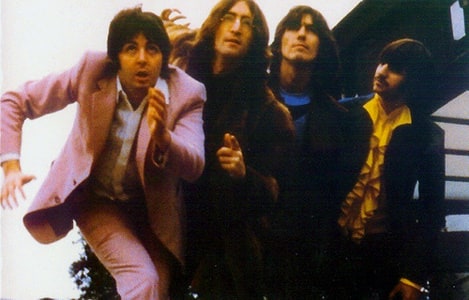 Just over a year away from splitting up, cracks were beginning to show. Ringo Starr even left during the early stages of the recording, with Paul McCartney filling in for him on the first two tracks. Soon after, George Harrison briefly left. However, it is possible that this conflict helped drive the band's creativity, particularly evident in the loud and raucous
Helter Skelter
, often attributed as a precursor of Heavy Metal. After 15+ takes, the band had created a song that is one of the most essential and inspirational tracks ever recorded. The session was so intense that it even gave Ringo blisters, a fact he screams iconically at the end of the song. If you want to whack out a track that supports your 'Ringo wasn't a bad drummer' argument, this is your best bet, along with
A Day in the Life
,
The End
and
Strawberry Fields Forever
, all from three separate albums respectively, a clear sign of his consistent and under-rated talent.
Helter Skelter
also serves as a rare track in which only Starr plays his regular instrument; McCartney takes over Harrison's usual role as lead guitarist, who in turn plays the rhythm parts usually undertaken by John, who here plays the bass that is normally played by McCartney.
The White Album is an example of a timeless masterpiece, with a sound more modern than that of A Hard Day's Night, Beatles for Sale and even Sgt. Pepper, which was from the preceding year. Along with the incredibly progressive Abbey Road, The White Album is their most enduring work. A cornerstone of the music industry, its influence can be detected in songs from the crop of modern bands. The single
Karma Police
by Radiohead, which can be found on their 1997 masterpiece OK Computer, bears notable similarities to
Sexy Sadie
, one of The White Album's best tracks. Meanwhile, the influence of
Helter Skelter
is still overt in today's music, in recordings by bands such as Queens of the Stone Age and Marilyn Manson, the latter of which even recorded a cover version.
Whilst it is often Sgt. Pepper's Lonely Hearts Club Band that is billed as their best work, it is The White Album that truly leaves its mark. With solid contributions from all four members, including one of the two sole creations of Ringo Starr, it is an album where their collective talents are extremely well exhibited. It's also an album that splits its audience. Its crowd-dividing nature can be epitomised by one song. Revolution 9.
Highlight tracks:

Helter Skelter
Piggies
Revolution 9
The Continuing Story of Buffalo Bill
Sexy Sadie
Rocky Raccoon