''What I mean is it's either him AND me or neither of us!''

Hollywood, 1927: As silent movie star George Valentin wonders if the arrival of talking pictures will cause him to fade into oblivion, he sparks with Peppy Miller, a young dancer set for a big break.
Jean Dujardin
: George Valentin
Bérénice Bejo
: Peppy Miller
The Artist
transports audiences back in time to the silent era of film. Director and writer Michel Hazanavicius effortlessly captures beauty with the rawest simplest way possible: By characters you can love and storytelling which flirts with our hearts.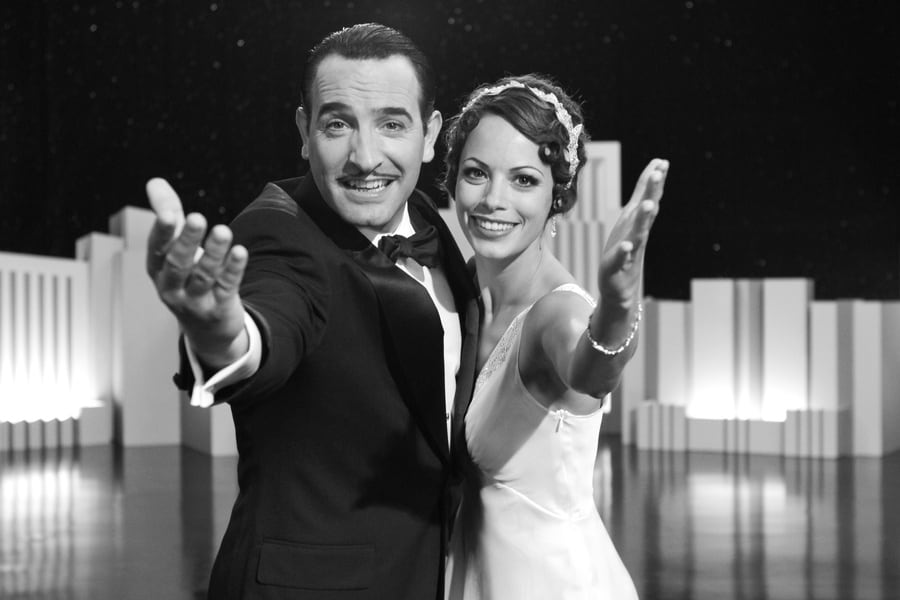 The cast is phenomenal... Especially the two main leads: Jean Dujardin and Bérénice Bejo... And Uggie the dog. He deserves an award and recognition, a talent to be reckoned with, where every movement and action has its own meaning. We fall in love and can relate to the characters struggles, the highs and lows of our career and the fickle nature of the people whom surround us. It shows us one person can make a difference when love is involved.
The cinematography is creative and fresh... Reflections serve as symbolic majesty. Dreams serve as visions for the future.
This is truly art... Moving art which transports us back in time and injects freshness into an otherwise predictable world of cinema. A reminder of a golden age where expressions melt our hearts and mean something, where the eyes of characters and the smiles they exchange make us feel so much. They are believable and alive. What could remind you or awaken something long forgotten inside you?
The Artist
is truly that inspirational reminder. A reminder of creativity, love and change.
Any artists or writers whom have the luxury to watch
The Artist
will love the variety and poignant minimalism which reflects your own journey. We see our own lives and our own hopes and fears come alive.
Sometimes the film cleverly makes you want to reach out and tell the characters what to do when they struggle to make the right choice or when they fail to recognise how much someone can mean to you.
Whether the dog is saving his master or the clever twist where it is not the man saving the woman:
It is her saving him.
They keep each other safe and that in itself is beautiful. It touches your heart in ways that are so hard to describe.
All I can say is don't judge a book by its cover:
The Artist
deserves to be experienced and not to be missed. On a personal level it is a piece of inspiration and it allows us to travel back in time with many aspects still relevant to our modern era.
The Artist
is certainly a change and a breath of fresh air in our effect laden film industry, where audiences are so zombified, they forget the most important thing: The story. That is all you need... And romance and emotion.
The Artist
makes you fall in love with not just silent film all over again... It makes you fall in love with life all over again. A universal love letter coming alive in our hearts, before our eyes, and in our souls.
This is where film and art originated and we need to remember how important that is.
The Artist
helps us remember that. Beautiful.
''Perfect!''
10/10