''Have you ever confused a dream with life? Or stolen something when you have the cash? Have you ever been blue? Or thought your train moving while sitting still? Maybe I was just crazy. Maybe it was the 60's. Or maybe I was just a girl... interrupted.''

Based on writer Susanna Kaysen's account of her 18-month stay at a mental hospital in the 1960s.
Winona Ryder
: Susanna Kaysen
It's always easy to relegate a story or piece of art to a niche in the wall, claiming that it borrows or steals from other sources. In the case of
Girl, Interrupted,
it's very easy to say
"It's a 'Cuckoo's Nest' with females."
Looking at things on lower levels, one could argue that every tale steals from all those before. But the truth of the matter is that certain ideas are so fundamental, so classical, that they have applied to us for as long as anybody can remember. If basing a movie on a mental institution and its patients concocts discontent, then basing a movie on love is as much of a sin.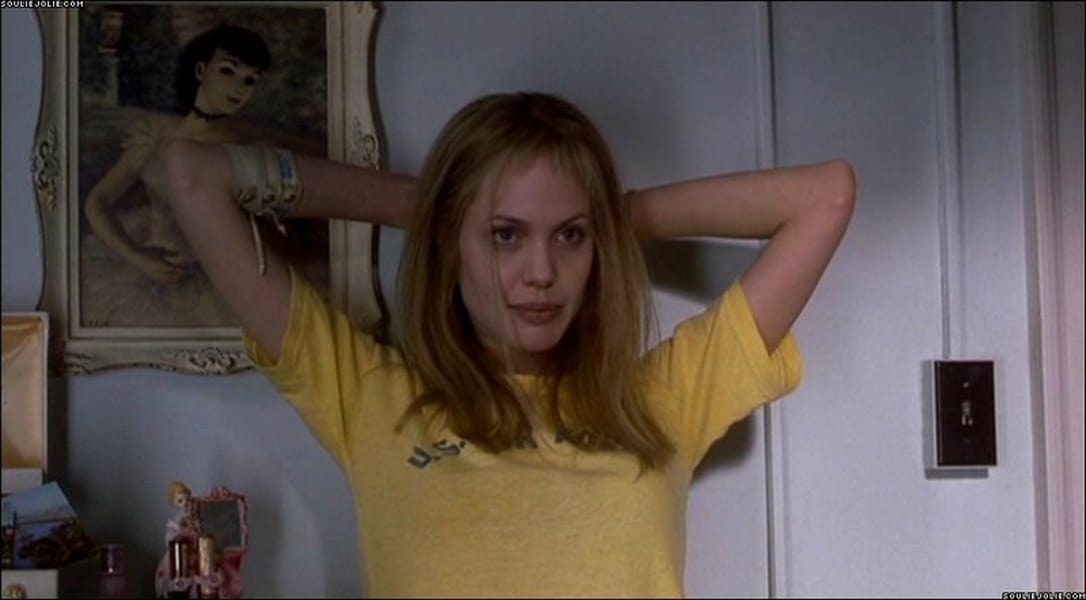 Girl, Interrupted
pleasingly places us in the eyes of Susanna Kaysen(Winona Ryder), a teenage girl who suffers from depression and is signed into the custody of a psychiatric hospital after a failed attempt at suicide. Like most young people who suffer from this state, Susanna is unable to acknowledge the disorder that affects her. Seeing things from a practical point of view--believing in cause and effect--makes it difficult for her to understand what she suffers from when she doesn't understand what caused the condition to begin with.
Enter Lisa, faultlessly played by Angelina Jolie. Beautiful, savage, defiant, and extremely charismatic, she introduces Susanna to a new line of thought: -
it's the world that's screwed up, not them.
- The world is afraid of aberrations such as themselves -- people who create a bubble, in the perfect balance of their ideal mindset. Thus, they lock them up in mental institutions, and rejoice once that the problem is taken up by the hands of others after the exchange of a sizable amount of funding.
Susanna, needless to say, is enthralled by her new friend; Lisa is somebody who knows the inner workings of their world, someone to leech onto. And when one latches onto somebody else in such a way, either individually or in a group, self-expression and individuality are more often than not sacrificed. Susanna, who was once overwhelmed by the number of choices that confronted her in life, is now ecstatic at the simplicity of her new life in the ward, revolting with Lisa against an unfair system, an unfair world.
''I know what it's like to want to die. How it hurts to smile. How you try to fit in but you can't. How you hurt yourself on the outside to try to kill the thing on the inside.''

In my opinion, Mangold's directorial tricks are ones of illusionary truths, ones to be considered successful, such devices as the sound-overlap between present and flashback scenes, and the use of dull, toned-down colours until Ryder's singular moment of revelation(after which the bright, vibrant colours of autumn leaves and clear blue skies fill the screen)practically poke the viewer's shoulder with relentless insistence in their demand to be acknowledged.
Ryder's reasons for attempting suicide also seem remarkably indecisive – being diagnosed as having a borderline personality disorder is like being told you're nearly late when you're effectively early - she seems to suffer nothing worse than the average teenager, yet displays no characteristics to suggest that she suffers from a fragile mentality(which would at least explain why she breaks down when others wouldn't). Ironically, Ryder never really comes across as a troubled girl, and never really shows any horror or despair at being practically route-marched to the asylum without warning. The hospital itself is the kind of operation that would have bogus asylum seekers faking lunacy to get in. Jolie aside, there are no truly disturbed patients here, just eccentric(which in Hollywood parlance means loveable) characters; there's no despair in this institution, no desperation, no frustration, no boredom, all of which must have been endemic in such places.
At the heart of this film, however, lies a much more fundamental, classical idea:
friendship
... -- what causes it? -- how it can invigorate us in the worst of times, and its short and long-term effects on us. With a beautiful poetic grace, the movie states that it's not the duration of a relationship that matters, but who it is that you befriend, and the place that they earn in your heart while it lasts. Every relationship in our life is short-lived like a flicker of a candle, as we're continually moving forward in our journey towards a fulfilled existence, time does not stand still, and the film makes a conscious effort to constantly accentuate this concept, this aspect of mind.
''When you don't want to feel... death can seem like a dream. But, seeing death - really seeing it... makes dreaming about it fucking ridiculous.''
8/10