''There are places in this world that aren't made out of stone. That there's something inside... that they can't get to, that they can't touch. That's yours.''

Two imprisoned men bond over a number of years, finding solace and eventual redemption through acts of common decency.
Tim Robbins
: Andy Dufresne
Morgan Freeman
: Ellis Boyd 'Red' Redding
The Shawshank Redemption
(1994) is a rare occurrence in storytelling that truly transcends film itself to become a soulful and memorable venture. Based upon a short story by Stephen King
"Rita Hayworth and Shawshank Redemption"
, and then brought to life for the big screen by Frank Darabont. Audinces will watch in awe as the story touches our heart and captivates our mind. Polished performances, dazzling direction, relentless atmosphere, beautifully suffocating cinematography. All the pieces gel and mould a totally human struggle to our eyes. This is worth more than just a second or third viewing; this a
masterpiece
of the 20th century for film.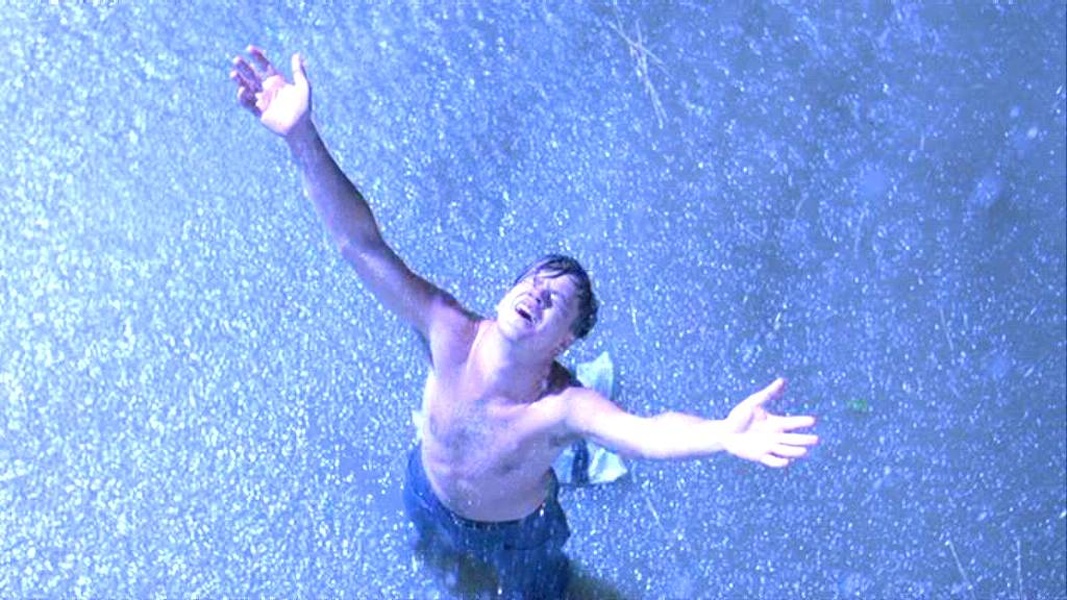 There are so many sides and humanitarian adoration captured within this film and story. So many messages that transcend mere words at times. Melting your heart with it's mesmerizing vision of a human bond that is so untouchable it sings out and rings inside you.
There is indeed a great sense of inspiration to be found at the center of
The Shawshank Redemption
, and that's a story of
hope
.
Everything that life thrusts upon you, all the despair put forth into your midst, there is always a glimmer of hope coming through like a ray of sunshine breaking dark cloud.
We go on a journey with these characters, and their stories remain with us long after proceedings come to a close. Andy's attempt to maintain hope and Red's struggle to allow the thought of it back into his life and routine, is a powerful story to be told; Highlighted by the fantastic performances from Tim Robbins and Morgan Freeman.
A film should assault all of your senses and again
Shawshank
qualifies instantly. It will make you laugh, make you cry, have you humming with joy, or feeling desperate and low at it's bad points.
The music adds to the mix in a wondrous way that is another key element to this films
soul
. The Original Music by Thomas Newman compliments the Cinematography by Roger Deakin(director of photography).
What else is it but storytelling transitioning into art? If a film can reach out beyond the limits of cinema and become larger than basic prison based stories, something more than a movie to be entertained by, can it be considered art?
Shawshank
crowned Frank Darabont's first venture into the worlds of Stephen King (
The Green Mile
and
The Mist
would follow), and it arguably remains his best and most accomplished effort to date. His ability to set the tone and create this isolated prison atmosphere instantly grabs your attention and never relinquishes the award of doing so.
That ultimate conclusion, where everything comes together like a newly formulated jigsaw will fill and satisfy.
Two friends reunited on a breathtaking scape or Andy Dufresne standing with outstretched arms in the relentless rain.
The Shawshank Redemption
is a deeply moving picture that has to be experienced, not observed. Felt, not merely seen. It tells an intricate story of extreme magnitude, leaving in it's swirling path a poignant tale of hope and freedom overcoming fear and imprisonment via physical walls. Allow yourself to be taken where films rarely go, the tragic beauty of it all is nearly overwhelming. A sweeping work of grandeur and glory of hope conquering all, to remind us that above all else, when all seems to be lost, never give up on hope. As Andy tells Red, hope is a good thing.
Hope
never dies.
Fear can hold you prisoner. Hope can set you free.
10/10