2017's
Pirates of the Caribbean: Dead Men Tell No Tales
is
probably
the best instalment in this particular franchise since its initial entry, 2003's
The Curse of the Black Pearl
, but that's still damning with faint praise. Indeed, this
fourth
sequel is still studiously mediocre and in need of more editorial discipline (not to mention better screenwriting), but at least it provides intermittent charms, and won't leave you wanting to run screaming from the cinema. Nevertheless, with lengthy six-year break since the last sequel (
Pirates of the Caribbean: On Stranger Tides
), it's disheartening that this is apparently the best that Disney could come up with. Even with a pair of new directors,
Dead Men Tell No Tales
(a subtitle not to be confused with 2006's
Dead Man's Chest
) lacks ambition and novelty, emerging as yet another lacklustre entry into the tired fourteen-year-old series.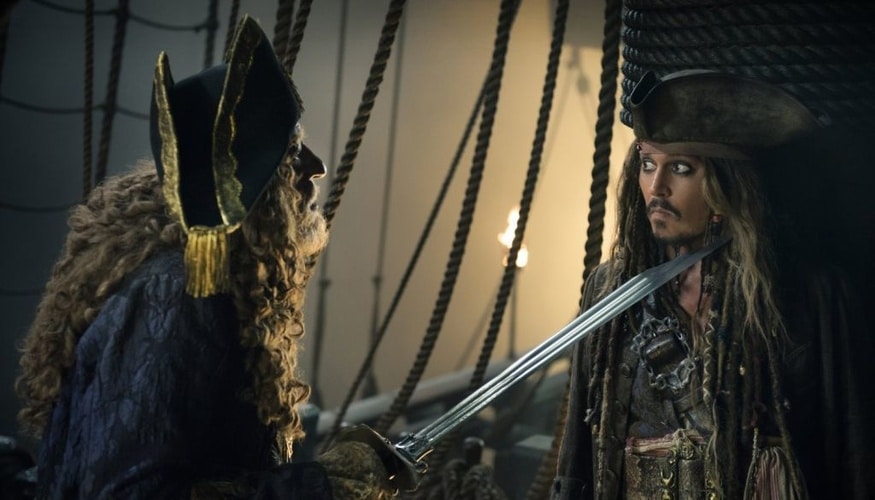 Henry Turner (Brenton Thwaites), the adult son of Will Turner (Orlando Bloom), has grown up to become a sailor in the British Royal Navy, but is determined to free his father from the curse of the Flying Dutchman. Learning that the Trident of Poseidon holds the power to break any curse, Henry seeks to recruit Captain Jack Sparrow (Johnny Depp) to help him in his quest, and also meets Carina (Kaya Scodelario), an astronomer who knows where the Trident might be. To complicate matters, Captain Salazar (Javier Bardem) and his ghostly crew are freed from their Devil's Triangle prison, and begin hunting for Jack who was responsible for taking away their corporeal freedom. In addition, Captain Barbossa (Geoffrey Rush) sets off to find the Trident of Poseidon for himself, while a British Royal Navy officer, Lt. John Scarfield (David Wenham), is also interested in the treasure.
The primary drawback of
Dead Men Tell No Tales
is that it feels flat overall, lacking a certain spark to truly bring it to life. The screenplay is replete with nonstop exposition, and endeavours to work through too many different subplots and tangents, with no less than six different parties seeking the Trident for themselves, taking away focus and prohibiting any sort of enlivening momentum. Exposition lacks snap, dialogue is largely humdrum, and the script is too cluttered and over-complicated, as if screenwriter Jeff Nathanson was operating on autopilot. It appears that those involved in this fifth
Pirates of the Caribbean
picture have lost sight of what made
The Curse of the Black Pearl
such a hit in the first place - it was an exciting, high-adventure swashbuckler with a hint of the supernatural, whereas
Dead Men Tell No Tales
meanders all over the place. Ultimately, the finished movie feels more like a workprint waiting for a tighter edit. And that's especially concerning given that this is the shortest instalment in the franchise to date.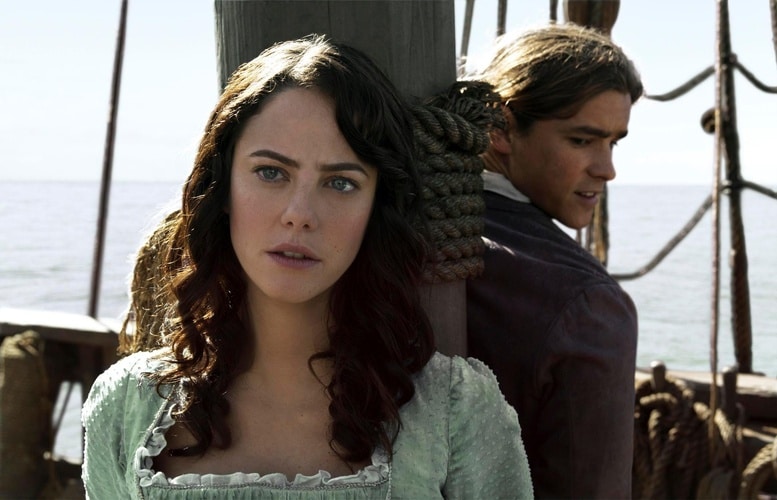 Directors Joachim Rønning and Espen Sandberg (2012's Kon-Tiki) do what they can with the material, but the problems primarily stem from Nathanson's script which could have done with a few rewrites. Salazar and his undead crew have a longstanding grudge against Jack, of course, and they're only freed from the Devil's Triangle (right after Henry encounters them, coincidentally) because Jack gives up his magic compass, which is surely the flimsiest plot impetus in recent memory. Meanwhile, there's no justification for Barbossa's return other than to add another party to an already crowded narrative, and some of the cheap slapstick moments and silly jokes might honestly make you feel as if you're watching a dumb spoof like The Pirate Movie or Carry on Columbus, rather than an expensive blockbuster. Characterisations are strictly one-dimensional outside of the primary characters - of course all of the Royal Navy officers are snobby, and absolutely refuse to listen to Henry. Not to mention, the screenplay just rehashes several elements from previous Pirates of the Caribbean movies - Salazar and his undead pirates mirrors Barbossa's skeletal crew from the first movie, Salazar himself feels like a dull retread of Davy Jones, and the romantic angle between Henry and Carina is just reminiscent of Will and Elizabeth's relationship.
Despite predominantly filming in Queensland, Australia to save on production costs,
Dead Men Tell No Tales
was still reportedly produced for a staggering $230 million sum, a sizeable chunk of which was allocated to Depp. (At least the budget is less than the eye-watering
$410 million
price-tag of
On Stranger Tides
.) Digital effects are difficult to fault and visuals are frequently spectacular, with cinematographer Paul Cameron making terrific use of the beautiful Australian locations, and with sumptuous sets and costumes bringing this world to life. Plus, it's undeniably rousing to hear the franchise's recognisable soundtrack beats during the major set-pieces. (Despite a new composer, the score feels mostly recycled from the previous films.) Nevertheless, even though Disney brought in a couple of Norwegian directors who had the potential to create something truly daring,
Dead Men Tell No Tales
is content to colour inside the lines. The only real spark of inventiveness is a sequence involving zombie sharks that ultimately feels like it's over before it even begins.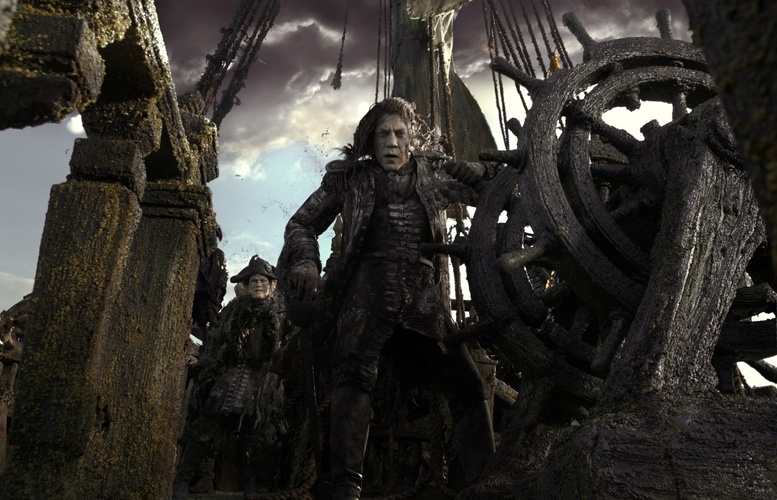 With the return of Bloom, Rush and even Keira Knightley, it appears that the makers of Dead Men Tell No Tales were trying their hardest to bring back established fans of this franchise, but it doesn't add up to much. Depp, who was so endearingly offbeat in the original movie (he was even nominated for an Oscar), appears to be simply going through the motions yet again for the sake of a generous paycheque. The shtick has simply gotten old. Mercifully, the two completely forgettable young faces from On Stranger Tides are no more, but their replacements - Thwaites and Scodelario - are nothing to write home about. Scodelario (such a standout in TV's Skins) admittedly has spunk and charm, but the romantic angle is dead on arrival. Meanwhile, Rush happily chews the scenery as usual, but Bardem is the meatiest addition to the cast, sinking his teeth into this ghoulish role. Bardem is a reliably focused thespian, and he's the most sinister villain of the franchise so far, but it's a shame that most of his screen-time is wasted on exposition and minor threats while Sparrow engages in buffoonery around him. Nevertheless, Bardem manages to keep the material at least marginally compelling, which is welcome. And for eagle-eyed viewers, Paul McCartney makes a brief cameo, though the moment feels both contrived and unnecessary.
When Pirates of the Caribbean: Dead Men Tell No Tales actually works, it is certainly fun, but the enterprise is too bloated on the whole, not to mention overloaded with CGI. Despite competent production values, it's all a bit ho-hum. Everything comes to a head for a climax that's exhausting rather than exhilarating, failing to replicate the raw thrills of the 2003 movie which started it all. Even though Dead Men Tell No Tales runs a mere 129 minutes, which is short for this franchise, it feels much longer, and it doesn't linger in the memory - you'll forget all about it in a matter of days, if not hours. It's just another rehash of the same Pirates of the Caribbean ingredients we've seen before. And unfortunately, as long as these movies make money, Disney will continue to churn them out regardless of whether or not we want them.
6.1/10