A unique micro-budget horror movie from executive producer Jason Blum, 2015's
Unfriended
essentially plays out like a big-screen Creepypasta, and it's an intriguing extension of the well-worn "found-footage" subgenre. Rather than "lost" film reels or digital video discovered on SD cards, almost every frame of
Unfriended
occurs on the screen of the main character's MacBook Pro, across a number of apps and websites. The narrative unfolds in real time from this unique point of view, which may sound like a boring concept, but it's more effective than it had any right to be. Unsettling and chilling, and made all the more unnerving by its uncanny sense of vérité realism,
Unfriended
is a stripped-down supernatural ghost story that's imaginatively guided by director Levan Gabriadze.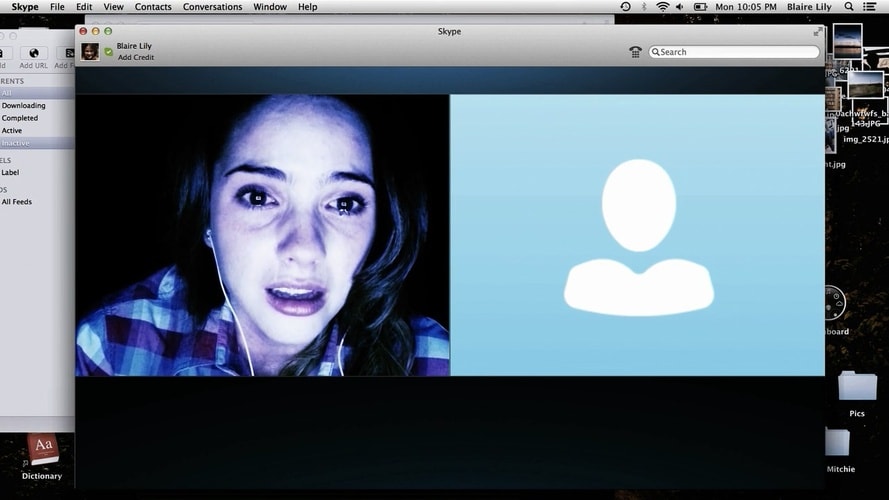 It has been one year since high school student Laura Barns (Heather Sossaman) committed suicide as a result of online bullying in the wake of an embarrassing video being posted online. Blaire Lily (Shelley Hennig) settles in to flirt with her boyfriend Mitch (Moses Jacob Storm) over Skype, but the conversation is soon interrupted by the appearance of classmates Ken (Jacob Wysocki), Jess (Renee Olstead) and Adam (Will Peltz), while Val (Courtney Halverson) is also invited to the group chat. However, a mysterious Skype user is also present, and Blaire begins to receive unnerving messages from Laura's Facebook account. Although everybody assumes that it's all just an elaborate prank, they come to realise that their online chat is being manipulated by an all-knowing phantom entity claiming to be Laura herself, who thrusts them into deadly games of truth-telling that threatens to tear the group apart. If anybody hangs up or tells a lie, they die.
With a screenplay credited to first-timer Nelson Greaves,
Unfriended
presents a potent snapshot of contemporary life, portraying the pressures of social media and how sites like Facebook and YouTube can be used to destroy lives. Teens who hide behind the anonymity of a computer screen can be exceedingly callous, unable to consider the gravity or consequences of their online actions, and cyber bullying has led to several well-documented suicides in real life. Thus,
Unfriended
functions as both a cautionary document as well as intense horror movie, and its messages are undeniably timely, giving it a bit of gravitas beyond the chills. Messages sent between the characters serve to provide exposition and enhance the story, while Blaire carries out online investigation as well. Mitch provides links that underscore the importance of ignoring messages from deceased persons, but the warning comes too late.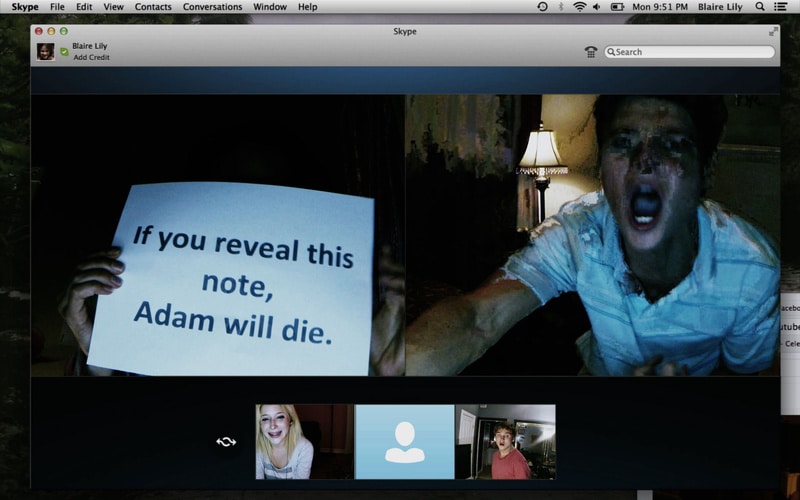 Every frame of Unfriended feels authentic, with the movie being performed in prolonged single takes by the ensemble, while a genuine computer screen is shown from start to finish. (Multiple different takes, and therefore different versions of the movie, were shot, and therefore a fair bit of footage from the trailers is not in the finished movie.) It may seem like a minor victory for a movie to convincingly portray a computer, but Hollywood motion pictures seldom get it right, often showing ludicrous, fantastical computer interfaces which don't ring true. Unfriended, on the other hand, has its foot firmly planted in the real world, with poor internet speeds and typing errors, amplifying the sense of horror. There is even a hint of black humour, with Laura at one stage causing Blaire's laptop to become overloaded with pop-ups advertising "live cams." The actors are all newcomers, with no famous faces to distract from the story, again giving the movie more realism. But despite a cast of newcomers, performances are uniformly believable, conveying fear and hysteria with ease. 
On balance, however, Unfriended is not perfect. Particularly egregious is the character of Ken, who's a lazy stereotype; he's overweight, sexless, a pothead, and a total whiz with computers. Furthermore, perhaps the electronic menace could be at least slowed down by switching off the power, if not entirely thwarted? Not every piece of the puzzle works, but Unfriended benefits from a snappy pace (it runs a brisk 80 minutes), delivering ample scares along the way. It's riveting more often than not, and it's never boring. The movie will undoubtedly be polarising depending on your expectations and your tolerance for the found footage subgenre (it refuses to answer any questions, leaving plenty of mystery), but it nevertheless worked for this reviewer.
6.9/10