Designed to feel like a natural extension of the iconic
Batman: The Animated Series
, and part of the DC Animated Universe at large, 2017's
Batman and Harley Quinn
should be something of a can't-miss prospect, but instead it's another total letdown that deserves to fade into obscurity. It's evident that
Batman and Harley Quinn
was devised to ride on the coattails of the success of
Suicide Squad
, which served to give the character of Harley Quinn newfound popularity. Alas, the result is too campy and tonally inconsistent, lacking in proper mystery and suspense. It may have its charms, particularly in the visual style, but
Batman and Harley Quinn
comes up short in terms of action and contains too many ill-advised scenes worthy of scorn.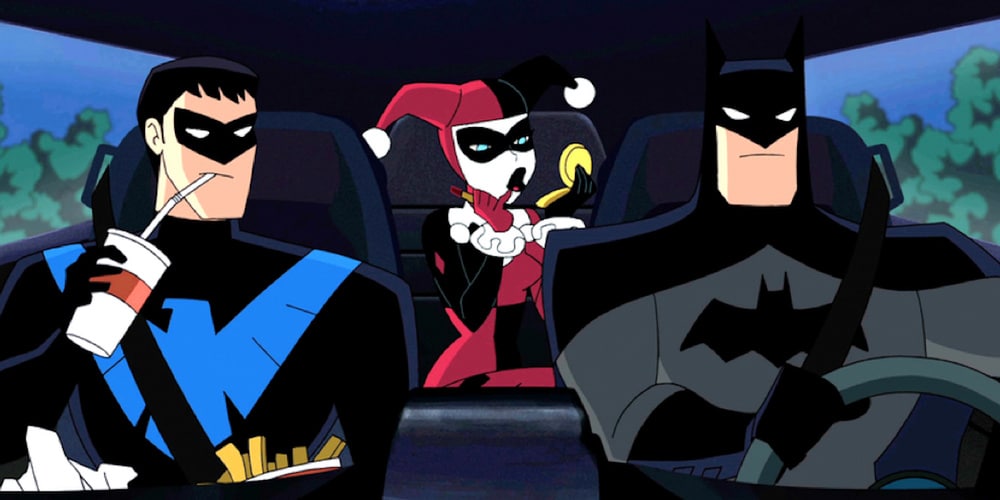 When Poison Ivy (Paget Brewster) and Jason Woodrue/The Floronic Man (Kevin Michael Richardson) rob S.T.AR. Labs, they steal information about Swamp Thing's creation and take a scientist hostage to replicate the formula. Investigating the crime scene, Batman/Bruce Wayne (Kevin Conroy) and Nightwing/Dick Grayson (Loren Lester) fear that the pair plan to devise a biological weapon to transform all life on Earth into plant hybrids. With the fate of humankind at stake, the Dynamic Duo reluctantly seek out Ivy's former partner in crime, Harley Quinn (Melissa Raunch), for assistance. Although Harley has made an effort to go straight and leave behind her former life, she agrees to help find Ivy and Woodrue before the duo can execute their devastating plan.
The teleplay is credited to animation veterans James Krieg and Bruce Timm, the latter of whom was one of the key masterminds behind Batman: The Animated Series and should be capable of a lot better. It's somewhat surprising and frankly disappointing that Harley Quinn creator Paul Dini was not involved in the production in any capacity, especially given his considerable ties to The Animated Series and his iconic Harley-centric stories. At least the Caped Crusader is given the chance to use his superlative detective skills here, but make no mistake: this is the Harley Quinn show. The plot exists to support Harley's full-blown zaniness as Batman and Nightwing serve as the straight men to her antics. There's an extended fart joke in the Batmobile that's atrociously undignified for everybody involved and feels utterly juvenile. This type of humour has admittedly been seen in some of the comics, but Harley is more effective when dealt with maturely (see "Mad Love"). Even worse, there's an awkward sequence in which Harley seduces Nightwing which only brings back uncomfortable memories of that sex scene in 2016's Batman: The Killing Joke. Meanwhile, there is not one but two out-of-place musical interludes, during which Batman is even seen tapping his fingers. Admittedly, the songs themselves are catchy enough, but all of this material is painfully self-indulgent, slowing down the pace of the story and taking away any sense of urgency.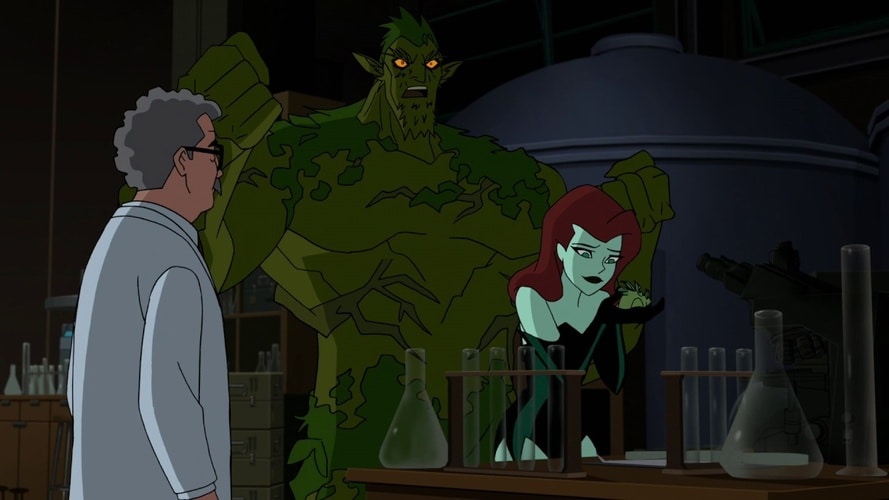 Visually, Batman and Harley Quinn harkens back to the style of Batman: The Animated Series and The New Batman Adventures, bringing back the old-fashioned character designs, though of course it all looks more noticeably digital as opposed to hand-drawn. The animation is impressively stylish and fluid, and it is genuinely exciting to see the likes of Batman, Nightwing and Harley presented in the bygone style of The Animated Series for the first time in a number of years. The original score (credited to three composers with longstanding ties to DC animation) is admittedly effective as well, with a light-hearted central theme that suits the material.
Ultimately, one of the biggest issues of Batman and Harley Quinn is that of tone. Director Sam Liu has overseen a number of darker DC animated movies, including Batman: Year One and Batman: The Killing Joke, but the script aims for screwball comedy, even evoking the 1960s iteration of Batman. It feels like Liu was not on the same page as the screenwriters, and therefore a number of infantile scenes are mixed with dark, violent set-pieces, such as the admittedly thrilling climax. When Batman and Harley Quinn is locked in action mode, it does work more often than not, showing what the movie had the potential to be. The ending, though, is a total letdown - the movie ends abruptly, and the final shot is intended to be cute, but just comes across as out-of-place and corny beyond all belief. Did the writers just lost sight of who these characters are?
The primary attraction of
Batman and Harley Quinn
is, naturally, the presence of Conroy and Lester, who slip back into their respective roles once again with absolute ease. Even though they can only do so much with the sloppy material, they undeniably commit to the characters. On the other hand, Raunch - who's best known for her role of Bernadette in the long-running sitcom
The Big Bang Theory
- is a foolish choice for Harley. Trying her hardest to replicate the distinctive voice of Arleen Sorkin from
Batman: The Animated Series
, Raunch's performance is distracting - she's screechy and uncharismatic (you can hear too much Bernadette in her voice, as well), which is a real letdown in a movie which brings back Conroy and Lester.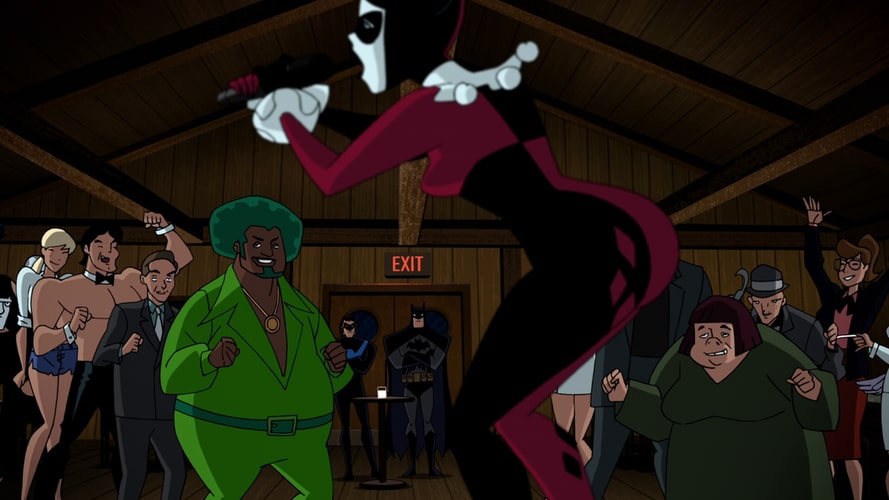 Batman and Harley Quinn is actually the thirtieth motion picture produced as part of the long-running DC Universe Animated Original Movie franchise which kicked off in 2007. (It's worth pointing out that the two Adam West-starring animated features are not considered part of this series.) It's perhaps wise that the movie is more standalone, emerging as separate from the main continuity of the franchise, making it feel more like a one-shot comic. Nevertheless, there's just no getting around the movie's shortcomings, making it a bitter disappointment considering the talent and potential, enjoyable though it may occasionally be. For those that choose to stick around, there's an extended scene at the end of the credits involving Harley that's somewhat amusing.
5.4/10