''Say what again. Say what again, motherfucker, say what one more Goddamn time!''

The lives of two mob hit men, a boxer, a gangster's wife, and a pair of diner bandits intertwine in four tales of violence and redemption.
John Travolta
: Vincent Vega
Samuel L. Jackson
: Jules Winnfield
Pulp Fiction
becomes a bit easier to understand once you realize that it's essentially a black comedy dressed up as a criminal drama. Each of the three main stories begins with a situation that could easily form the subplot of any separate drug comic movie. But something always goes wrong, some small unexpected accident that causes the whole situation to come crashing down, leading the increasingly desperate characters to hilarious conclusions. Tarantino's originality floods from his ability to focus on small details and follow them where they lead, even if they move the story away from conventional plot developments.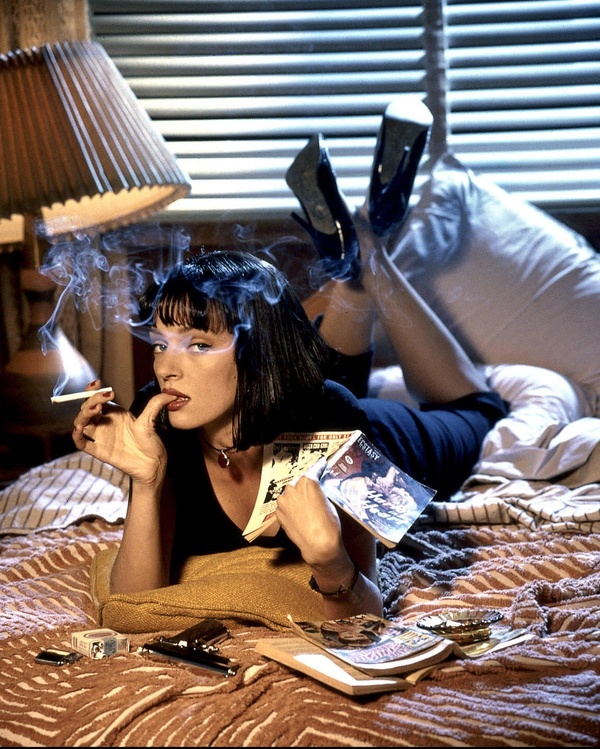 ''You see, this profession is filled to the brim with unrealistic motherfuckers. Motherfuckers who thought their ass would age like wine. If you mean it turns to vinegar, it does. If you mean it gets better with age, it don't.''
Pulp Fiction received its share of acclaim and awards, and deservedly so. But that being said, while seen by most as a good film, Pulp Fiction is not regarded as another old vintage classic, or Pulp Fiction is not ensconced in the pantheon of the greatest of the great Hollywood films of all time. Those are for a reason. As good a cinematic achievement as Pulp Fiction is, the fact is that as a film it plows turf that's just way too coarse for comfort. Over-the-top blood, guts, and brains-blown-out violence. Gritty gutter language. Subject matter dwelling in the underbelly of life that goes way beyond seedy or unseemly. And it's all presented in a very graphic way. Some people really like it that way. Hey, I understand. That's what Tarantino wanted too, right? But the simple fact is that such fare isn't for everyone but I loved. In this way its own intentional and unrelenting coarse nature is what self-selects it out of the greatness category. To achieve greatest of the greats greatness it has to be seen that way across the board, amongst every audience. Pulp Fiction by Tarantino's design isn't intended to appeal to everyone. Cleverly he wants to offend and he wants to shock and good old Tarantino pulls it off, just take a look at that basement scene for one of the best shocks in film I've seen. Also a worry for anyone traveling to the US.
In addition to these layers, Pulp Fiction also has a lot of humour in it, much of it at times when you know you shouldn't laugh but you do, and also out of situations that you wouldn't laugh at usually. I'm sure some of the parts I laughed at were just because I wasn't expecting something to happen, or maybe I just have a morbid mind, but a lot of the humour came out of the violence.
''What now? Let me tell you what now. I'ma call a coupla hard, pipe-hittin' niggers, who'll go to work on the homes here with a pair of pliers and a blow torch. You hear me talkin', hillbilly boy? I ain't through with you by a damn sight. I'ma get medieval on your ass.''

What is the movie's purpose exactly? It's a complex question,one side of it also is its theme of power. Marsellus is the sort of character who looms over the entire film while being invisible most of the time. The whole point of the big date sequence, which happens to be one of my favourite segments within the film, is the power that Marsellus has over his men without even being there. This power extends to Vincent, compelling him to act in ways you would not ordinarily expect from a dumb, stoned gangster, faced with an attractive woman whose husband has gone away. The power theme also helps explain one of the more controversial aspects of the film, its liberal use of the N-word. In this, the word isn't just used as a adjective to describe blacks: Jules, for instance, at one point applies the term to Vincent. It has more to do with power, rather than with race or colour. The powerful characters utter the word to express their dominance over weaker characters. Most of these gangsters are not racist in practice at all. Indeed, they are intermingled racially, and have achieved a level of equality that surpasses the habits of many law-abiding citizens in our society. They resort to racial epithets because it's a patter that establishes their separateness from the non-criminal world.
There's a nice moral progression to the stories. We presume that Vincent hesitates to sleep with Mia out of fear rather than loyalty. Later, Butch's act of heroism could be motivated by honor, but we're never sure. The film ends, however, with Jules making a clear moral choice. Thus, the movie seems to be exploring whether violent outlaws can act other than for self-preservation.
Everyone in the cast had amazing chemistry and bonding with each other, which added believability to a somewhat unbelievable story. The only reason that Pulp Fiction did not get a perfect score is that one scene with Butch and a cab driver went on for a tad too long. Knowing me, though, I'll soon change my mind, but it can still be said that Pulp Fiction is one of the most influential, most adult graphic novel-like movies of the 90's.


''That was pretty fucking trippy...''
10/10