"God would have mercy. He won't."

With Sylvester Stallone having featured in multiple Rocky and Rambo sequels throughout the '80s, there is little wonder as to why he got type-cast or why interest in both franchises continued to decline. 1982's First Blood was an excellent action-drama that emphasised the pain of Vietnam veterans in a compelling, stirring and exciting way. The sequel, 1985's Rambo: First Blood Part II, however, degenerated into an over-the-top action show-reel which bore little resemblance to its predecessor. 1988's Rambo III continued the tradition of its immediate forerunner; taking us even farther from the character as originally conceived. With any semblance of heart having vanished from the series, Rambo became a larger-than-life, prototypical American action hero. There's absolutely nothing in this third Rambo adventure that has not been previously seen - it's full of violent action, minimalistic dialogue and more explosions than the mind can fathom. On the other hand, it's still a lot of fun, and it succeeds as a brainless action ride.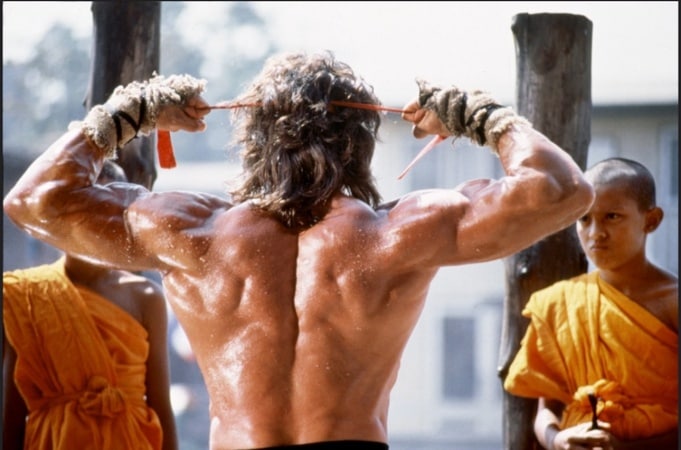 A somewhat propagandist return of John Rambo (Stallone), this entry in the series once again puts the titular hero in the middle of a political topic of the period - in this case, it's the Soviet invasion of Afghanistan. Rambo III finds the troubled Vietnam veteran living a secluded life in a monastery. However, when Rambo learns that his old friend Colonel Trautman (Crenna) has been captured by the Soviets, he takes it upon himself to wage a one-man war on the Soviets to rescue Trautman. With assistance from some Afghan rebels, Rambo amasses enough ammunition to start World War 3, and heads into Soviet Territory. From this point onwards, the movie is nothing but action with the badass protagonist taking the fight to the Soviets the best way he knows how.


Upon release in 1988, Rambo III proved to be a flop with critics and movie-goers, having being heavily panned by critics and having grossed a mere third of its predecessor's box office earnings. In fact, Rambo III had a reported $63 million budget, which was at the time the highest budget in film history. Considering the disappointing box office performance, it's no wonder the Rambo series subsequently lay dormant for 20 years. For all of this, however, the film is not a total loss. With director Peter MacDonald (who replaced Russell Mulcahy not long into filming) having been given a tremendous budget to play with, Rambo III is certainly the most epic of the franchise, and the money shows. Exotic locations are visited, and there are lots of guns, fiery explosions, big action sequences, and helicopters. As per the typical action films of the '80s, there are also cheesy one-liners, villainous villains, and a "no mercy" troop slaughter. And, of course, the film is often badass. While the dialogue is at times utterly risible, there are some notable interactions that are sure to provoke big dumb grins.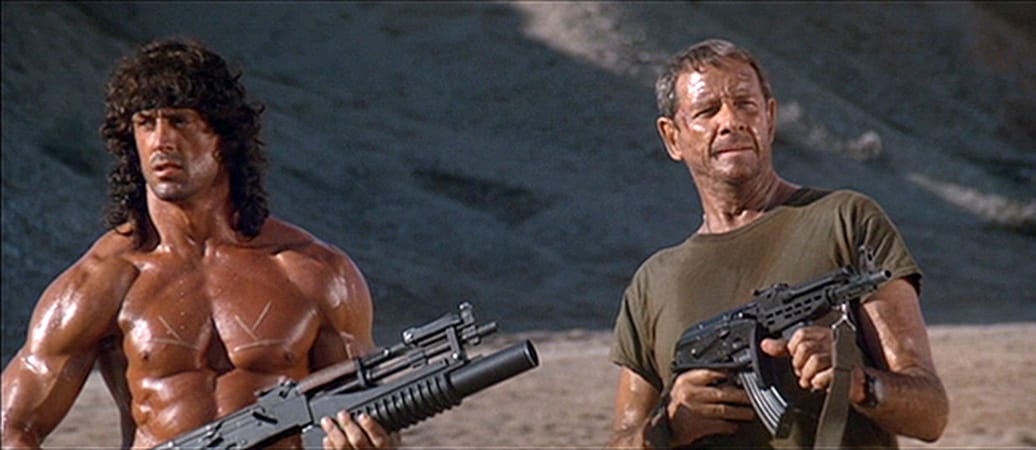 Aside from the frequently awesome action, Rambo III does appear to aim for a heartfelt message and tries to bring Rambo full circle. These amazingly half-hearted sub-structures are much too buried underneath the relentless action sequences, however - the filmmakers were simply unable to emulate the heart or poignancy which made First Blood such a standout. Additionally, while Rambo III cannot be faulted for fulfilling its humble aspirations of being a big dumb '80s action film, it can be faulted for its sheer ridiculousness. Rambo and his rebel amigos encounter a number of preposterous situations, making this the silliest entry in the series. What happened to the grounded action of First Blood?! Rambo III is also painfully by-the-numbers, and the first half tends to drag. And on the acting front, Stallone's performance deservedly earned him another Razzie Award for Worst Actor. In addition to this, the film was nominated for Worst Picture, Worst Director, Worst Screenplay and Worst Supporting Actor (Richard Crenna).


All things considered, Rambo III is a perfectly adequate way to pass 90 minutes of your life. This is definitely the weakest in the Rambo canon, but it's certainly entertaining, and fans will get what they yearn for in terms of explosions, stunts, high body counts and memorable kills. Unless you're a die-hard action nut, though, there is absolutely nothing in this outing that will appeal to you. The film may be dedicated to the people of Afghanistan, yet the politics of the film are laughable - Rambo could have been fighting alongside any foreign army facing a Communist threat, and the film would have been identical in execution. In spite of its flaws, Rambo III remains an enjoyable piece of work that makes up in thrills what it lacks in relevance.

6.2/10