There are minor spoilers here, so be careful.
It's a film that's really, really hard to talk about without going into major plot points, but I'm going to try my best to keep it at a small, general level.
Christopher Nolan's
Interstellar
has opened up to a bit of mixed-to-positive reviews from film critics. Which have probably angered and disappointed a lot of fans. The thing is, however, that was inevitable. You can't hit everyone when you're making the arguably most ambitious film in decades, and yes,
Interstellar
is not a 100% perfect film. There are minor problems to be found here, but seeing as
Interstellar
aims for the nearly impossible, I'm willing to say that
Interstellar
is a perfect film for audiences despite it not being perfect. It's actually a masterful piece of cinema.
Interstellar
opens up on a dying Earth in the not-too-distant future with dust storms, starvation and diseases steadily causing the extinction of the human race. And it is here we spend the first 30 minutes of the film, which is the set-up for the upcoming spectacle the rest of the film is about. The set-up is mostly build around two things. The first thing, and probably most important thing is the father-daughter relationship between Matthew McConaughey's Cooper and his daughter. It sets up the human connection and emotion that shines throughout the entire film, and is in many ways the basic foundation of
Interstellar
. The other thing is the scientific exposition that is required for the viewer to have some sort of understanding of what is going on. And then we're up to space.
Nolan have previously been criticized a lot for being too cold, and lacking emotion in his films. A consensus I completely disagree with, as
Inception
is extremely emotional. But
Interstellar
takes that level one step further, and it almost feels like Nolan has painted another brush of emotion just as answer to his critics.
Interstellar
is very emotional. There's an emotional core in this film that's really strong. McConaughey's relationship with his family, and the way that he sets out on this journey in order to save them and the rest of the human race causes for several emotional moments that really pulls my heart strings. The sequence that leads up to McConaughey leaving the Earth, where he have to say goodbye to his daughter is absolutely devastating. So is the scene where he watches video clips that he has gotten from his family while he has been gone. There are naturally many other scenes gives an emotional punch, but I'm not going to mention them all. What I will mention however is that I absolutely love that Nolan goes full circle with it and gives us that powerful moment of emotional catharsis in the end. I also like how it goes beyond the emotion that family dynamics gives us. How love can transcend through time and space, and not to mention how it explores the idea we were never meant to die on Earth. All this combined causes
Interstellar
to be a very powerful film, that had me shedding some tears.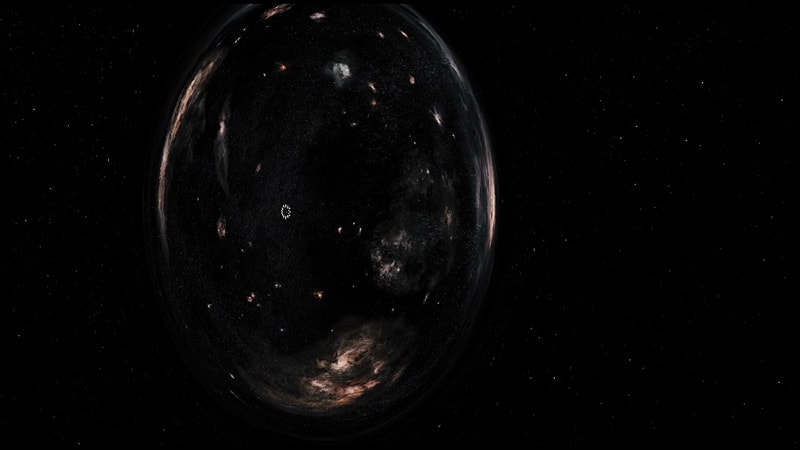 Someone who deserves a lot of praise for causing the sentimentality and emotion in
Interstellar
to work so well is Hans Zimmer. While I didn't think it was possible for Zimmer to top what he did with Nolan on
Inception
, I think he actually managed to outdo himself this time. The score for
Interstellar
is tremendous. Yes, it's loud and present, and might be too much for some, but it gives every scene that little extra spark for it to stand out even more. He walks the thin line between being too manipulative and perfectly balanced, but manages to stay on the right side.
The visuals are astonishing. Unlike anything you've ever imagined. This is a film that you have to see at the biggest screen possible. Nolan's perfect use and combination of in-camera effects and CGI makes
Interstellar
to be a very immersive film. Because you feel that visuals are much more than just pretty pictures. You feel the soul and craftsmanship behind them, which causes them to become more real, which again engages you more into them. But holy shit,
Interstellar
is a beautiful film too look at. The scenes on Earth are spectacular, but the visuals in space are just damned impressive. Those grand, majestic, sweeping images of planets, wormholes, black holes and the infinity of space are breathtaking. Add to this an outstanding sound-mix (there's no sound in space, works brilliantly!) and excellent production design, and you've got yourself a truly immersive experience in
Interstellar
.
The action sequences are brilliantly directed. When Nolan started out with major action in
Batman Begins
there was some sort of clunkiness to it, but Nolan has evolved exceptionally as an action director, and it really shows in
Interstellar
. He's very good at playing with the aspect of time and space, as well as cross-editing with things that happens at completely different locations. There are several moments in the film that are super intense, that have you at the very edge of your seat.
Matthew McConaughey delivers yet another brilliant performance, which is starting to become normal for him nowadays, and his portrayal of Cooper ranks amongst his absolute finest. Anne Hathaway, Jessica Chastain, Michael Caine, McKenzie Foy and the rest of the supporting cast are equally brilliant. Everyone manages to deliver a nuanced performance that oozes of intensity and emotion, as well as being subtly balanced.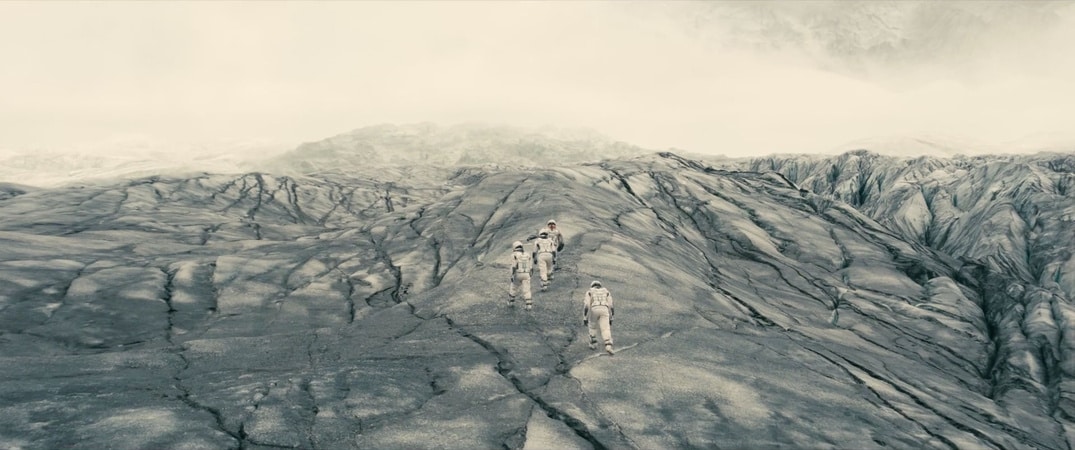 Now, I did notice some minor flaws. The exposition in the beginning, while being necessary, does feel a bit clunky. There's something unnatural in the dialogue that's rather hard to put a finger on, and it doesn't really help that my little brain can't understand all the science, physics, relativity talk they go on about. I do also feel that film perhaps could have ended five minutes earlier, as I didn't think that those minutes were really necessary to the overall story and theme of the film. And there are certain plot points that may come across as being a bit too far-fetched.
Interstellar
is something rare. It's a film that is just so much of everything. It's full of ideas and thought-provoking themes. It's thrilling and emotionally powerful. It's visually mesmerizing. It's a film that aspires hope and wonder. A film that dares us to look beyond common filmmaking. It's a film that dares to be something extra. It dares to takes risks and grasp over many things at once. Christopher Nolan may not have succeeded with absolutely everything, but the fact that he tried and came incredibly close to perfection, is something that should be celebrated. We're living in days were studios and filmmakers are playing safer and safer for every day, and finally we got a film and a director that took a leap of faith and went out with extremely high ambitions. And almost succeeded 100% with those.
Interstellar
is not 100% perfect, but it doesn't matter. The positives, the spectacle, the emotion and ambition of
Interstellar
far outshines every negative point in it. Therefore,
Interstellar
manages to be perfect nonetheless.
10/10