"It's been confusion from the word go!"

Inarguably, Brazil is the definitive Terry Gilliam movie. In a sense, it's Gilliam's Citizen Kane. Added to this, it was his first post-Monty Python feature. The Python troupe's final motion picture, The Meaning of Life, hit screens in 1983, and Gilliam perceived his liberation from the group as an opportunity to spread his creative wings. Brazil is pervaded with the type of dark humour that owes much to Monty Python, yet the absence of Python members (save for Michael Palin) allows this to emerge as a different animal. A hilarious, paranoid and chilling film, it's somewhat difficult to explain Brazil. In a sense it's several different movies, but it's predominantly a picture about escape; escaping from boredom, escaping from parental rule, escaping from our mundane jobs, escaping reality, escaping authorities, and the eventual escape from sanity. Or is it? Armed with a frighteningly prophetic social commentary, a nourishing dose of black comedy, an excellent sense of visual imagination, and a miasma of great actors, Brazil is classic Terry Gilliam filmmaking in every sense of the word.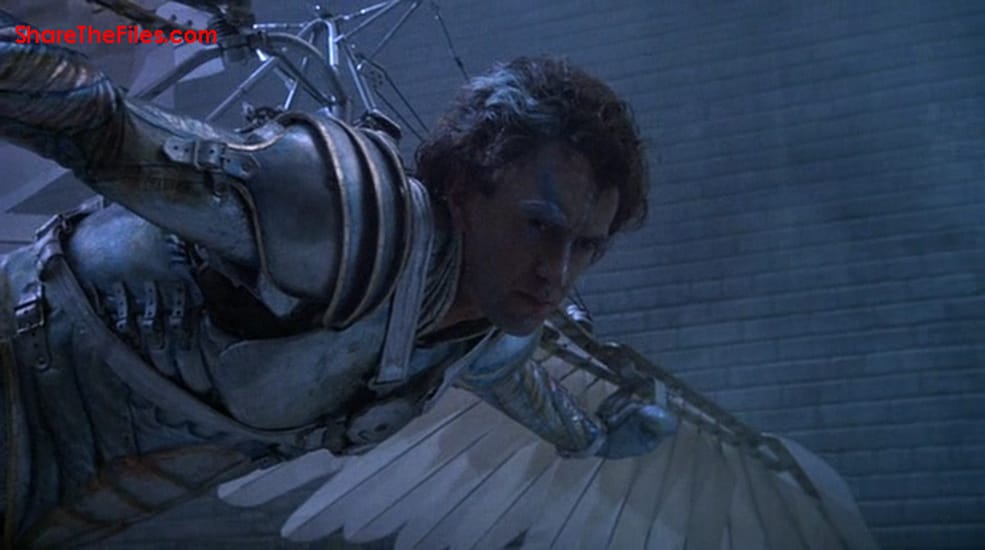 Set "Somewhere in the 20th Century", the film's proceedings take place in a needlessly convoluted futuristic society; a giant bureaucratic mess whereby everything requires a signed form and all the world's citizens are being watched by a rather Orwellian Ministry of Information. Sam Lowry (Pryce) is a civil servant working at the Ministry of Information who types his way through a lifetime of meaningless papers. His only escape from this dreary existence is in his dreams, where he can fly away from technology and the overpowering bureaucracy to spend eternity with the girl of his dreams. The basic gist of the plot concerns a paperwork mix-up that leads to the imprisonment of a Mr. Buttle, who was arrested instead of suspected terrorist Harry Tuttle (De Niro). While Sam tries to rectify the wrongful arrest of Buttle, he finds the woman he has been dreaming about: Jill Layton (Greist)


This is the plot described at a very basic level. There are a number of additional subplots which seem unrelated to the narrative, yet serve to emphasise the type of world this is and sound a cautionary note about the direction of modern society. Sam's mother Ida (Helmond) receives frequent facelifts, and this highlights humanity's innate obsession with physical perfection. Jack (Palin) has a smiling ability to ignore the woes of his actions, which reflects politicians and company executives who defend their position without considering the consequences to others. Added to this is all the paperwork, whereby every act requires a signed form with a stamped receipt. While many would scoff if Brazil was filed under "Comedy", this is what the film is at its core - a sharp, comedic satire of the Information Age. The mockery is rarely subtle, yet it's frequently dead-on. Plus, a smattering of amusing physical humour is also on offer from time to time.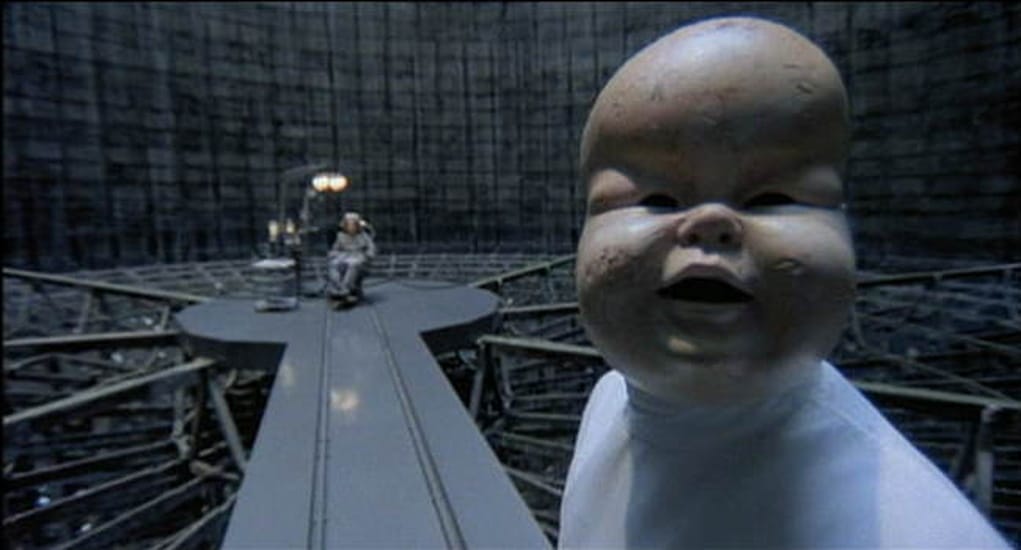 Throughout Brazil, a number of conflicting dichotomies are set up by Gilliam in order to pose difficult, complicated questions. It's key to the understanding of the film to realise that absolutely no answers are offered here, and there's no right or wrong. In this way, Gilliam capably engages his audience in a fashion that most moviemakers would baulk at, and he risked alienating and confounding those watching his flick. Clearly, Gilliam desired for his viewers to understand that nothing in life is understandable, and life has no clear-cut corners or any easily conceived answers. With this in mind, Brazil could have been a pretentious, artsy slog, but it's enthralling.


As the most visual member of the Monty Python troupe, it's unsurprisingly that Gilliam ended up as the most prolific filmmaker of the bunch. Brazil transpires within two different realms: the dreary "reality" where Sam spends his waking hours, and the airy fantasy world of Sam's dreams. Gilliam has always had a penchant for breathtaking visuals, and this is strongly evident in the various dream sequences peppered throughout the movie. Sam's reality, on the other hand, has been infused with a 1940s noir feel - more or less a view of what the '80s may have looked like from the perspective of a filmmaker from the '40s. Additionally, the mark of Gilliam's genius is that his visual gags clearly communicate the tyranny of a bureaucratic state. As a result, a 10-year-old could watch Brazil and grasp its message. Perhaps the best definition of Brazil comes from French directors Marc Caro and Jean-Pierre Jeunet: "retro-futurism".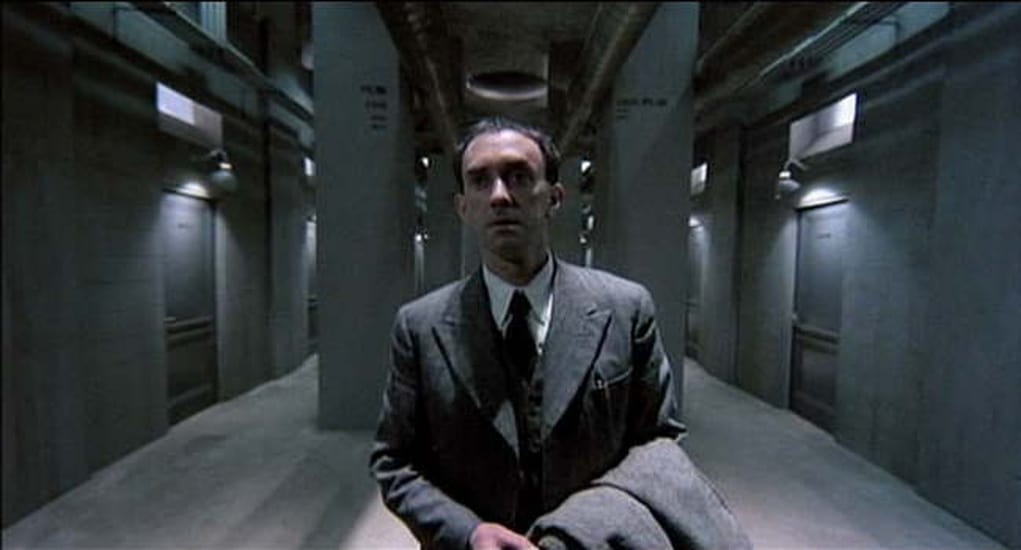 Due to the film's somewhat downbeat nature, Universal executives deemed Gilliam's initial edit unsuitable for release. They desired a picture with wide appeal, rather than an "art house movie". A re-edited version was thus sanctioned that later Gilliam disowned, which has since been dubbed as the "Love Conquers All" bastardisation. The entire "Battle over Brazil" (as it was called) basically boiled down to a public war of words between Gilliam and Universal executive Sid Sheinberg. In the end, Gilliam triumphed and his cut was the version that entered multiplexes. To gain this victory, Gilliam arranged a series of unauthorised screenings for Los Angeles-area movie critics, who in turn named it 1985's Best Picture. Somewhat embarrassed that a film he was holding from release was honoured in such a way, Sheinberg admitted defeat.


At the centre of the movie is Jonathan Pryce's exceptional portrayal of Sam Lowry. The role was written with Pryce in mind, and he responded by submitting this brilliantly nuanced performance of a mousy man desperate to be someone heroic. Gilliam reportedly had trouble casting the part of Jill Layton, and after filming he was dissatisfied with Kim Greist's work, so he cut down her screen-time. Considering this behind-the-scenes dilemma, Greist is surprisingly strong, though she is not as remarkable as the remainder of the cast. Meanwhile, Python regular Michael Palin managed to use his charm to emphasise the duality of his character; loving husband one moment, bureaucratic sleaze the next. Comedian Katherine Helmond's portrayal of Ida is replete with a dash of mad humour, while Ian Holm played Mr. Kurtzmann as a typical bureaucrat. Robert De Niro provided the star power of Brazil, and fought alongside Terry Gilliam for the film's American release. His appearance amounts to a cameo, which was quite a change for the star.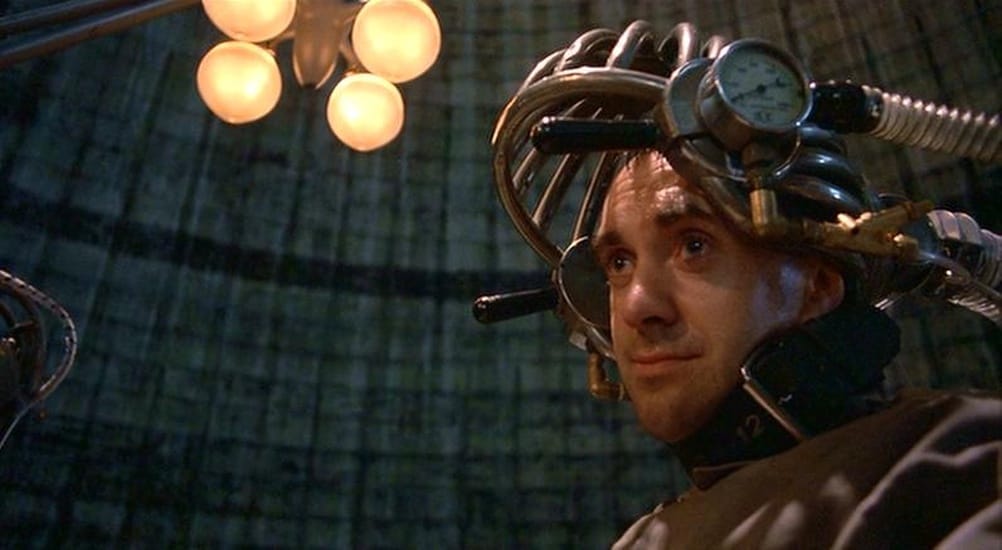 Brazil clocks in at over two hours, which is admittedly a tad long and thus the film tends to drag from time to time. This criticism aside, Brazil is a must-see. If you love Gilliam's work, see this film without hesitation. For those unfamiliar with his films, this is the best introduction to Gilliam's filmography. Interestingly, as many critics have noted, the film is startlingly prophetic. Movie-goers in 1985 scoffed at the concept of terrorists infiltrating the government, and the notion of police arresting people and holding them indefinitely in a secret prison to be tortured. They also scoffed at a world overwhelmed by technology, and where privacy is merely a word. Food for thought.

9.2/10