"Time to meet the devil."
There is an unreasonable amount of expectation surrounding 2013's
Only God Forgives
, as it's the second collaboration of director Nicolas Winding Refn and star Ryan Gosling after 2011's
Drive
. Fans of
Drive
expecting something similar will be disappointed - you see,
Drive
was in fact more of a gun-for-hire project for Refn, who was called upon to put his distinct audio-visual stamp on a script by James Sallis.
Only God Forgives
, on the other hand, is a Refn project through-and-through, finding the Danish filmmaker both writing and directing this breathtaking, surreal mood piece which ponders the futility of revenge. The product is destined to be 2013's most polarising motion picture, though this reviewer found the experience utterly absorbing. It's pure art-house all the way through to its core, with deliberate pacing, ambiguous scripting and extended patches of wordless imagery.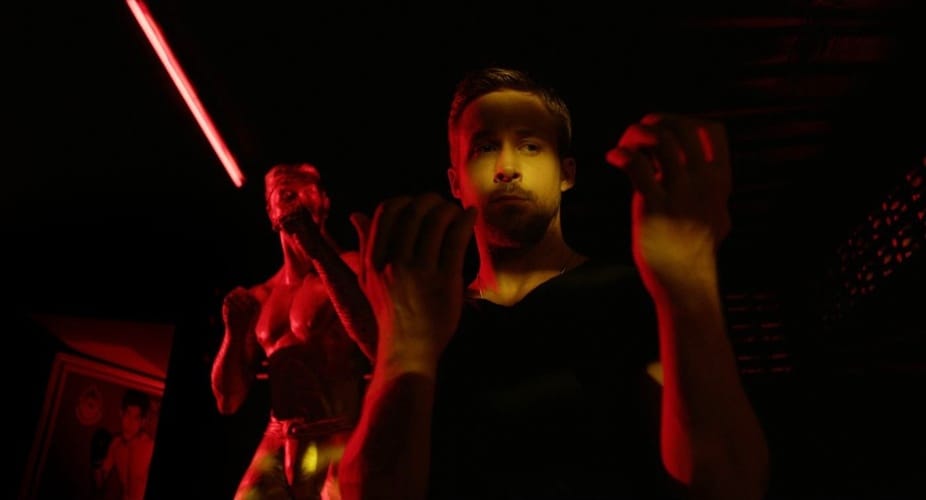 In Bangkok, lowlife drug dealer Billy (Tom Burke) rapes and kills a 16-year-old prostitute, leading to his murder at the hands of the girl's father, spurred on by corrupt police captain Chang (Vithaya Pansringarm). Billy's brother Julian (Gosling) is compelled into a vendetta of vengeance, which is further fuelled by the arrival of the boys' mother Crystal (Kristin Scott Thomas). Crystal demands bloodshed in response to Billy's murder, but this only provokes more violence, attracting Chang's attention as he transforms into a relentless machine. Amid the carnage, Julian finds solace in the company of young dancer Mai (Yayaying Rhatha Phongam).

Only God Forgives is irretrievably dark, with a sense of dread and malevolence pervading every frame. Mainstream viewers are advised to steer clear, as Refn is not interested in selling tickets to you; this is an exquisitely stylish but methodically slow neo-noir tour through Thailand's criminal underworld. It further demonstrates Refn's unique modus operandi, as it's another tale of a broken loner trying to navigate the savage world in which he resides. The film is unadulterated madness, and Refn gives us ample time to observe the horrors and poses, supported by a superbly atmospheric score by Drive composer Cliff Martinez. The music amplifies the experience and enhances the tone, affording an orchestral voice to a movie that's light on dialogue. Indeed, Only God Forgives prefers to show rather than tell. And what a show!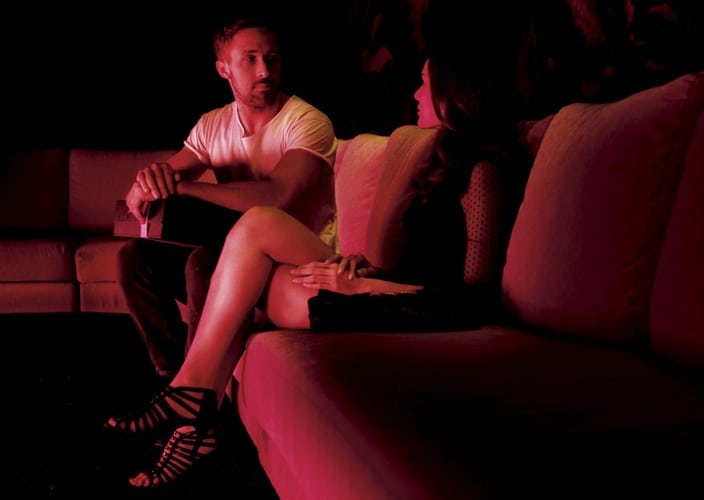 Refn's idiosyncrasies as a filmmaker are unique and distinctive; anyone familiar with Drive or the Pusher movies will recognise his proclivity for extended pauses, stylish photography, short bursts of vicious violence, and a refusal to close on a definitive note. Shot on location in Bangkok, Only God Forgives benefits from its authentic flavour, as characters often speak in their foreign dialect and the depiction of Thailand is not American-ised to any degree. Being a Refn production, there are scenes of bloodshed, and they are both ferocious and perfectly executed. Bodies are sliced open and people are tortured in borderline unspeakable ways, and Refn lets us observe in graphic detail, though he manages the remarkable feat of being tasteful. A less skilful filmmaker would elect the overt torture porn approach, but Refn knows when to cut away, imbuing Only God Forgives with a rare sense of class. It's not that Refn was too scared to show everything - it's that he was astute enough to not cross the line into bad taste, and some occurrences here are so horrifying that mere implication is disturbing enough. It genuinely feels as if every audio-visual component of Only God Forgives was subject to heavy deliberation. A cinema screening is the best way to experience it, as you're more able to absorb the tremendous craftsmanship.

Not everything in Refn's script gels, however, leading to scenes that either go too far (some of the symbolism is fairly heavy-handed) or simply make no sense beyond gratuitous shock value (Julian mutilates a character's dead body in a completely baffling moment). Suffice it to say, Refn's style denies a strong human element, meaning emotional investment is impossible. Only God Forgives doesn't engage on a profound level, but that doesn't mean it's shallow; on the contrary, the thoughtfulness and deliberateness of its composition is stunning. It's David Lynch-esque in its construction, with Refn embracing abstract tendencies, blurring the line between reality and fantasy in sequences that explore the emptiness of Julian's soul. A great deal of patience is required to sit through Only God Forgives, particularly whenever Refn's camera returns to a karaoke bar to observe Chang pouring his heart out through singing. Such moments did elicit a few laughs in my screening, but I found the scenes almost unbearably poignant, especially with the knowledge that karaoke singing is a significant aspect of Thai culture.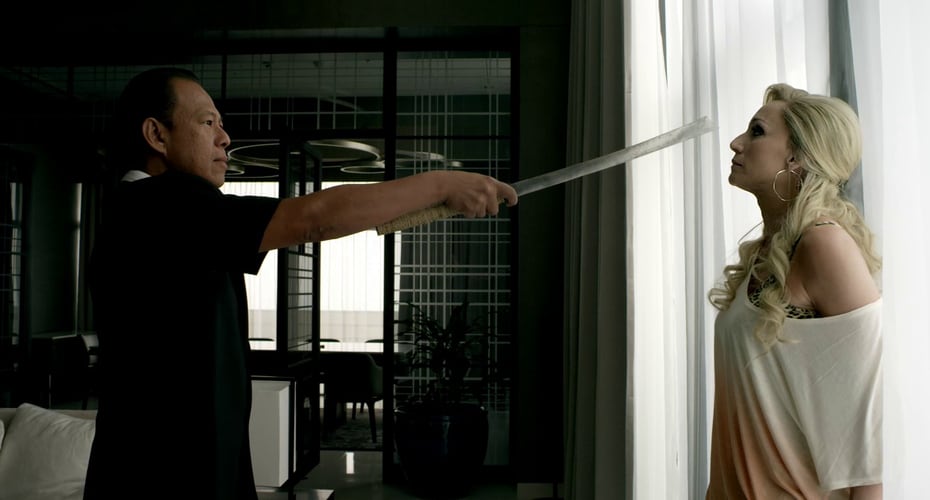 Gosling may be perceived as the star here, but he's very understated, delivering maybe twenty lines of dialogue throughout the movie's runtime. It's a near-mute performance of nuanced stares, and it's astonishing to see how much emotion he can convey without uttering a word. Gosling doesn't just rehash his Drive persona, though, instead creating a distinct new character for Julian. Equally good is Thomas, who's the complete opposite of Gosling, dispersing vulgar dialogue and never baulking from speaking her mind. She's certainly broad, but it works, as she adds spunk to what's otherwise a wordless staring contest. Even better, though, is newcomer Vithaya Pansringarm, who's absolute dynamite as Chang. He's such an unexpectedly interesting character; one moment he's committing indescribable acts of violence, and the next he's showing his delicate side. Pansringarm is a powerhouse, and it's his haunting performance that will stick with you the most. Also deserving of praise is the beautiful Yayaying Rhatha Phongam, who keeps pace with Gosling and shares several memorable scenes with him.

Only God Forgives is another superb feather in Refn's cinematic cap; an avant-garde experiment in strange beauty and harrowing horror concerned with existential questions and the mysticism of Asia. At a scant 90 minutes, it manages to get in and out without feeling agonisingly protracted or overlong. You'll either love Only God Forgives or despise it; there's not much of a middle ground. Some viewers will go along for the ride, while others will ridicule the movie as pointless and uneventful. Do not even consider watching it unless you're prepared to keep your mind open and allow Refn's surreal cinematic spell to wash over the screen.

8.1/10