In 2005, Akron/Family released a self-titled album which served as my introduction to the band. They comprised of four members back in those halcyon days. The album was great listening, if a little inconsistent, with Running, Returning being the most impressive track of the bunch. They churned out two quite mediocre albums after that and kind of fell off my radar. This year they're back with Set 'Em Wild, Set 'Em Free and I'm pretty pleased to say I've fallen in love with them all over again.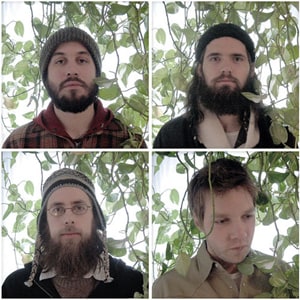 They're down to three members now, but it's not so much of a problem when the remaining personnel are multi-instrumentalists with the confidence to experiment. Far from the folk tag they've warranted, the opening track of this album is a brilliant funk-infused song that immediately sets the standard for what's to follow. Everyone is Guilty is probably one of my favourite Akron/Family tracks. The singing isn't 'freaky' any more, and more standardised vocals are present on the rest of the album. I liked it. River follows on from the first track and it's another great tune. I've seen this track mounted on a few other blogs and websites out there already; if Akron released singles then this would probably be the front running candidate. Despite the love though, I still prefer it's predecessor.
The album then takes a turn into the more low-key, with a couple of tracks that wouldn't be so far out of place if strummed around a camp fire. It's a short lived reprieve before they revert back to supercharged mode with Gravelly Mountains of the Moon, which gears the album up for a strong finish. The only track I didn't care for was MBF, which seemed to be an homage to Steam games. I'm sure I heard a Strider from Half-Life 2 thrown into the mix, and the song tails off as though it's a game over screen from Left4Dead. What is a track borne of pretty appealing guitar work is castrated by painful vocals and angry radio static. I've seen this lauded as their 'trademark creativity' shining through, but it's a low point of the album from my point of view. It very much ruins the possibility of listening to the album whilst you're trying to fall asleep, which is a cardinal sin for any record that features such an out of place track.
The only other song worth raving about is 'They Will Appear'. This one doesn't exactly build up into a crescendo, but rather cut and pastes a jaunty sing-along in front of a lighters-in-the-air anthem. Overall, the album is a much more orthodox affair than their self titled release. They seem to have cut out their droning ambient tracks in favour of acoustic guitar driven songs and their more 'freaky' work has almost taken a back seat completely. Some argue that they've toned down their sound, but I'd say this was a definite improvement on their previous release, Meek Warrior. Maybe they are edging slightly closer to similar bands in the genre, like Broken Social Scene, but I don't think that could ever be construed as a negative thing. I'm am still ever-impressed with their frequency of output. Four and a half full length albums in just four years is an impressive achievement to say the least.
8/10