Animal Collective have been a staple on my media player ever since 2005. I started off with an album I'd consider their most accessible to date, Feels, and never really ventured further into their discography save for a few short EPs. All of this changed recently when I started a long overdue retrospective of the Animal Collective discography. If you've never heard of Animal Collective then I maintain that Feels is probably the easiest album to digest for anyone interested in getting to know more about the band. I was always put off by their 'experimental' tag; it's a word for me that has become almost entirely synonymous with 'unbearable' in music terms. Luckily, in this instance I'd say 'inspirational' is a more appropriate word equivalent.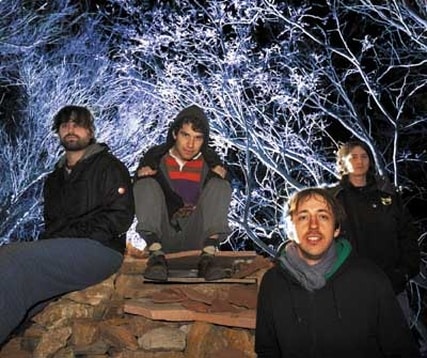 Merriweather Post Pavilion is the newest release from the band. At first I was apprehensive to give it an hour of my time as I think I was the only person on the planet who didn't enjoy their previous album, Strawberry Jam. SJ was blighted with the odd problem of having one song ('Fireworks') that's so much more brilliant than the rest of the album. It's difficult to even give the other songs a proper look in as a result. MPP is a much more flowing and orthodox album; though I can't lie, it also has its own absolute standout track.
'In The Flowers' is perhaps one of the most brilliant pieces of music I've heard in a long time. Listening to this track on headphones for the first time caught me completely unawares, and I felt as though a carnival had burst into my room about half way through the song. It is sheer bliss, and forces you to smile and dance. If these guys could somehow bottle their sound, I don't think anyone would ever be depressed ever again! The follow the greatest song on the album with the second best track, My Girls. It's a much more subdued affair, but definitely a memorable one. These two tracks back to back set a pace that unfortunately can't be maintained throughout the rest of the album. MPP almost seems to be on a downwards slope during your first few listens purely because of the quality of the opening tracks, but the rest of the album does contain many good, bombastic songs and maintains much more consistency than Strawberry Jam, even with the more non-sensical and silly songs that appear toward the end.
Animal Collective are one of only a few bands who can never ever bore me as a listener. They are gifted with a creativity that breeds consistently inspirational and rewarding music. Their songs, which range from the serene and beautiful to the flamboyant and outrageous, never fail to entertain. Effortlessly, they can build a wall of sound out of noises that resemble no instrument I've ever heard of before. Not only is new Animal Collective material instantly adorable for the initiated, their old songs have longevity and do not lose potency after three solid years of repetition on your media player. I'm a bit of a fan.
9/10