"We came, we saw, we kicked its ass!"
Three decades on, 1984's
Ghostbusters
is still as hilarious, spooky and marvellous as ever, a real hoot of a horror-comedy engineered by a host of talented moviemakers. Directed by Ivan Reitman (
Stripes
) and written by Dan Aykroyd and Harold Ramis, it's a grandiose spectacle of comedy and special effects, enhanced by a pitch-perfect selection of actors and sharp dialogue.
Ghostbusters
was a box office smash upon release, grossing almost $300 million worldwide from its $30 million budget, and it still feels fresh and original in 2013. With its spot-on tone, absurd plot devices, hysterical one-liners, gut-busting physical humour and over-the-top performances, it's no wonder that movie-goers keep calling on
Ghostbusters
for superb entertainment.

Kicked out of Columbia University for their questionable abilities, parapsychology scientists Peter Venkman (Bill Murray), Ray Stantz (Aykroyd) and Egon Spengler (Ramis) decide to go freelance, setting up a ghost removal service and calling themselves the "Ghostbusters." Before long, the gang also recruit sardonic receptionist Janine (Annie Potts) and fourth member Winston (Ernie Hudson), operating their business out of an abandoned firehouse. The Ghostbusters are soon approached by Dana Barrett (Sigourney Weaver), a beautiful cellist who notices strange supernatural happenings unfolding in her apartment building. Eventually becoming possessed by a demon together with her nerdy neighbour (Rick Moranis), the Ghostbusters face the task of saving New York City from destruction at the hands of Gozer the Gozerian.

The majority of the movie's comedy is generated from the interactions and conversations between the main characters, who seem to disperse an endless array of witty dialogue. For a PG-rated film, the script is surprisingly risqué, though most of these gags will probably fly over the heads of kids whereas adults will have a hearty laugh. On top of the smart bantering, Ghostbusters has terrific situational comedy and an all-round charm and zaniness that feel spontaneous rather than forced. There's a terrific flow to the narrative as well; no other filmmaker than Reitman could have pulled off such a smooth transition from a standoff with a demigod to a battle involving a Godzilla-like giant marshmallow man. Reitman also establishes a spot-on tone; Ghostbusters does not go overboard in the comedic department, keeping events somewhat grounded and establishing real stakes. But while there are some serious moments, the film keeps the laughs coming thanks to funny bantering and the hammy nature of so many of the creatures. The only real problem with Ghostbusters is a sub-plot involving an environmentalist played by William Atherton. It's too much of a standard-order story thread, and it honestly spoils the fun. The film grinds to a halt when Atherton shows up, even though Atherton's presence does make way for some amusing lines.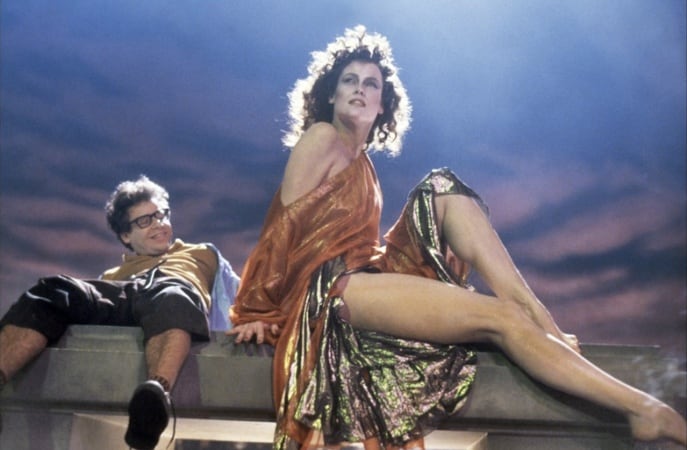 Contemporary spoof movies and comedies are not often skilfully-assembled, yet Ghostbusters is bursting with talent in terms of cinematography, editing and direction. The opening library scene is a masterpiece of deliberate pacing and tension, and one can't help but smile when the theme kicks in and the title appears on-screen. It's an immaculate opening for the picture. Similarly, framing is unusually strong throughout, with a careful eye towards composition which makes every shot look interesting. This is exactly why comedies from this era are superior and more respected than their modern counterparts; Ghostbusters feels like a real movie pulled off with skill and care, instead of a slapdash creation thrown together by a bunch of juvenile filmmakers. Ghostbusters is a special effects-heavy production, with numerous ghosts and creatures appearing throughout. Most of the practical effects stand up to this day, while the more obvious effects shots only amplify the film's charm and absurdity. With CGI used to much in modern filmmaking, there's something endearing about watching old-school effects. Also exceptional is Elmer Bernstein's score, which captures the essence of the film; it's playful, light-hearted and comedic, yet the music is also foreboding at times to underscore the horror elements.

The screenplay makes fantastic use of the cast, playing well to each performer's strengths and welcoming improvisation. The Ghostbusters gang carry a terrific camaraderie, as if they've been friends for years, hence we feel comfortable whenever they interact onscreen. Bill Murray is at his comedic best here, with his deadpan delivery, sarcasm and witticisms shining through in every scene. Nobody does humour quite like Murray; he's an enormous asset to the picture. Meanwhile, Ramis is a top-notch straight man, delivering the science-heavy exposition with abandon and charm. Then there's Aykroyd, who absolutely nails his role and provides several big laughs. Also worth mentioning is the side-splitting Potts as the Ghostbusters' receptionist, and Hudson who ably fulfils his duties as the token black guy. Rounding out the cast is Weaver, who holds her own against the rest of the cast, and Moranis, who's never been funnier.



Perfectly executed and smartly written, Ghostbusters is a seminal '80s comedy which deserves to be seen, even by those who do not enjoy movies of this vintage. Even though it spawned an inferior second film and there have been talks of a third instalment since the '90s, we still have this first film, and we can be forever thankful for that.

8.7/10