''Laugh and the world laughs with you. Weep and you weep alone.''

After being kidnapped and imprisoned for 15 years, Oh Dae-Su is released, only to find that he must find his captor in 5 days.
Min-sik Choi
: Dae-su Oh
Ji-tae Yu
: Woo-jin Lee
Oldboy
(2003); Now this is the ultimate mind-fucks of
revenge
stories. You can honestly see that director Chan-wook Park outshines Quentin Tarantino when creating the most violent revenge scenes. The film itself a witty revision and re-mix of Alexandre Demas's
The Count of Monte Cristo
, Takashi Miike sadism and the David Lynch imaginings/dream surrealism.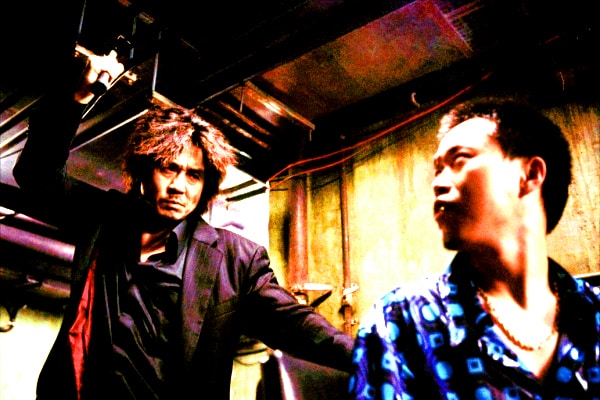 Compelling, dark, twisted, and gory, carrying with it a strong lesson of what imprisonment and revenge will do to a man. Dae-su was a sleazy, gossiping fool who let his mouth get the best of him, resulting in a huge mess. He became a cold, bloodthirsty killing machine after 15 years of being locked up alone in a solitary room, completely changing from the verbally clumsily young man he had been before.
Oldboy
is about the effects and limitations of revenge, showing us the consequences for lusting after
justice
or
revenge
. A very brutal, stripped down view of human emotions.
Oldboy
is overly violent, hallucinogenic and drenched in bloody revenge.
Whats more compelling than a man trapped within a room for 15 years, slowly eaten up by madness and seething for
vengeance
? Well, the answer is simple: Seeing the man attempt to carry out the task, and
Oldboy
affords us this luxury.
Oldboy
has some intricate, slick cool music which is a mix of modern and classical to set the mood and tone.
It all adds up to a fascinating study, and evolution of a character who after this ordeal is let go by his captors after nearly escaping, then plots to find his kidnappers.
The acting is good all around, especially by Choi Min-sik, who played Oh Dae-su. Very emotive, very angry, and a very powerful and convincing actor. Marvellous. Kang Hye Jeong and Yu Ji-tae did very well as Mi-do and Lee Woo-jin respetively.
Highly surreal director Chen Wook Park
Oldboy
is epic and vast. The two men behind the
Oldboy
material: Garon Tsuchiya(story) Nobuaki Minegishi(comic).
There's something ethereal and dreamlike to proceedings that the screenplay writers hit on the head with their cleverly constructed scripting.
Jo-yun Hwang, Chun-hyeong Lim and Director Chan-wook Park were behind the screenplay while Joon-hyung Lim the writer.
As a consequence fight scenes, shootouts roar with energy and power. One of the most famously recognized scenes being of the corridor brawl showing us Dae-su against a great number of henchmen. What makes the scene so impressive is the fact it feels reminiscent of a 2D platformer and uses a unique way of using cinematography and camera techniques.
The effects also featured some very imaginative ideas; Ants being creatures of groups that lonely people see to deflect the former feeling of being alone. It all results in being highly engaging viewing especially when you throw in some mind bending dialogue which makes one ponder and reflect with it's deeper analogies. Who was to thank for the effects? Jeon-hyeong Lee was the man behind the visual effects and he did a grand job.
There is a love for
storytelling
at it's beating adrenaline pumping heart;
Oldboy
is ironically as hypnotic as it's subject matter and upon first viewing may not be fully understood by it's audience. Repeated viewings give a taste of the details, intricacies and heavily drenched psychological warfare which isn't just restricted to being physical.
Original Music by Hyun-jung Shim with classical modern resonance, Cinematography by
Chung-hoon Chung with power, originality and style, lastly Direction from the clever, talented Chan-wook Park.
This film has sex and violence, incorporating those themes into the plot, instead of constricting them to the plot alone. The incest is a touchy subject, but it's used as a plot point, not playing against personal sick delusions witht the audience. If you judge the movie based on this then
you're missing out
.
This movie does not glorify incest or the numerous acts of violence Oh Dae-su commits throughout the film's 2 hour duration. Oh Dae-su is a tormented character; this is especially seen in his line
"After my revenge...will I be able to be Oh Dae-su again?"
He's not evil and he's not enjoying the things he's doing; he wants to be his
oldboy
self again! Not to mention the schizophrenic tendencies he gained in those 15 years alone. Oh Dae-su is not a hero, just a man who wants his peace of mind, and his revenge. You don't have to sympathize with him if you don't want to, that's not what the movie strives for. What it does strive for is answering and indeed raising questions regarding revenge, emotions and the ripple effect of one's actions; Not to mention fleshing out it's respective characters hand in hand.
Question is, what will Dae-su do when he finds his kidnapper? Will his enemy kill himself as promised or is there more to this than meets the eye?
Oldboy
will set tongues wagging.
''Even though I'm no more than a monster - don't I, too, have the right to live? ''
10/10