"You think this can last? There's a storm coming, Mr. Wayne. You and your friends better batten down the hatches, because when it hits, you're all gonna wonder how you ever thought you could live so large and leave so little for the rest of us."
After Christopher Nolan rebooted the Batman film franchise with his 2005 film
Batman Begins
, he's had nothing but praise from movie-goers and has built an enormous fanbase. Nolan established a dark, gritty, pessimistic, and even scary tone to his Batman films, and after the release of his amazing sequel,
The Dark Knight
, it was clear that his dark style worked so well with the character of Batman. Now, Nolan plans to finish off his trilogy with
The Dark Knight Rises
. There's been a lot of hype behind this conclusion to Nolan's trilogy - it's definitely the most anticipated film of 2012. The question on every movie-goers mind is whether or not this will be anywhere as good as
The Dark Knight
. The latter had one thing that made it so successful - Heath Ledger as The Joker, who is without a doubt an amazing villain. Due to Ledger's death, the character of The Joker could not make an appearance, and there's a lot of speculation to whether
The Dark Knight Rises
can deliver on the sheer complexity that made the previous film such a masterpiece. However, in my opinion,
The Dark Knight Rises
is nothing like the two previous films in Nolan's trilogy, and it's still an amazingly epic finale to an absolutely perfect superhero trilogy. Fuck
The Avengers
, this is how a superhero movie is done.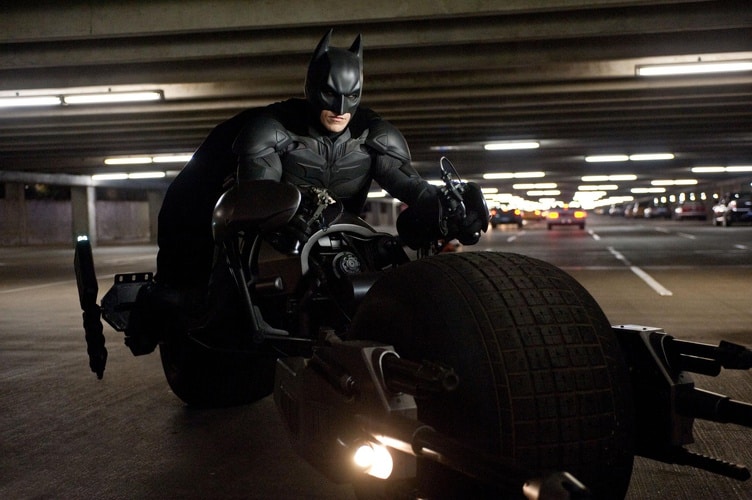 It has been eight years since Batman a.k.a Bruce Wayne (Christian Bale) vanished into the night, turning, in that instant, from hero to fugitive. Assuming the blame for the death of D.A. Harvey Dent, the Dark Knight sacrificed everything for what he and Commissioner Gordon (Gary Oldman) both hoped was the greater good. For a time the lie worked, as criminal activity in Gotham City was crushed under the weight of the anti-crime Dent Act. But everything will change with the arrival of cunning cat burglar Selina Kyle (Anne Hathaway) who hides a mysterious agenda. Far more dangerous, however, is the emergence of Bane (Tom Hardy), a masked terrorist whose ruthless plans for Gotham drive Bruce out of his self-imposed exile. But even if he dons the cape and cowl again, Batman may be no match for Bane.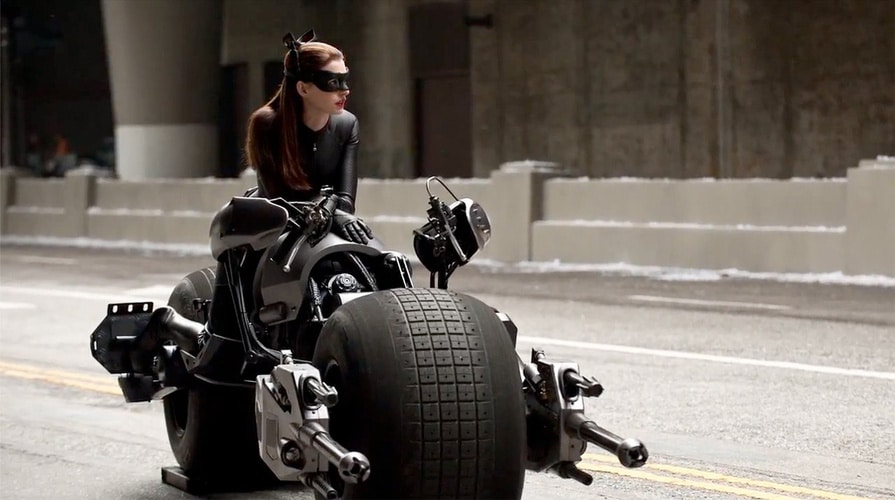 Written by Nolan and his brother Jonathon, the screenplay will mostly bother those who thought very highly of
The Dark Knight
, as it is no where near as deep as the latter.
The Dark Knight
had a truly complex structure, thought-provoking themes, and an amazing villain, all of which doesn't register quite as well as
The Dark Knight Rises
. Although it doesn't reach the same level as complexity as the previous film, the film still has an interesting story to engage, and it is a smart film. Hell, it's a lot smarter than another superhero movie released earlier this year (
The Avengers
, anyone?). What makes
The Dark Knight Rises
so different from all the other films of Nolan's trilogy is that so much of the focus is centered on Bruce Wayne. We don't actually see a great deal of the other key characters in the Batman story, such as Alfred, Gordon, and Lucius, and this will bother some movie-goers. To be honest, the film acts slightly like a character study of Wayne, and outlines his
rise
to his original status as the hero of Gotham. The film spends a lot of time developing Wayne's character, but rarely does so with those in support. However, there's some truly moving moments between Alfred and Wayne that push their relationship to places we've never seen before, but still, it could've been developed a lot more. Like I said,
The Dark Knight Rises
is mainly interested in developing Wayne's character, and although there is a sag in the middle of the film (this is still a key part of Wayne's development), Nolan and his brother have done a solid job of constructing a journey for Bruce Wayne's
rise
.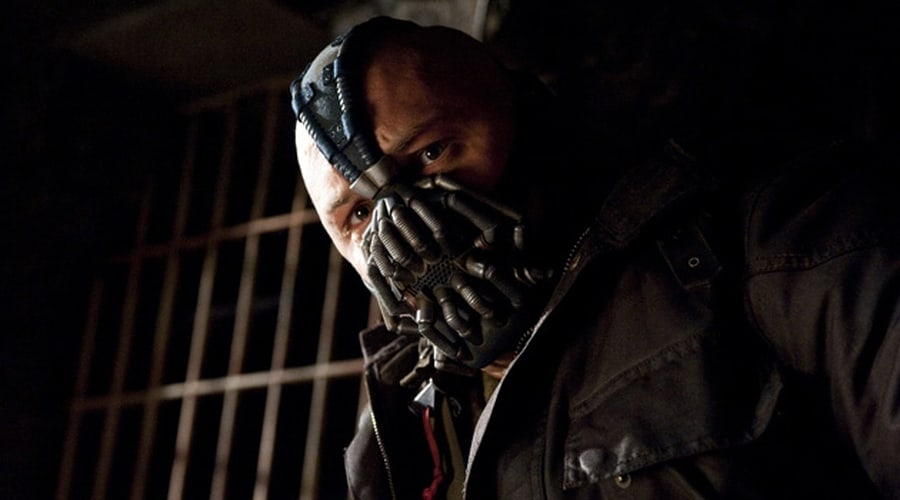 The new characters to the mix are all beautifully established and characterised by Nolan. There's been a huge amount of speculation behind the character of Bane, as The Joker was such a brilliant nemesis for Batman. Truth be told, bane doesn't stand up to The Joker in any way. The Joker offered complexity to
The Dark Knight
, and while Bane is an intellectual character, The Joker's character was really what made the previous film so amazing. Still, Bane is an effective villain regardless of whether he's any better than The Joker. What works so well about Bane is his physique - he truly is a threatening character. The amount of necks and faces he breaks in the film is endless, and by the half-way mark of the running time, it's clear that anyone crosses Bane's path is dead. He's also a worthy adversary for Batman, both with the brains and physique. He's just as cunning as Batman is, but has the sheer brute strength to destroy Batman in a heartbeat, and I think this made for some brilliant tension due to Batman's absence from crime fighting - can he still fight like he used to is the question.
Another new addition to the endless list of characters is Catwoman, a.k.a Selina Kyle. Having never seen any other portrayals of this character outside the comic books, I have nothing to compare Nolan's take on the character to, but hell, I thought he did Catwoman justice. This isn't a slutty, bitchy Catwoman that I've heard was present in Tim Burton's
Batman Returns
. She was established so well to the audience, and was shown to not be a cold, soulless criminal, but an actual damaged human being. Catwoman's dialogue is also flawlessly written by Nolan, and it captures that seductive and slick nature of her character beautifully. Also, the banter between her and Batman is gold, with Batman's serious and rough attitude colliding with her own flexible and care-free personality. I was on the fence about the other new female character to the cast, Miranda Tate, as I felt that she had nothing to do and was there just to be a love interest for Wayne, but her character plays a big part in the climax of the film, and that definitely gave the film a nice edge.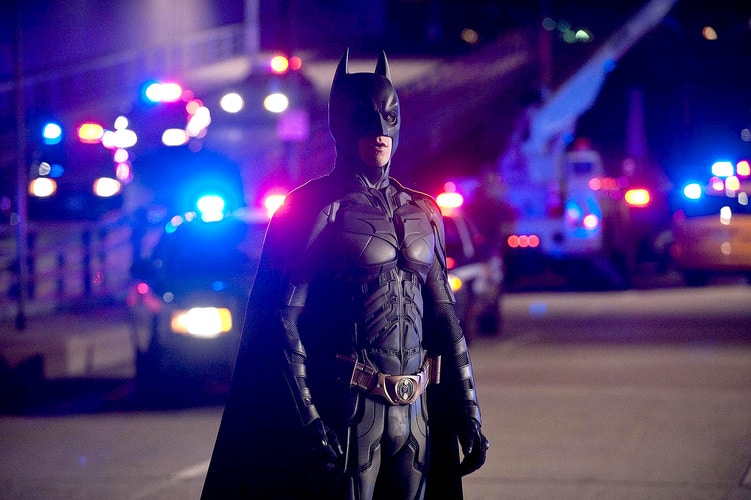 Christian Bale returns to the role of Batman with ease. He's pretty much got the role down perfectly, and since this is by far Bruce Wayne's most difficult ordeal seen in Nolan's trilogy, he really brings a strong determination to his performance that makes the struggle of Wayne all the more convincing. Tom Hardy, meanwhile, is terrific as Bane. There's no point in comparing him to Heath Ledger as Bane and The Joker are two extremely different characters. Hardy pulled off Bane well, and while his face is covered by a mask the whole time, his eyes express much of the emotions for him. If there's one thing Hardy does well, it's delivering a threatening performance, and with his physical size and the intensity he emits in his eyes, he makes for one hell of a fierce villain. However, in my opinion, Anne Hathaway steals the show as Selina Kyle. She did everything perfectly right in this role - she's sexy, she's funny, she's smart. There was so much speculation on whether or not she was the right choice for the character of Catwoman, but hell, she delivered an amazing performance. Selina Kyle in the film was never really characterised as a true criminal, and Hathaway managed to pull off a sly and seductive performance, while still radiating humanity and heroism beautifully. Also, she works really well with Bale, making for some hilarious moments between Catwoman and Batman. Michael Caine, meanwhile, may not have a great deal of screen-time, but he pulls off a tear-jerking performance as Alfred. The other veterans of the cast, Morgan Freeman and Gary Oldman, may have little screen-time like Caine, but they're always good value. Another new addition to the cast is Joseph Gordon-Levitt as John Blake, a small-time cop who strongly believes in justice. He's fantastic in the role, and gives off an admirable screen presence.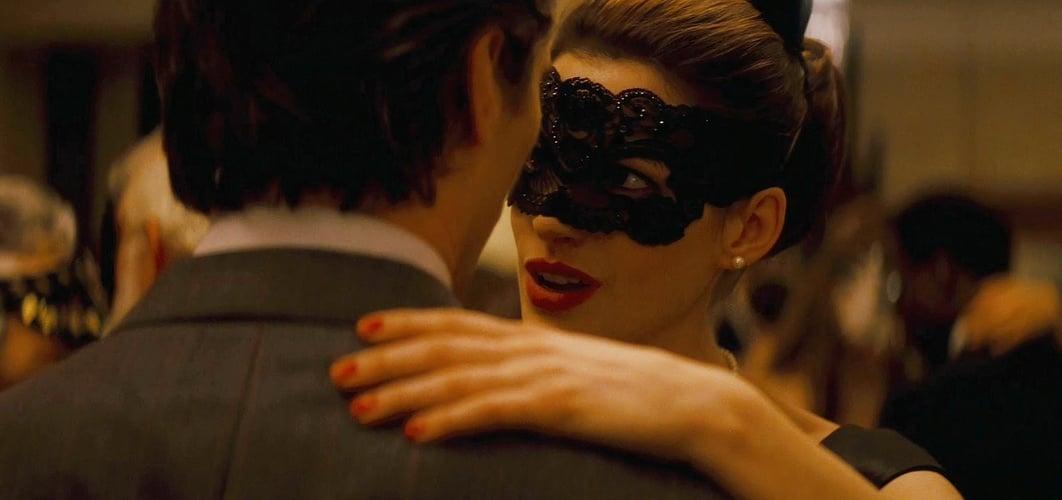 The spectacle may very well be the strongest point of the film. Even Nolan himself has stated that this is the biggest film he's ever had to direct, and it shows. All the set-pieces are massively constructed and staged, with thousands of
real
extras and superb special effects. It's a shame I never saw this film in IMAX (although I did see the six minute prologue behind
Mission Impossible: Ghost Protocol
in IMAX) because everything was so spectacularly staged and shot. If there's one thing
The Dark Knight Rises
does better than its predecessor, it's with the action. One of the main issues I had with the previous two films in Nolan's trilogy is that the fight sequences were so poorly put together. In
Batman Begins
, they were edited and shot poorly to the point where you couldn't really tell what was going on half the time, and in
The Dark Knight
, Nolan and cinematographer Wally Pfister opted for a handheld style of camera movement, which in my opinion, made the fight scenes look plain. In
The Dark Knight Rises
, Nolan and Pfister have definitely improved on shooting their fight sequences, using a lot more dolly shots for smoother movement. The editing by Lee Smith is also perfect. A highlight of the film is first confrontation between Batman and Bane, which results in a magnificent fight sequence between the two. There are also a few chase sequences which are, as always, brilliantly staged by Nolan. He's no stranger to perfect car chase sequences (the car chases in both
Batman Begins
and
The Dark Knight
are some of the best I've ever seen), and with the addition of the Batwing, the chase sequences in
The Dark Knight Rises
still bring freshness and excitement to the film. Hans Zimmer's score is way above average, and I'll definitely be picking it up as soon as possible - the way it flows with the action and dialogue is just flawless. Lastly, I have to mention the production design. Like with
The Dark Knight
, there are sets built to be blown up - with
The dark Knight Rises
, it's a spectacular sequence set in football stadium where the field blows up. All the sets are sensational, with update of the Batcave and the look of Gotham towards the end of the film when things go to ruin. Also, the costumes are fantastic. Bane's mask is well-designed, emitting a threatening look, and Catwoman's leather suit... I'll be honest, it's amazing, and Hathaway slips it on like a goddamn champ.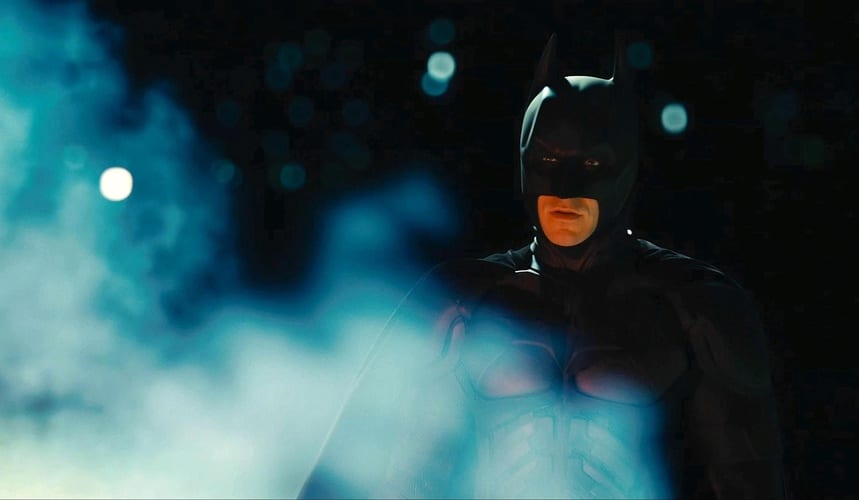 "See, I'm a man of simple tastes. I enjoy"
explosions, lots of action, and... hot girls!
"And you know the thing they have in common? They're"
all abundant in
The Dark Knight Rises
. I personally think this is my favourite of Nolan's trilogy. Sure, it doesn't have the complexity of
The Dark Knight
, but I really want to avoid comparing it to the latter. There's something truly different about this finale, and I still think it delivers on the 'epicness' that is so crucial to a conclusion of a franchise as successful as this. When the end credits role, you do feel a bit sentimental as this is the last film in Nolan's trilogy, although a reboot has been confirmed (Nolan is attached as producer and writer). I will definitely be seeing this again in IMAX. This is one of the best films of 2012, and probably, in my opinion, the best comic book movie ever made. I
love
this film. If you were let down by
The Avengers
like I was, this is the film for you.
10/10