"Watchmen. One of us died tonight. Somebody knows why. Somebody knows."

When an ex-superhero is murdered, a vigilante named Rorschach begins an investigation into the murder, which begins to lead to a much more terrifying conclusion.
Malin Akerman
: Laurie Jupiter / Silk Spectre II
Zack Snyder's
Watchmen
is not your average graphic novel adaptation. Unlike with
300
, which was short and sharp and shallow and easy to adapt, the original
Watchmen
is incredibly dense and, as written, un-filmable. So Snyder did something very clever - he didn't even try. What he did instead was to take the world of
Watchmen
and rebuild it in a way which made a
virtue
of this new medium (film) rather than try to cram the graphic novel into a cinematic form.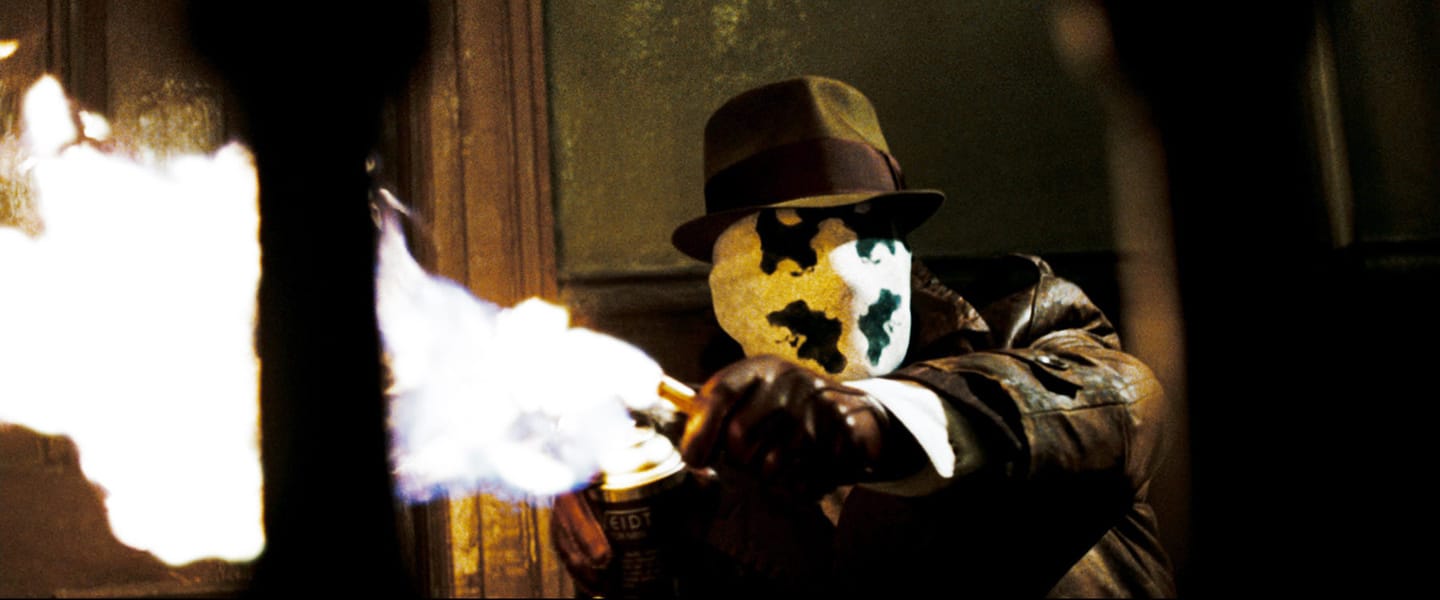 Nowhere is this approach more obvious than in the film's title sequence. A wonderfully composed collage of images depicts scenes from the universe of Watchmen in a way which is only possible in the movies. In this way, we are subconsciously introduced to a world where costumed heroes are a part of everyday culture and brought, in a stylish and fluid way, from the original days of the Minutemen to those of the Watchmen. This introduction is perfectly executed, and is indicative of the heights which the
Watchmen
movie is perfectly capable of achieving.
"The only person with whom I felt any kinship with died three hundred years before the birth of Christ. Alexander of Macedonia, or Alexander the Great, as you know him.
His vision of a united world... well, it was unprecedented. I wanted... *needed* to match his accomplishments, and so I resolved to apply antiquity's teaching to our world, *today*. And so began my path to conquest. Conquest not of men, but of the evils that beset them."

Watchmen is a brave film for a major studio to make and without a doubt it would not exist in its present form without the success of
300
. It is incredibly dark (both in tone as well as shooting style) with events that would be anathema to any other superhero story. The less you know about the story, the better, so there will be no spoilers here but suffice to say
Watchmen's
version of a happy ending is a far cry from the Hollywood norm.
Snyder's brings his unique approach to action to bear on
Watchmen
, expanding on the action scenes in the comic without making it feel too redundant. His efforts are ably supported by the incredibly game cast, excellent cinematography and near perfect visual effects - this film is incredible to look at but also manages to create an entire world in a way which most superhero stories never do. The attention to detail in even the smallest scenes is commendable and the dense flashback structure means the same attention is paid to the presentation of full and complex characters.
"Rorschach's Journal: November 12th 1985. Dog carcass in alley this morning, tire tread on burst stomach. This city is afraid of me. I have seen its true face. The streets are extended gutters and the gutters are full of blood and when the drains finally scab over, all the vermin will drown. The accumulated filth of all their sex and murder will foam up about their waists and all the whores and politicians will look up and shout 'Save us!' And I'll whisper 'no'."

Snyder has made a film which is gorgeous to look at, agreeably violent, well written, wonderfully designed and features some of the best small scale action sequences ever committed to celluloid. But, naturally, not everything is perfect. Most of the performances are excellent, with a cast of relative unknowns who manage to distinguish themselves despite constantly competing with overbearing effects and design. Patrick Wilson, in particular, does great work with a difficult role as Nite Owl, while Jackie Earle Hayley is blistering as Rorschach. Unfortunately in a film which could have done with a strong female presence, neither Carla Gugino nor Malin Ackerman make much of an impression, despite having quite a lot of screen time. Synder's musical cues are another bone of contention - often pushing the tone of the film into the realm of parody. And the ending... well let's just say it may lessen the experience in search of the lowest common denominator and the whole package solidifies. On a related note, neither of the stories major revelations are handled delicately. These moments were genuinely shocking in the graphic novel but are almost glossed over in the film.
Watchmen
is a great film, sometimes a visionary film. Snyder has managed to make a film which is a terrifically well balanced compromise between accessibility and fidelity. That anyone can sit down in the cinema and experience a distillation of the Watchmen universe in just 163 minutes is a marvel. It does deliver the depth of feeling and connection of the novel, a matter of the differences in the media than equations via the film.
"

In each human coupling, a thousand million sperm vie for a single egg. Multiply those odds by countless generations, against the odds of your ancestors being alive, meeting, siring this precise son; that exact daughter...until your mother loves a man ...and of that union, of the thousand million children competing for fertilization, it was you, only you...(it's) like turning air to gold...thermodynamic miracle."
 On its own merits, Zack Synder's
Watchmen
is a dark and twisted tale peopled with complex characters whose motivations are not obvious even to themselves. It is a solid film, sometimes rising into the extraordinary, and deserves to be successful. This is not just Alan Moore's
Watchmen
, it is a
visionary
extension of the universe into another medium and a worthy cinema-going experience.
"Nothing ever truly ends."
10/10