''Many mistakes have been made. Be ruthless. Life doesn't forgive weakness. This so-called humanity is religious drivel. Compassion is an eternal sin. To feel compassion for the weak is a betrayal of nature. The strong can only triumph if the weak are exterminated.''

Traudl Junge, the final secretary for Adolf Hitler, tells of the Nazi dictator's final days in his Berlin bunker at the end of WWII.
Bruno Ganz
: Adolf Hitler
Der Untergang
(2004) has historical valour, a controversial rendition and a powerful insight into the High Command of the National Socialist party during 1945.
The story of the last ten days of Adolf Hitler and his Nazi regime are seen through the eyes of a young woman and other close personnel in his employ; this is historical drama and reference from Germany.
Based on the books
Der Untergang
(meaning Downfall) by historian Joachim Fest and
Bis zur letzten Stunde
by Traudl Junge, Hitler's last private secretary from 1942 to 1945.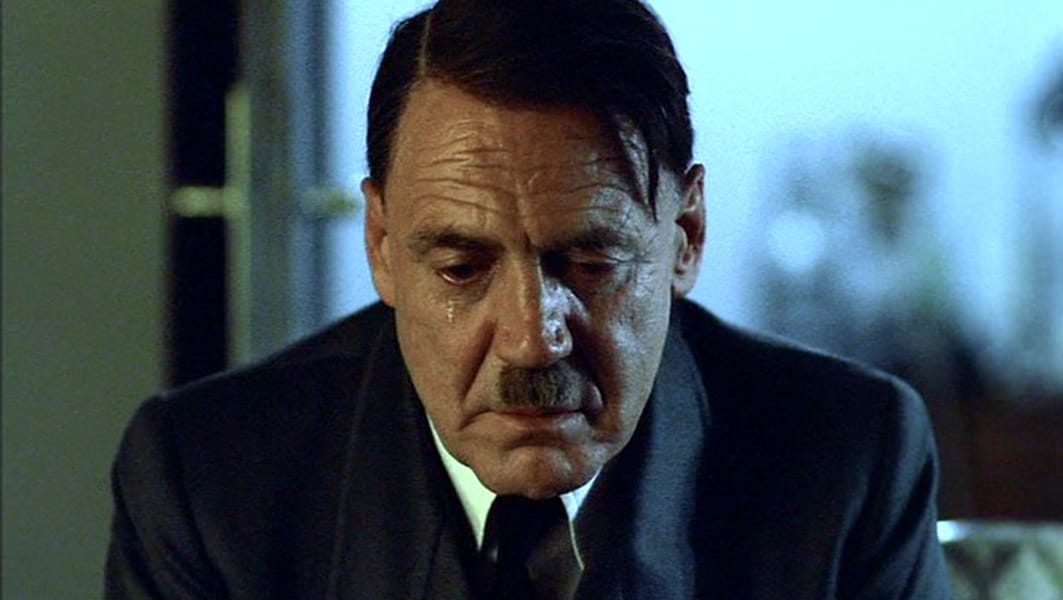 "When people attempt to rebel against the iron logic of Nature, they come into conflict with the very same principles to which they owe their existence as human beings. Their actions against Nature must lead to their own downfall."

Bruno Ganz portrays Adolf Hitler
truthfully
: He doesn't show him as a stereotypical monster but as an intelligent, at times caring, human being.
Hitler was a man with a vision intent on world domination and racial superiority; A vision which would revive and take Germania to new dizzying heights in the World.
He loves children, nature and animals... We see his different personality in personal moments while when he is the fuhrer there is no compromise. He is the fuhrer. He is Deutschland! A singular personification of his country. His will and voice is absolute gospel.
Any mistakes by his cohorts or personnel would instantly send him into a violent outburst of anger; Ganz shows this
beautifully
. His mannerisms, gestures and accent are all given precedented depth by the talented Bruno Ganz.
Bruno Ganz practised Hitler's unusual accent with the help of a young actor from Hitler's area. Also Ganz studied Parkinson's patients in a Swiss hospital to prepare for his role as Hitler.
The portrait Hitler is staring at in one scene is that of Frederick the Great. A very mysterious moment when Junge sees him alone just looking at the painting.
Alexandra Maria Lara whom plays Trundl Junge a secretary to Hitler (The actress has brown eyes while the real Junge had blue eyes: Brown eyes induce more sympathy than cold blue); the story is conveyed from her perspective. Although the story is told expertly through other witness accounts at times.
Thomas Kretshmann as SS-Gruppenführer Hermann Fegelein; one of my favoured German actors for me was in the film.
Ulrich Matthes as Joseph Goebbels is a portrayal of significance; His devotion and loyalty to the Party unwavering throughout the entire film.
Heino Ferch as Albert Speer; The architect and artist of Third Reich projects is also another cleverly portrayed character. He begins to see the War will be lost and the fruitlessness of continuing. The suffering of the People being one sacrifice of persisting. His changes in stance and thinking show a very deep man. One of the few whom survived the War and continued with life after this cataclysmic event. He says
''You must be on stage when the curtain falls.''
This man is an artist... Deep and able to adjust his thought and mindset to the reality of the situation.
Granted
Downfall
is a long film at times; but it is necessary to convey the great fashions of the times, set pieces and an outstanding score bring proceedings to
life
. We actually feel part of this 1940s World we are seeing, we are pulled into events becoming more than merely a spectating bystander.
This is history being told honestly and in a truthful non-glorifying manner; yet in an also non-demeaning way at the same time. Featuring graphic, violent and horrific scenes like any films which drive and propel the realism to great lengths.
One scene that was especially effective was in the bunker where Magda Goebbels (played wonderfully by Corinna Harfouch), places cyanide pills into her children's mouths;
Why?
Because she simply does not want her children to grow up in a world
without
National Socialism.
This film shows a whole nation obedient to Der Fuhrer; Loyalty, obedience and total control belongs to Hitler and his High Command.
He shows at times empathy for his people; When they fail he shows them no remorse.
Downfall
shows Hitler as a Caring and affectionate man; he loves Eva Braun, (played by Juliane Köhler) and his loyal dog Blondi; yet when he is the Fuhrer he is angry, powerful and abandons emotional weakness. In essence he is at times a completely different person.
This is pure, honest, historical storytelling from Directing team Duke White, Garrett White, and Oliver Hirschbiegel.
Hitler is obviously always the main focus of the story; even when he is not on-screen his looming shadow on proceedings is always omni-present.
Minor grave endeavors are shown throughout the movie and director Oliver Hirschbiegel does a good job of connecting the dots: the National Socialist Party and it's high ranking members are given detail and the attention required.
Happenings in
Der Untergang
range from instances showing violence on the streets of Berlin to honourable patriotic suicides. The most intriguing part of the film is not only the realistic reproduction of a bombed city, or the amazing acting by all involved; although these mentioned are startling and deserve awards. No, the best part is definitely the way Hitler and his closest aides are illustrated. During his last ten days Hitler didn't have control over anything; not the country, not the army, and not even the Nazi party itself. While the film depicts those things really well, it goes even deeper and acknowledges that the Fuhrer
couldn't
even control himself. It was something not even he realized until those final desperate moments in that isolated dark bunker; where he shot himself.
The film looks great thanks to the cinematography of Rainer Klausmann; with battle scenes and aftermaths coloured in strikingly cheerless tones of grey. Credit also has to go to director Hirschbiegel for the choices he made as far as casting and cinematography are concerned. It is also to his credit, the way he directs and commands his actors. Bruno Ganz practically embodies Hitler, portraying both his flaws and positive traits. All the actors around him, while turning in great performances are simply puppets for him to interact with, remarkably mirroring the roles their characters played in Hitler's real life.
So in this film you get not only an enormously accurate picture of World War II itself, but also an accurate portrait of the life regarding the most important figure in arguably all of human history. Downfall is an endlessly rewarding motion picture and one of the best of the year. So if you don't mind the German language and having to read subtitles; you will be able to acknowledge the importance of Oliver Hirschbiegel's
Downfall
.
''My political statement. Since 1914, when I invested my modest strength in the First World War, which was forced upon the Reich, over 30 years have passed. In those 3 decades, all my thoughts, actions and my life were dictated by my love for and loyalty to the German people. Centuries will pass, but from the ruins of our cities and cultural monuments our hatred will be renewed for those who are responsible, the people to whom we owe all this: The international Jewry and its supporters.''
10/10