Arriving twelve months after 2018's culturally significant
Black Panther
,
Captain Marvel
is the first instalment in the ever-expanding Marvel Cinematic Universe to feature a female lead. The obvious comparison in this respect is 2017's
Wonder Woman
, which verified the commercial and critical validity of female-led superhero movies after years of misfires (
Elektra
,
Catwoman
,
Supergirl
, and so on). Unfortunately, although it is reassuring to finally see a female-led MCU entry, this aspect alone is not enough to elevate
Captain Marvel
above the ordinary. In fact, the effort as a whole is below-average - it's certainly slick and full of colourful action, but it lacks the requisite stakes to make this story genuinely compelling. Furthermore, it lacks the thematic and narrative elegance of something like
Wonder Woman
, and the result feels like the worst kind of bland, commercial, assembly-line filmmaking.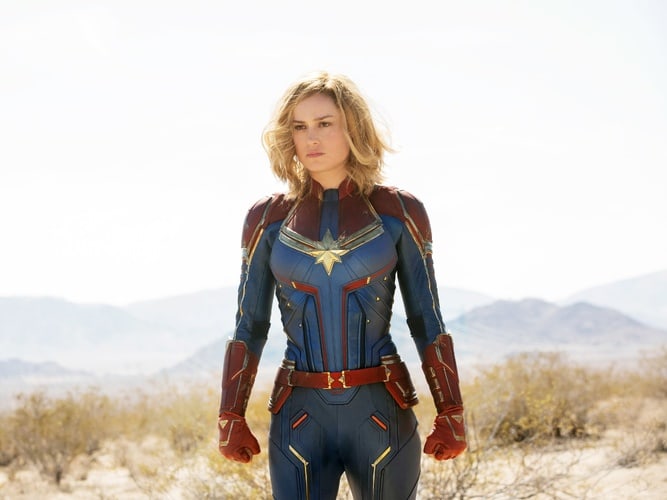 Carol Danvers (Brie Larson), who is known as Vers, works as part of a Kree military squad on the planet Hala, answering to her mentor and commander, Yon-Rogg (Jude Law). The Kree are at war with the Skrulls, a race of shape-shifting extraterrestrials led by Talos (Ben Mendelsohn) who are capable of impersonating humanoids. Following a conflict with the Skrulls, Carol is subjected to a mind probe which reveals scattered memories of a past life on Earth in which she was a pilot in the United States Air Force. Carol escapes but crash-lands on Earth in the mid-1990s, where she immediately attracts the attention of S.H.I.E.L.D. agents Nick Fury (Samuel L. Jackson) and Phil Coulson (Clark Gregg). With the Skrulls arriving on Earth, Carol pairs up with Fury to stop a potentially world-ending alien invasion. In the process, Carol also learns more about the life she previously lived, reuniting with her former co-pilot and best friend Maria (Lashana Lynch).
With a script credited to directors Anna Boden and Ryan Fleck (
Mississippi Grind
), as well as Geneva Robertson-Dworet, one of the fundamental issues facing
Captain Marvel
relates to the narrative. The opening act of the movie is borderline indecipherable, rushing frenetically through too much story material without any substance to supplement the visual pizzazz. As a result, even though the film benefits from a slick technical presentation that is customary for the MCU, it's impossible to feel genuinely involved in the proceedings. Moreover, whether it's a shortcoming of the editing or the screenplay, the film butchers the Kree/Skrull war, which is a significant storyline in the comics but receives insufficient development here. Worse,
Captain Marvel
should be about Carol trying to reconcile with having fragmented memories of a past life, and experiencing the disorientation of recognising places and people without knowing why she does. Upon arriving on Earth, investigating these memories should be Carol's primary motivation, taking precedence over the Skrull hunt. Alas, without this motivation, Carol's arc feels tragically underdeveloped. Admittedly, dealing with Carol's origin in flashback is a welcome formula change, but the audience should be allowed to spend more time in Carol's past life to get to know her. Alas, a lack of meaty background detail affects a viewer's ability to become emotionally invested in the protagonist or care when she's in danger.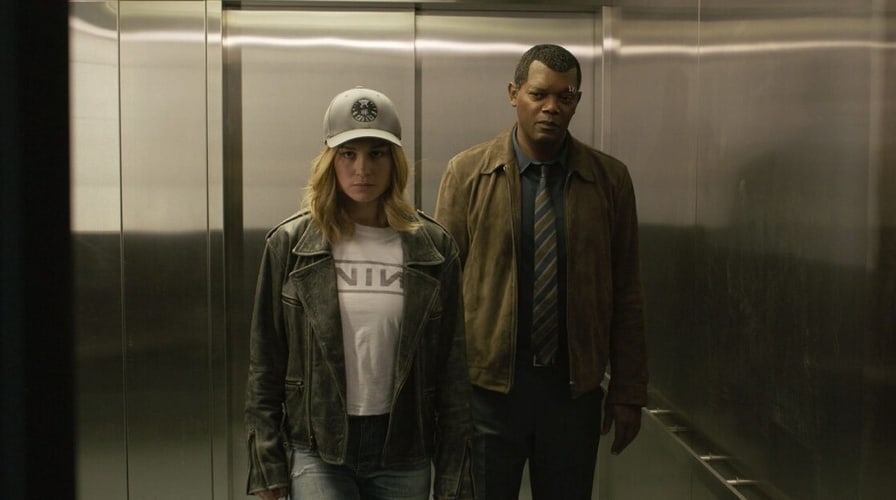 At the end of the second act, Captain Marvel pulls a bait and switch with a twist that recontextualises the narrative. However, not everything adds up with the characters' previous behaviours, and it also means that the real villain is not revealed until the finale. The political metaphor of said finale is about as subtle as a shotgun; the villain is, essentially, the patriarchy holding Carol back from embracing her true power. Equally awful is a battle sequence set to the tune of "Just a Girl," to further underscore the dubious significance of a female superhero kicking arse on-screen. Indeed, Captain Marvel is too on-the-nose with political matters, with Carol being belittled by an obnoxious man on a motorcycle, and preachy themes about border control/refugees. Real-world allegories are a staple of Marvel Comics, but most of this material comes across as head-slappingly obvious and sanctimonious. Even the devout refusal to include a love interest for Carol is clearly a political decision.
There is no denying Larson's talent as an actress, with her breakout role in
Room
leading to an Academy Award, but she is grossly miscast as Carol Danvers. She lacks personality and spunk, and fails to make an adequate impression or convey requisite cinematic strength. One can certainly argue that her memory loss led to a personality wipe, but her renewed personality should begin to emerge through the film as she grows and develops. Unfortunately, this does not occur. Worse, there is no character arc for Carol. Throughout the movie, men consistently belittle her and hold her back, until she eventually removes an actual physical mechanism which suppresses her powers, and summarily becomes supercharged and invincible. But this version of a hero's journey literally amounts to Carol being right and perfect for her whole life, and the proceedings continually validating her righteousness. In other words, there are no
flaws
for her to overcome, nor does she actually learn anything, because Carol has no flaws - and, consequently, she does not feel human or relatable. Thus, Carol does not have a meaty motivation and never undergoes a meaningful arc. It's difficult to ignore the political implications of this character, since the writers appear reluctant to portray Carol as flawed in
any
way. One could argue that any number of weaknesses might feel clichéd or overdone, but, if executed with genuine sincerity, even the tritest of character weaknesses can translate to something meaningful and emotional.
Anything
would be more rewarding than this.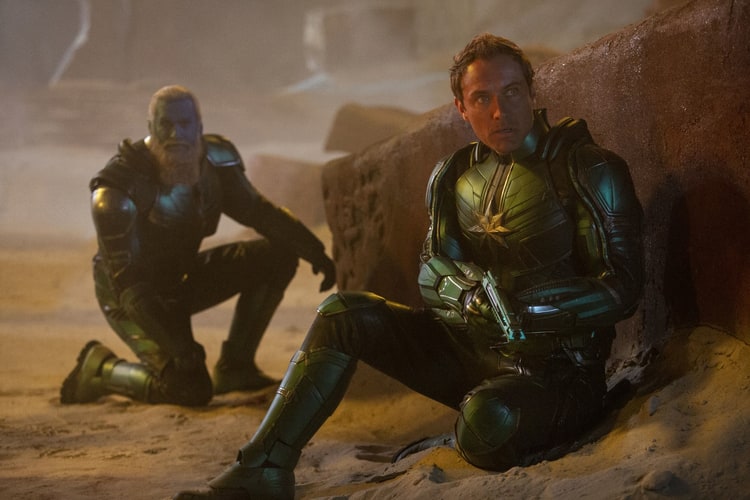 On the bright side, the 1990s nostalgia is appreciated, such as Carol crash-landing into a Blockbuster Video store, plus a painfully slow-loading CD-ROM drive and the mostly agreeable selection of era-specific songs. (Carol even wears a Nine Inch Nails t-shirt.) Also, the recreation of the 1990s is spot-on, from the vehicles to the fashions, and production values are state-of-the-art all-round. Another element which truly works is the original score by Pinar Toprak (TV's Krypton), which is flavoursome and unique as opposed to outright generic - there is even some retro synth. Unfortunately, no amount of CGI and nostalgia can compensate for the utter emptiness of the battle sequences, which are devoid of stakes because it's impossible to care about Carol and it's difficult to become invested in the Kree-Skrull war. Furthermore, watching the supercharged Carol defeat everybody without breaking a sweat is about as interesting as watching paint dry. Captain Marvel also lacks a sense of the exotic since every alien species on-screen speaks English. Hell, the Skrulls are often depicted as buffoonish, too, which undermines any sense of menace. Unsurprisingly, Mendelsohn is an acting standout - he is even allowed to embrace his native Australian accent while playing Talos, and he gives the material genuine gravitas.
The prequel angle of
Captain Marvel
facilitates some interesting possibilities; for instance, both Djimon Hounsou and Lee Pace reprise their (now-deceased) roles from
Guardians of the Galaxy
. However, Pace's role of Ronan the Accuser is particularly emasculated and powerless, with his appearance amounting to nothing. This story also introduces a glaring timeline issue relating to the Tesseract, which is top-secret S.H.I.E.L.D. property but was apparently loaned out to a military scientist (played by Annette Bening). Meanwhile, the digital de-aging of Jackson is sublime, ably demonstrating that this technology has progressed to the point that such characters can take on a major role in future productions, which has innumerable possibilities. Jackson visibly enjoys playing a younger version of Fury, delivering a loose, humorous performance - he almost saves the movie. However, Jackson's athleticism is lacking, as he still moves with the limited agility of a man in his 70s. (Martin Scorsese's
The Irishman
encountered a similar issue.) The mystery of Fury's scarred eye is also addressed...and it is disappointing and underwhelming. It is also worth pointing out that the de-aging of Clark Gregg (in his first Marvel movie since 2012's
The Avengers
) is less effective, though the illusion still works to an extent.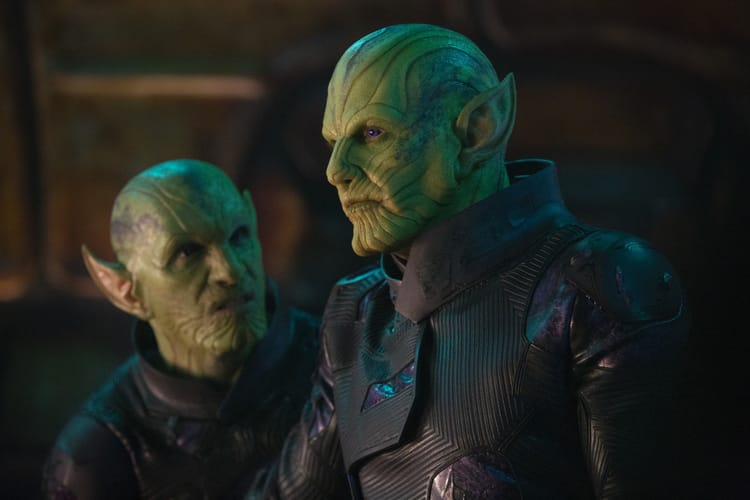 Among the things that
Captain Marvel
does correctly, the opening tribute to the late Stan Lee is enough to bring a tear to your eye, and Stan's cameo in the film is one of his better appearances in the MCU. At the end of the day, however,
Captain Marvel
is one big misfire which sits right at the bottom of the Marvel canon, just below
The Incredible Hulk
and the two
Ant-Man
films. The narrative issues are a major problem, as well as the lack of a character arc - as a result, this superhero blockbuster entertaining in drips and drabs, but falls drastically short of the brilliance of
Iron Man
or
The Avengers
, or any number of other great MCU entries. Even though Larson's titular character is on-screen for two hours, she still remains an enigma when the end credits begin to appear, and she's never as endearing or as fun as Jackson's Nick Fury.
Captain Marvel
is a waste of potential, pure and simple.
4.7/10