''We are supposed to be righteous. That's a beautiful thing. And we're losing it. If I lose that, that's everything. That's my soul.''

Based on the true story of the Black September aftermath, about the five men chosen to eliminate the ones responsible for that fateful day.
Eric Bana
: Avner
''There is no peace at the end of this.''

What should have been an uneventful Olympics in Munich, 1972, became the bloodshed that unfolded like a Moebius strip and unleashed even more blood unto the world. On September 5, 1972, eight Palestinian terrorists killed two Israeli athletes, kidnapped nine more, and asked for safe passage out of Germany and the subsequent liberation of Arab prisoners in Israeli and German prisons. Once at the airport they encountered resistance from the German authorities, and in a scuffle, all of the other nine hostages were killed.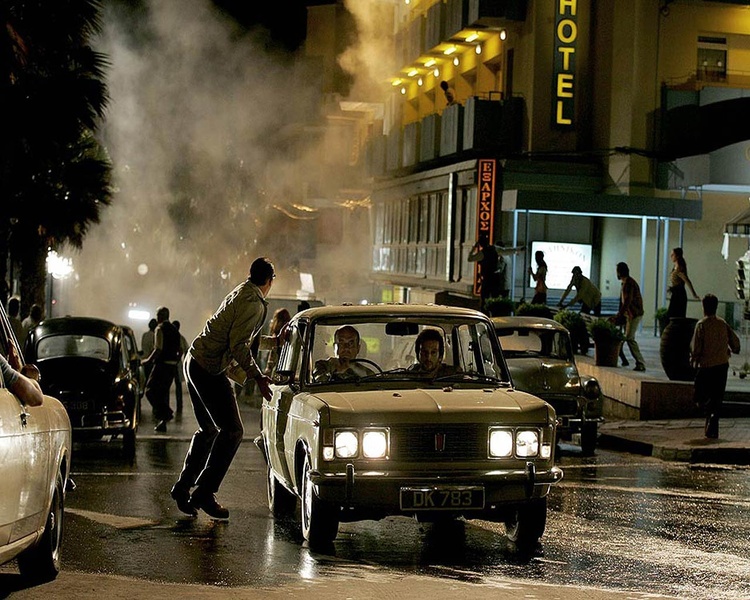 This led to the Israeli government to have the Mossad -- Israel's intelligence agency -- track down and kill every terrorist responsible for the killings. For this they hired one of Golda Meir's bodyguards, known as Avner, put him in a special ops team, and gave them minimal information about these terrorists. Avner on his own is able to strike back at the "supposed" terrorists via the appearance of a shady Parisian named Louie, but as the assignments become more and more difficult, he wonders if it is all worth it, and once his own team gets decimated by counter-agents, he wonders if behind every terrorist there is a even more dangerous one just waiting in the wings with ways to get back at him and his family.
''The only blood that matters to me is Jewish blood.''

Steven Spielberg is at his best when not directing Blockbusters. The world of 1972 hasn't changed much to this day, when one sees the events of September 11, 2001(and the World Trade Center inserted into the New York City skyline right at the final scene for a final blow of realization), and the political interests which led to their horrific result on American soil, it becomes food for thought if behind every Saddam, every Osama, there aren't just tens or thousands of replacements, but a countless number, waiting, biding their time, with more reasons to hate the Western world for butting their heads into their affairs. Avner, while a minion of Israel, ponders these things, and is himself terrorized when he comes to America to live a life away from the madness he was involved in: namely, the never-ending conflict between Israel and Palestine, both fighting for what they consider home. As one plo member effectively says, Home is all we know.
But what indeed, may we ask, has home become?
No right, no wrong, but a grey murky haze is the prevalent tone in
Munich
. While re-enacting a swift retribution against those who destroy order would be the thing to do, what does it solve? Spielberg doesn't say, probably doesn't know either. What he does do is create an increasing, nail-biting suspense, that Hitchcock himself would have loved and this film, reminiscent itself of sabotage, is proof that terror and mayhem at the hands of subversives is still a thing of now as much as then and that innocents are always on hand to pay with the intended victims. One sequence, as the foursome wait for their first target to pick up the phone but find that his young daughter has not left the house yet, is incredibly powerful. Another one is when Avner waits for a bomb to go off in the room beside him. Nothing is ever clean and easy in the real world, and even bombers can never really know what to expect from their toys, and all one can do is wait and become paranoid, frozen with fear.
''We have 11 Palestinian names, each one of them had a hand in planning Munich. We want them all dead.''

The evolution of Avner is fascinating, as the film progresses we see this man eaten up by paranoia, guilt and fear of reprisals.
We have a scene in which Avner makes love to his heavily pregnant wife with tenderness, love and devotion. Later Avner is changed when he is making love to his wife. We see the effect it has had on him and his mindset, but cleverly we also see the reason behind this man's torment and guilty inner demons. The killings of the Atheletes at the Munich Incident are shown for the first time, the cause, and catalyst of Avner's demons. This is the moment in which we see how the ball was set in motion, how the five men were sent on a quest which would equal a never ending turmoil. As Avner makes love to his wife we, we take it all in, along with him, while his wife can only comfort her husband with three resonating words, I love you.
Another conversation that Avner has with an Arab man on a stairs is very revealing and faceted. An age old hatred over land and religion, this conversation basically sums up the whole diluted mess of blood and soil. A never ending war, until the other is eradicated from the earth. This scene holds a chilling resonance and harrowing message, yet Daniel Craig twiddling stations on the radio, with an Arab, shows differences can also have similar tastes. Yet Avner's statement involving these delusions being a dream, a fiction, are the more rational, temperant answers we receive. Spielberg wants us to think about this issue, and he gives us plenty to think about.
''Every man we've killed has been replaced by worse!''

Overall,
Munich
has strong performances all throughout and unrivaled directing from Spielberg. Eric Bana is harrowingly tortured as Avner, a man who only wants to be with his wife and young daughter and cannot escape the horrors he has witnessed and participated in. Geoffrey Rush, Ciaran Hinds, Daniel Craig, Mathieu Kassovitz, Lynn Cohen, Hans Ziechler, Michael Lonsdale, and Mathieu Amalric all supply great support in a well-rounded cast and flesh out great characters in this excellent, if morally ambiguous story.
Munich
captures the inner turmoil and hesitation of his character in the most believable striking way possible, making this piece, into a worthwhile adventure for its performances, story and cinematography. But most importantly, it dares to ask questions and to answer our past so we can avoid a bloody future.
Avner: Break bread with me. Come on, you're a Jew in a foreign land. It's written somewhere I should invite you to break bread with me. Break bread with me, Ephraim.
Ephraim: No.
10/10