[carrying his son through the camp]

''You are such a good boy. You sleep now. Dream sweet dreams. Maybe we are both dreaming. Maybe this is all a dream, and in the morning, Mommy will wake us up with milk and cookies. Then, after we eat, I will make love to her four or five times. If I can.''


A Jewish man has a wonderful romance with the help of his humour, but must use that same quality to protect his son in a Nazi death camp.
Roberto Benigni
: Guido Orefice
Nicoletta Braschi
: Dora
Giorgio Cantarini
: Giosué Orefice
Life is Beautiful
was an unexpected pleasure to watch and endure. To my surprise this inspiring, award laden story of humour love and struggle can for me be summed up as an oily piece of Art in film resulting in a modern creation that shows an alternative story from before and during the Holocaust.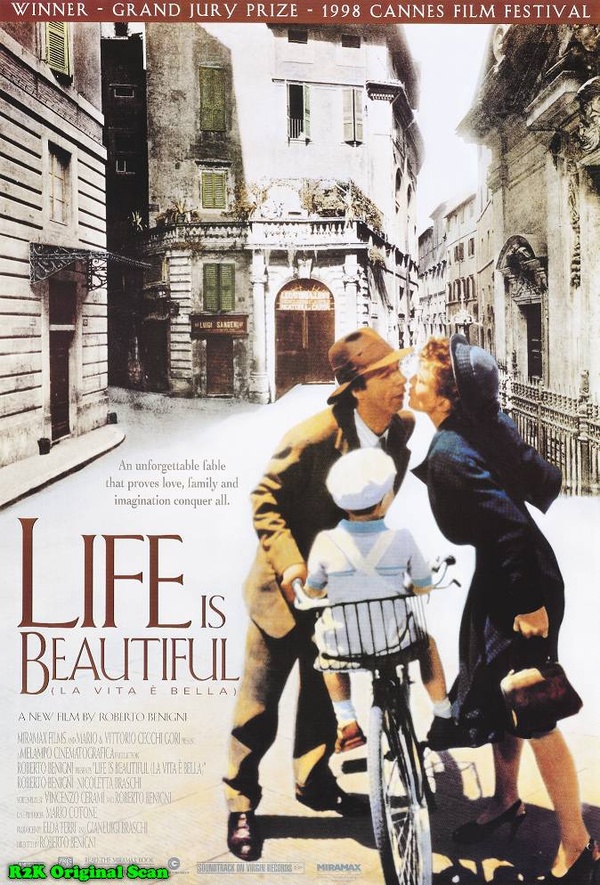 Let's start by saying also that
Life is Beautiful
is set in the 1940s era WW2 which instantly attracts me, I love my WW2 films. Secondly it's a Foreign film and yes you have rightly guessed I love my Foreign films too. Right from the off the quirky fun tune that resides throughout the film also stuck with me. I'd say the first half of the film is light comical breezy and fun with imagination mixed with laughs and Guido's charm and his love of life. The latter half gets abit more serious and realistic which I found especially clever, the heavenly lifestyle of Guido and his wife and son is disrupted by them being ripped from their home and put in a concentration camp.
Does this stop Guido being funny and using his chirpy happy disposition for good? In a word no.
Roberto Benigni as Guido Orefice was very charming if what something of a joker, in his performance. Charming to see is fun antics in the first half and made me smile on numerous occasions at his comical capers he experiences.
Him and his Son Giosué in the camp later in the film is nothing short of what any father would do to save his boy at any cost. Giodo utilizes his talents all for his family and to save them. A scene that stuck with me was him carrying his son, saying the quote that I chose at the beginning of my review, as he walks through the shrouded mist in the camp and comes across the dead bodies of eliminated Jews. Was very emotional to watch yet powerful and the blues express the coldness.
Nicoletta Braschi as Dora was charming to watch not to mention beautiful and maintained her feelings with looks alone, not merely words.
Giorgio Cantarini as Giosué Orefice was the cute little boy who despite being innocent like his father is extremely bright and clever. His performance shows this effortlessly.
To conclude
Life is Beautiful
has been adored and honoured with an astounding level of acclaim from all regions with it's exceptional, utterly compelling story and rich unique feel. For a PG its powerful stuff to watch even for adults yet funny too on the flip side of the coin.
A Masterpiece that has captured my spirit and touched my heart in one effective barrage of love and courage.
9/10