Spoken Algerian Arabic
is roughly divided into three major sections: a grammar, a collection of 36 audio-transcriptional selections, and a glossary. The book uses both IPA style transliteration as well as semi-vowelled Arabic script, but it relies heavily on the IPA in the grammar section. The author makes it clear that the book is intended for students with prior experience in MSA and at least one other dialect, but Arabic script is curiously left out in the grammar "sketch."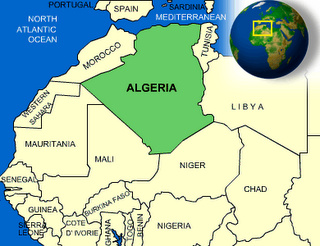 The real meat of the book is in the 36 selections. Each section is first introduced and presented word-for-word, with all the false starts and natural idiosyncrasies of spoken language, in modified IPA transcription. This is because the passages are given in a conversational or interview style. Opposite this is the Arabic. Along with the two transcriptions is a vocabulary list of interesting words (IPA and Arabic). And following this list are interesting linguistic and cultural notes pertaining to the topic of the selection. These are a really nice addition. Finally, after all of these goodies, you get a polished English translation.
The last section is the glossary, rendered awkwardly in IPA but listed in Arabic alphabetical order. The glossary serves not only as a quick dictionary but also as an index.
Overall, this book offers a lot. There is an accompanying audio CD that contains the 36 passages (hence "spoken" Algerian); however, the text and audio materials are sold separately at the publisher. This book should definitely be used with the CD, though, because Sections II and III are essentially exercises in listening and transcription-translation. In other words,
Spoken Algerian Arabic
can be used as a sort of exercise book, although it does not have quizzes.
L
isten-
R
ead-
T
ranslate. (Or if you want to reap the most out of this book:
L
isten-
T
ranscribe-
T
ranslate!)
My only complaint is the heavy use of IPA. The author assumes you know Arabic. Well, why not forgo IPA altogether then? And while it is not explicitly assumed that you know French, there are no pronunciation aides for French terms in the book. In other words, knowing a bit of French will go a long way, which is a little disappointing since my Arabic is much better than my French.
9/10