A while back this guy Stephen Hunter comes to our school as part of this literary food thing or something of that nature. I myself was excited since I'd be getting out of class but I realized oh this guy is pretty chill after all. What brought my attention to this book was I believe he mentioned something about it coming out as his son was entering high school and how his son had gotten in some sort of trouble or another because of the first sentence of this book. Apparently said sentence was inappropriate for school so I had to go out and read the book myself to find out what was this sentence. And plus you really can't go wrong with a book titled
Dirty White Boys
.
First of all before reading this novel one has to first gain an appreciation of manly things. Like lions.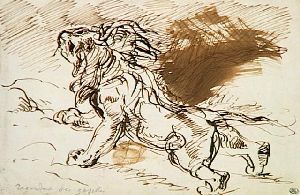 By staring at that image for several hours not only will one get a greater understanding of the novel but one will understand being a man.
Next to take into consideration is the first sentence of the novel:
"Three men at McAlester State Penitentiary had larger penises than Lamar Pye, but all were black and therefore, by Lamar's own figuring, hardly human at all."
The rest of the first paragraph is about how amazing and scary this guy's penis is. Already the book establishes itself as being a book for men, and only the most manly of men.
Lamar's penis continues to be a recurring theme popping out when you least expect it but the main theme is being a man. Lamar is the MAN, but he was so manly that he had to escape from prison with his very cousin Odell, who's missing ALOT of screws up there, and Richard Peed. A sad pathetic creature that was saved by Lamar only because of his drawings of lions. Oh and you got the badass cop man named Bud who is also having an affair with his partner's wife.
The novel alternates between telling the story between Lamar and crew's point of view and Bud's point of view. Personally the Lamar and crew point of view was much more enjoyable and I really didn't care much for Bud's crusade of being a man, but you gotta put the book down sometime and Bud kinda grew on me after a while. There's alot of gun jargon that just went over my head but otherwise provides a sense of realism in this story. Lots of comedic moments too. More of situational humor though than anything. I mean most of the escapades of Lamar and crew is Lamar being amazing, Odell being Odell, and Richard cowering in the corner in fear. And later Ruta Beth making cookies. Or something like that.
I enjoyed this book more than I ever thought I would and for such a manly book such as this. Highly recommend if you are into these high action thrillers with an otherwise unlikely protagonist. You gotta remember though, it's all about the lions and it's all about the attitude. Only then will one achieve true manhood. Not really but I like to think so anyway.