"Thor, Odin's Son, through your arrogance and stupidity, you have opened these peaceful realms and innocent lives to the horror and devastation of war..."

By serving as an origin story for Marvel's God of Thunder, Thor denotes the next step in Marvel's superhero world-building effort leading up to 2012's The Avengers. Admittedly, the outlook for Thor was never overwhelmingly positive - the title role was given to little-known Aussie beefcake Chris Hemsworth (a soap star glimpsed oh-so-briefly in 2009's Star Trek), and the director's chair was allotted to Kenneth Branagh, who had never been near a big-budget spectacle in his career. Nonetheless, the film denotes another home run for Marvel - it's easily one of the best, if not the best Marvel feature to date. Hemsworth is truly an excellent find, while Branagh's directorial dexterity belies his inexperience with action extravaganzas. The first of four superhero movies to arrive during the 2011 summer season, Thor is a highly entertaining, assured masterpiece which kicks things off in style.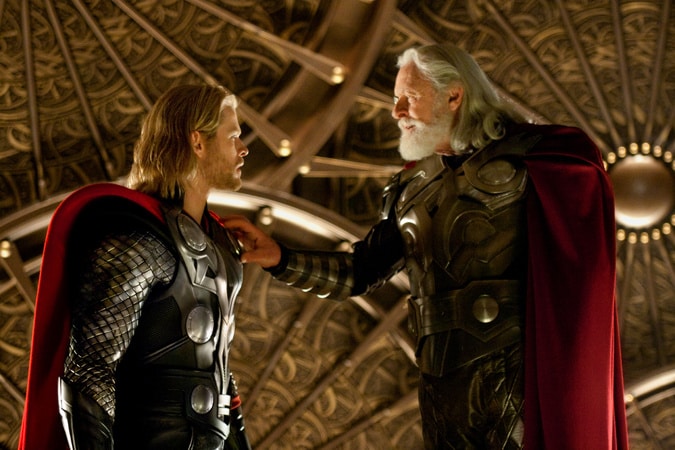 Following an ancient war, the denizens of Asgard develop a tentative peace with the Frost Giants of Jotunheim. However, on the day of Thor's (Hemsworth) ascension to the throne of Asgard, a group of Frost Giants breach Asgard's defences. In response to this, the hot-headed Thor mounts an assault on the home-world of the Frost Giants; an act which threatens war between the two realms. Due to his disobedience, Thor's father Odin (Hopkins) banishes Thor to Earth, leaving Thor's brother Loki (Hiddleston) to seize power of Asgard. After being dropped into New Mexico, Thor meets astrophysicist Jane Foster (Portman) and her colleagues. Stripped of his powers, his hammer and everything he holds dear, Thor is compelled to learn what it takes to be a true hero in order to reclaim his hammer and the throne of Asgard.


From the epic prologue to the climactic action sequences, Thor is brimming with excitement and solid, confident storytelling. The fanboys concerned that this is a Thor film in name only can rest easy - this is ultimately a story about what's at stake in Asgard. The uninitiated can also rest easy, as there's enough leeway for the newcomers to find their footing. What's most commendable about Thor is that it is not a proverbial origins tale which adheres to the standard template, but instead something fresher and more imaginative. Origin tale clichés are usually eschewed, while the rare conventional situations fulfil their purpose magnificently rather than feeling familiar and cringe-worthy. (Take, for instance, the "hero is thought to be dead but comes back with a vengeance" scene - it was handled exceptionally well, yielding a badass set-piece). When Thor arrives on Earth, there are amusing moments and comical fish-out-of-water antics as the God of Thunder adjusts to life as a mortal in a different culture. The culture clashes generate some of the film's best moments. Thankfully, the smart script does not dwell upon these comic moments, nor does it take Thor as a fool - he "gets it" quickly.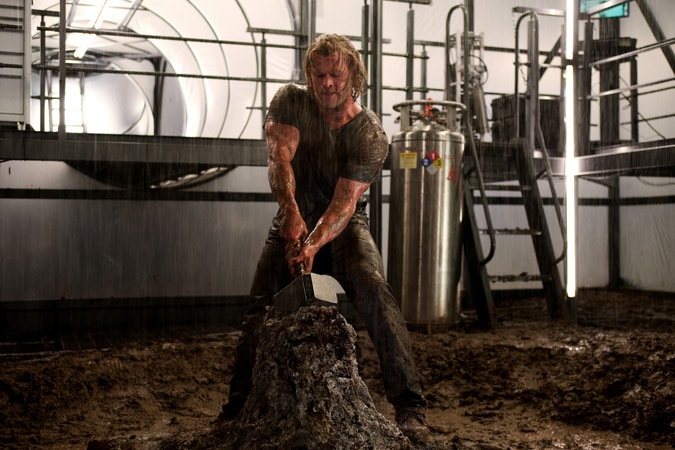 Thor transpires in three worlds: Earth, Asgard and Jotunheim, each of which possesses a unique aesthetic and identity. Fortunately, Branagh and his crew worked to create worlds that look and feel real, and it paid off. All of the more fantastical moments throughout the film are perfectly grounded; ensuring that nothing feels silly or bloated. Furthermore, Thor is a home run in terms of technical achievements, from the luscious production design to the bravura visual effects to Patrick Doyle's immersive score. The action, too, is magnificent. An exhilarating, pulse-pounding sequence depicting a skirmish between Thor's band of friends and a bunch of Frost Giants has got to be in the running for best action sequence of 2011. Rather than feeling like CGI overload, Thor is imbued with nail-biting tension. Happily, this quality is retained throughout. Branagh is also of a more classical brand of filmmakers; he and his crew captured the action with inventive, fluid cinematography, without excessive shaky-cam or quick-cutting. Unfortunately, however, the 3-D effects add absolutely nothing to the experience - in fact, they're more of a distraction than an enhancement.


The strongest moments of Thor are not necessarily the big special effects sequences, but rather the dramatic scenes. The dialogue between Thor, Loki and Odin crackles with emotion and intensity, and the sincerity which pervades these scenes allows us to buy this world as being real. Also, the romantic subplot concerning Thor and Jane possesses a spark and a dynamic which places it light-years ahead of standard contemporary romantic comedies. These particular strengths are no doubt thanks to the exceptional Kenneth Branagh, whose career in Shakespearean tales and dramas prepared him well for the film's dramatic elements. Furthermore, Thor takes a number of unexpected twists and turns; focusing more on suspense and clever narrative gyrations than CGI blotation.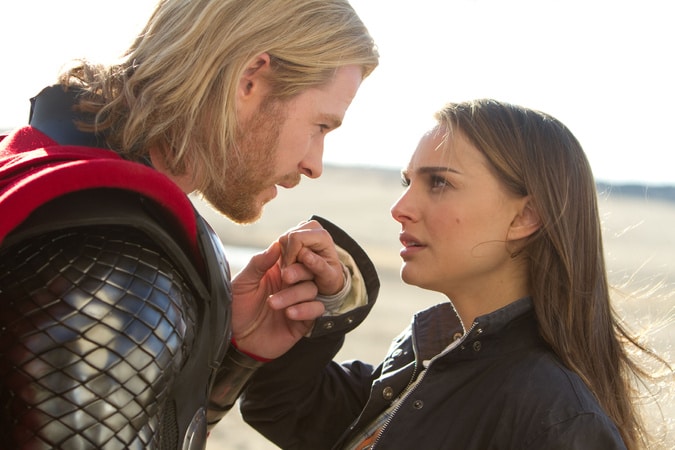 The cast is marvellous from top to bottom. Thanks to Branagh's experience with drama, he was able to bring out the best in each actor. Hemsworth is hugely engaging and charismatic as the titular Thor. His astonishing physicality suits the role to the ground, and he delivered his lines with tremendous gusto. The former Aussie soap star is no doubt on his way to true stardom. Alongside Hemsworth, the reliable Anthony Hopkins is, of course, a scene-stealer as Odin, while Tom Hiddleston's performance as the conflicted, ambiguous Loki is flawless. Natalie Portman admirably performs her duties as the token love interest, and she is boosted by solid back-up courtesy of the funny, cute Kat Dennings and the kindly, wise Stellan Skarsgård. Jeremy Renner also appears briefly as Hawkeye. Renner's brief inclusion just amounts to a sly nod to the upcoming Avengers movie for the more perceptive film-goers, but his presence makes sense rather than feeling forced. In fact, this applies to all of the references to other Marvel movies - they feel organic, rather than included for the sheer sake of it.


In an era of summer blockbusters of declining quality, Thor is a refreshing treat indeed. Mere movie-goers can rejoice that this is a masterpiece of blockbuster filmmaking, while fans should rejoice that this is both a great standalone movie and a terrific bridge to The Avengers. The trailers for Thor were admittedly not overly impressive, but this is a real case of the trailer not doing the film justice. Trust me - this is a masterpiece; it's better than Iron Man, better than Spider-Man 2, and it's worthy of both your time and money. And, as usual, stick around until after the end credits for an extra scene.

9.3/10