"Happiness is not always the best way to be happy."

For his first outing as a director since 2002's Adaptation, director Spike Jonze has revisited the thin line separating reality and fantasy to adapt Maurice Sendak's beloved children's book Where the Wild Things Are. Creating a feature-length motion picture from this source material posed a unique challenge, since the book is only comprised of 338 words (constituting 10 sentences) and a handful of illustrations. To their credit, Jonze and writing partner Dave Eggers (this is the first time Jonze hasn't worked with a screenplay written by Charlie Kaufman) have pulled off an admirable job of transforming the slender source material into something more substantial. Unlike most children's films in this day and age, Where the Wild Things Are is lacking in action, chases and pop culture references - it's instead a plotless, enchanting, bittersweet mood piece, and a loving ode to the inevitable passing of childhood. Added to this, it's an opportunity for parents to enjoy (as opposed to endure) a movie with their kids.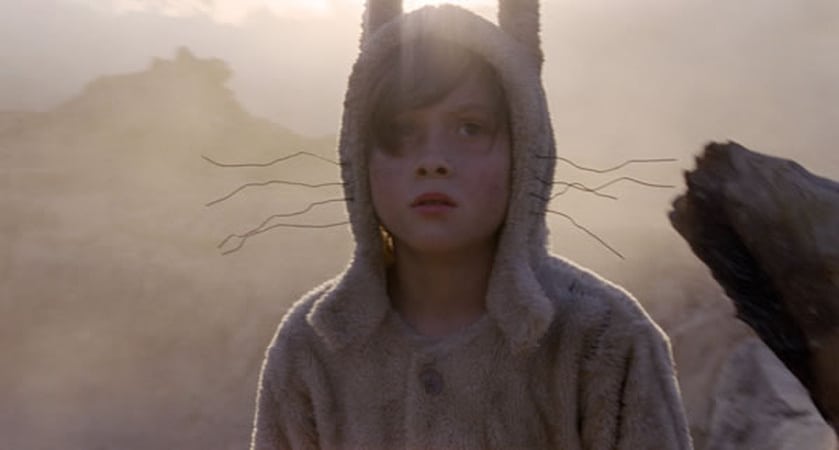 In the story, 9-year-old Max (Records) is facing the end of his childhood innocence, with his older sister more engaged with teenage concerns, his school teacher promising the end of the world, and his mother (Keener) working to make sense of her love life and career. Once this neglect gets too much for Max, a moment of violent rebellion is the consequence, resulting in a shouting match between Max and his mother. Max runs away from home, and enters the world of his mind, where he imagines (or maybe not) a boat trip to a faraway island inhabited by several "Wild Things": Carol (Gandolfini), Judith (O'Hara), Ira (Whitaker), K.W. (Ambrose), Douglas (Cooper) and Alexander (Dano). Max is swiftly appointed king of the land, and joins the monsters as they play and argue. However, the longer Max stays with the Wild Things, the more he comprehends his misbehaviour at home.


The opening segment preceding Max's escape into his imagination establishes Max's personality effectively. This is beneficial, as each of the Wild Things reflect Max's feelings towards those around him, and it's helpful to witness these traits integrated into Max's life before meeting them in the form of these Wild Things. With this symbolism and a rare intelligence in place, the film is truly about Max making several realisations about himself and his relationships with others.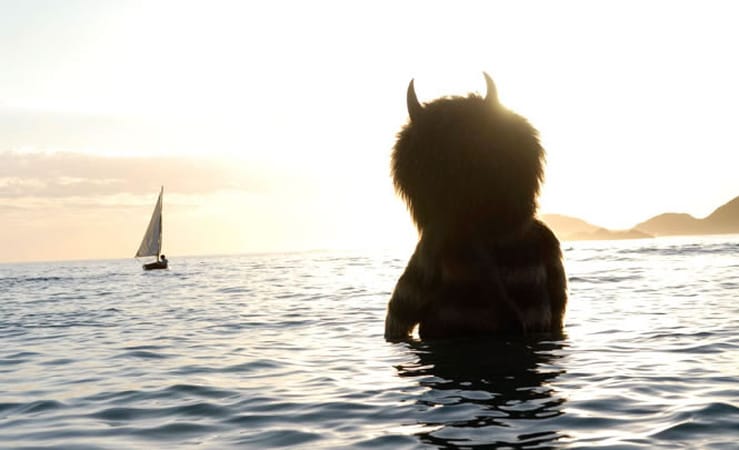 While Where the Wild Things Are contains a number of depressing elements, Jonze's film is not all dread and gloom; it's predominantly a celebration of childhood imagination. However, this does not mean candy-coated wonderment or clichés - rather, the film is about proper, dirty outdoor playing, where forts are built, in-jokes are cracked, you get bruises and scabs, and you're free to run, screech and howl without a care in the world. To be sure, the entire story is spontaneous and hence plot is minimal, yet this is a fantastic representation of what goes on in the mind of an imaginative child. Thus, instead of mechanical and predictable, Where the Wild Things Are is honest, mature and emotionally affecting. The only problem is that, as a consequence of the movie's plotless nature, the proceedings tend to meander at times and there are a few dull moments. The pacing issues eventually recede, though, and the film picks right back up with more wonderment and imagination.


Another asset of Where the Wild Things Are is that all of the monsters feel like actual characters, rather than a collection of walking, talking metaphors. Each has their own personality and arcs, and they all receive their moment to shine. A major contributing factor to this success is the way the monsters were brought to life: a knockout combination of spectacular animatronic suits (courtesy of Jim Henson's Creature Shop) and utterly seamless digital face work. To the credit of the filmmakers, the creature design effortlessly evokes and pays tribute to the illustrations in Sendak's book. There's not a single moment in which the titular Wild Things feel anything other than real and alive. Additionally, the colour palette and lighting was kept appealingly natural, with a great deal of the filming taking place on location (in Victoria, Australia) that contributed to the immaculate atmosphere. Consequently, nothing feels manufactured or as if created within a studio. Meanwhile, Carter Burwell and Karen Orzolek's score is evocative and remarkable, and will burrow into the mind of a viewer.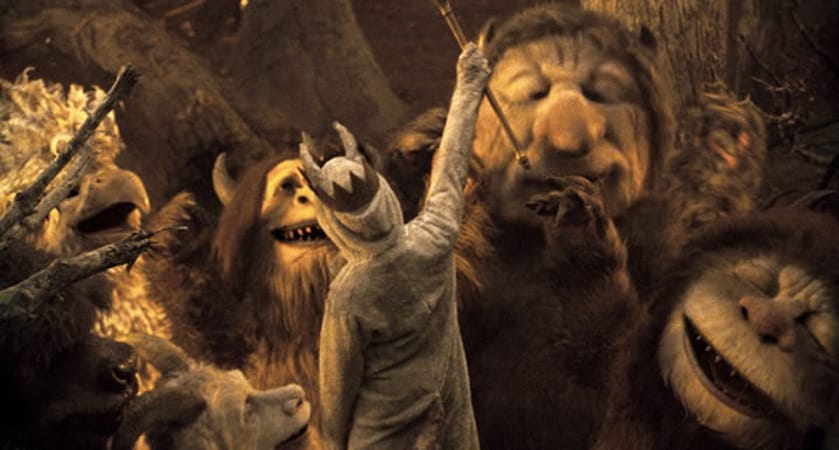 Playing Max, young actor Max Records is the only cast member who was allotted considerable screen-time. Max, whose only previous film credit is a minor role in The Brothers Bloom, is blessed with an incredibly expressive face that effortlessly conveys an array of emotions and never fails to sell the legitimacy of a scene. His performance is absolutely convincing, and this is a rare quality in a child actor. The vocal casting for the Wild Things is spot-on, with James Gandolfini who's exceptional as Carol, Lauren Ambrose who's a standout as K.W., and all the other cast members hitting their marks with equal assurance. Catherine Keener also appears in the minor role of Max's mother, and she exudes confidence.


Where the Wild Things Are may be perceived as too dark, scary, strange and complex for the little ones, but this assumption is misplaced. However, the film may indeed be too dark, scary, strange and complex for adults. See, while adults will absorb every facet the film imparts, children will not be able to comprehend the underlying themes; in fact, their young minds will likely overlook them. Thus, this is a family film which engages viewers of all ages: children will adore the experience, while pre-teens and young teens will connect with Max, and adults will be able to recognise the allegorical nature of the film and absorb everything on offer. A visually stimulating, emotionally riveting celebration of the spirit of childhood, Spike Jonze's third feature film is mature and resonant; qualities rarely exhibited in a family film. To quote Bob Chipman: "The idea that a children's film like this can even exist in the same world that produces horrors like The Cat in the Hat or The Pacifier is a wonder to behold."

7.8/10