"Soon I'll have reached out to and influenced more people than anybody in the history of this planet, save God himself. And the best he ever managed was the Sermon on the Mount."
Pierce Brosnan's first outing as James Bond, 1995's
GoldenEye
, continues to get a lot of love, and is now rightfully considered one of the finest 007 adventures in the franchise. Fortunately, in the eyes of this reviewer, 1997's
Tomorrow Never Dies
is a strong follow-up, even if it's not as fondly remembered as its predecessor. Helmed by Roger Spottiswoode, this was the first Bond offering to be produced after the death of long-time series producer Albert R. "Cubby" Broccoli, who gets an honourable mention in the end credits.
Tomorrow Never Dies
is by-the-numbers but thrilling, adhering to the well-worn James Bond formula to create a genuinely fun 007 adventure that doesn't get as much credit as it should.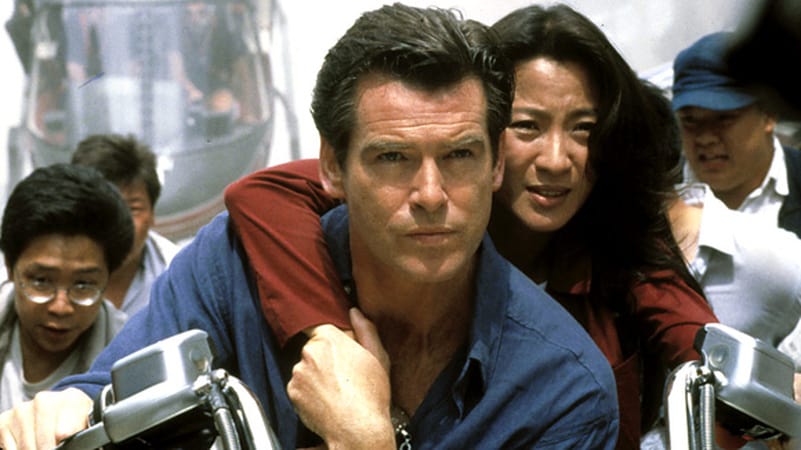 A power-hungry media mogul, Elliott Carver (Jonathan Pryce) hatches a scheme to incite a war between the UK and China, believing that his media group will absolutely flourish if such an event took place. Using a stealth boat commandeered by German giant Mr. Stamper (Götz Otto), Carver's team torpedoes a British military vessel in Chinese waters, generating the illusion that Chinese jets attacked it. Carver is too hasty in releasing headlines about the "attack," though, which looks suspicious in the eyes of MI6. Thus, James Bond is sent in to investigate Carver. Whilst digging for the truth, he discovers that one of former lovers, Paris (Teri Hatcher), is now Carver's wife. Bond also meets Wai Lin (Michelle Yeoh), a spy working for the Chinese government who similarly suspects that Carver is up to no good. Teaming up, Bond and Lin set out to thwart Carver's plan and prevent World War III.

After seventeen movies, the James Bond formula has been perfected and honed, leaving screenwriters to retain the proverbial broad strokes but fill in the appropriate blanks. For Tomorrow Never Dies, writer Bruce Feirstein (GoldenEye) did a perfectly adequate job, packing his screenplay with globe-trotting espionage, evil bad guys, tough henchmen, elaborate action-sequences, one-liners and, of course, various gadgets, including a high-tech BMW that's full of surprises. One of the reasons why Bond has endured for so long is that the filmmakers endeavour to touch on topical social and political issues, keeping the franchise relevant. For Tomorrow Never Dies, the internet was becoming an established phenomena and the media was becoming more prominent, with perception of politics and global events more susceptible to media influence, bias and scrutiny. Thus, Feirstein's script embraces this frenetic media landscape, introducing a Blofeld-esque Bond villain looking to manipulate the media for his own nefarious ends. Feirstein inserted some sly satire, as well.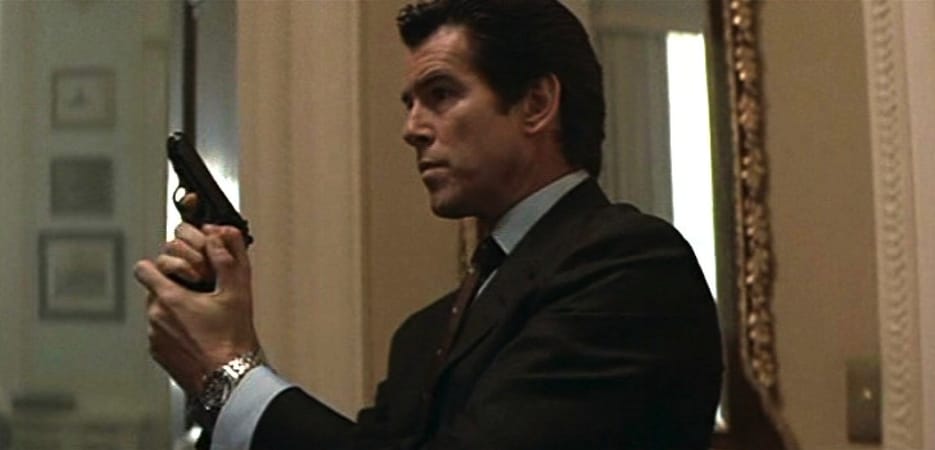 It almost goes without saying at this point in the Bond series, but Tomorrow Never Dies boasts some spectacular special effects. Produced in an era before CGI became so widespread, director Roger Spottiswoode's action sequences are deliciously old-fashioned, with his team employing impressive model work and carrying out perilous stunts to generate the spectacle. Spottiswoode may seem like an odd choice to helm a Bond-buster - after all, he almost killed Sylvester Stallone's career with the 1992 dud Stop! Or My Mom Will Shoot - but he displays a sure hand during the action scenes, and the dramatic stuff is equally assured. With scenes set in China, Spottiswoode clearly tried to channel John Woo at times, and he did a decent job of it. Tomorrow Never Dies is filled with memorable fights and set-pieces, all of which are backed by David Arnold's competent, pulse-pounding score. Most notable is the stunning opening sequence which kicks off the picture with a real bang, and the climax which continues to up the ante in a spectacular fashion. For action junkies who crave a fix of explosions, shootouts and chases, this Bond outing delivers.

With Tomorrow Never Dies, Brosnan confirms that he was born to fill 007's shoes. Pierce is a spectacular Bond, bringing the character into the '90s with style and charm. Moreover, he does a terrific job of making Bond feel human, as he shows vulnerability and emotions. Pierce's biggest success is that you can believe him as both a vicious killer and a suave womaniser, which is a rare thing indeed. As the proverbial Bond villain, Jonathan Pryce is deliciously over-the-top in the role of Elliott Carver. Sinister, cunning and charismatic, Pryce chews the scenery in an effective manner, evoking the spirit of the larger-than-life villains which used to characterise this series. Michelle Yeoh, meanwhile, is an ideal Bond girl - more than just a sex object, Yeoh plays a capable, resourceful spy who doesn't need Bond to protect her. Yeoh showcases her impressive fighting abilities on a number of occasions, and she looks oddly comfortable here despite the flick's Western polish. Teri Hatcher is the only weak link, failing to overly impress as Paris. On the other hand, Ricky Jay is agreeably colourful as Carver's techie, and Götz Otto delivered a menacing performance as Carver's right-hand man. Rounding out the cast is the usual selection of series regulars - Judi Dench plays a great M, Desmond Llewelyn is forever amiable as our beloved Q, and Samantha Bond is a terrific Moneypenny.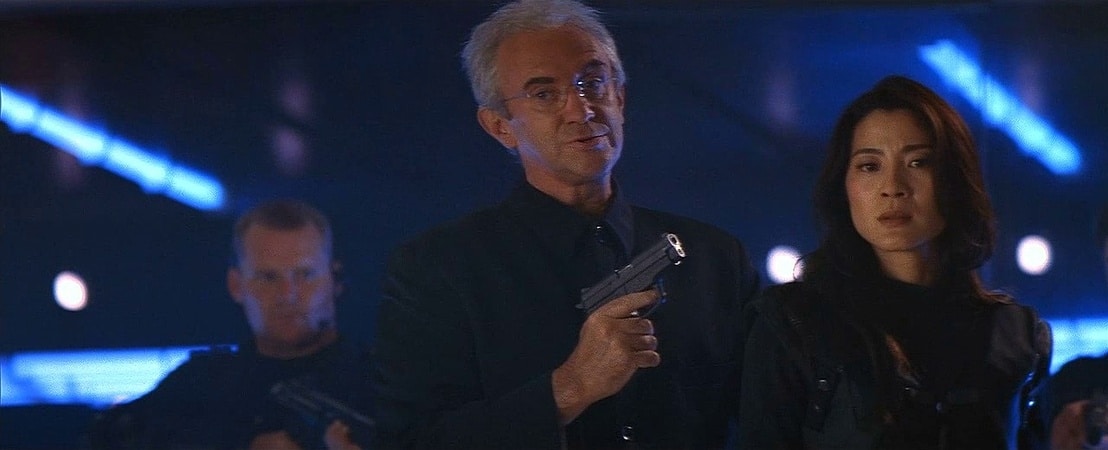 As good as it is, Tomorrow Never Dies is not quite on the same level as its forerunner. GoldenEye was so successful due to its willingness to take risks. Its story concerned loyalties and betrayals, and it explored deep facets of Bond's psyche. The villain, Alec Trevelyan, was sinister and had a wonderful edge due to his status as a former Double-O agent. Tomorrow Never Dies is a comparatively safer outing, generating more of a testosterone-fuelled actioner than an action picture suffused with humanity. I can't complain too much, though - Tomorrow Never Dies is still very good at being what it is. As action spectacles go, they don't get much more skilful or enjoyable than this.

8.2/10