You guys, I'm hungry. I know when my stomach growls there's trouble.

The Goonies is a wonderful adventure tale set to thrill kids and without of a doubt my favorite kids movie of all time sorry Toy Story. Every time i watch this movie i get such a nostalgia rush, i remember watching it all time when i was young its one of those movies that you can watch over and over and never get tired of it. Honestly though im not even sure how many times I've watched this movie i would have to say that its between this and The Lord of the Rings: Return of the King for the most times I've watched a movie but if i had to put a number on it though id have to say over 100 times. Richard Donner has always been one of my favorite directors with such films as Superman (1978), the Lethal Weapon movies, and Scrooged, he was one of the directors who's movies i watch a lot of growing up. Now i know people will disagree with me but i think The Goonies is his best movie.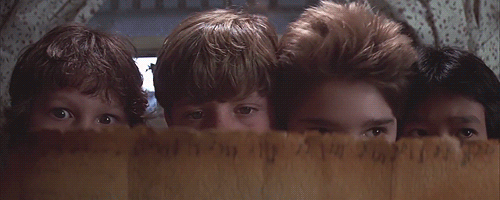 The movie follows a group of four young friends who live in the "Goon Docks" and call themselves "The Goonies" Mikey (Sean Astin) the leader of the group, Mouth (Corey Feldman) the smart aleck, Chunk (Jeff Cohen) the funny fat kid, and Data (Jonathan Ke Quan) the groups macgyver. They all are in danger of losing their homes and the only way to save them is to pay a serious amount of money which none of them have. Bored and sad they decide to go looking around in Mikey's dads off limits attic for 'rich stuff' they soon stumble upon a really old treasure map which was once the property of the pirate One-Eyed Willie's. Mikey tries to persuade his friends to go looking after it but they don't seem all that interested, eventually the group decides to go looking for it while disobeying Mikey's older brother Brand (Josh Brolin) rule to stay inside.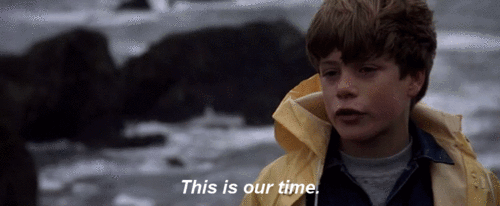 From here we see the group of friends find their way into One-Eyed Willie's cavern filled with tons of deadly booby traps but not before catching the attention of a criminal family the Fratellis that now after capturing Chunk know all about the treasure. The craven part is where most of the movie fun comes from, it feels like a more childish Indiana Jones which i know some don't like i on the other hand loved it. Seriously though What did they expect did they not know that Spielberg wrote the story for it kinda hard not to know seeing that his name is the first one to pop up on screen. The group having had a few encounters with the Fratellis at this point finally out run them and find there way to One-Eyed Willie's hidden treasure where they load up with as much gold, gems, and pretty much anything else they possibly can get their hands on only to be caught by the Fratellis and forced to hand it all over to them. The group makes a getaway when Chunk with the help of Sloth(the Fratellis disfigured brother who they horribly mistreat) come to save the day. Mikey still sad they didn't get any treasure forgets that he put some gems inside his marble bag and when his family's maid looks through it she flips out and gives it to them so they don't have to leave to Goon Docks.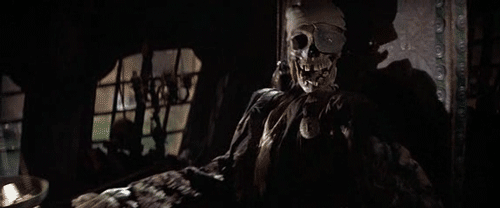 Overall i give it a solid 10
my score might be skewed for this movie but like i said i used to watch it all the time when i was a kid and loved it but also the fact that its based in Oregon my home state. I was actually in Astoria (the town the movies based in) just last week and went up to see the house and area for the first time and i absolutely loved it. Oh yeah watching it on Blu Ray was a trill in itself just to see how great the movie looks