''When chaos has become supreme law, then the time will have come for the empire of crime.''

Berlin police inspector Lohmann investigates a case, in which all clues lead to a man, who's in a hospital for mental illnesses, for many years - Dr. Mabuse.
Rudolf Klein-Rogge
: Dr. Mabuse
Fritz Lang's
The Testament of Dr Mabuse
was released in 1933 from Germany. It is certainly a psychological thriller laced with mystery, suspense and murder. The heart of the story revolves around the enigmatic Dr Mabuse whom is very much seemingly behind the case which Lohmann, played by Otto Wernicke, is investigating. When a call from Hofmeister comes through, things begin to become even more complicated...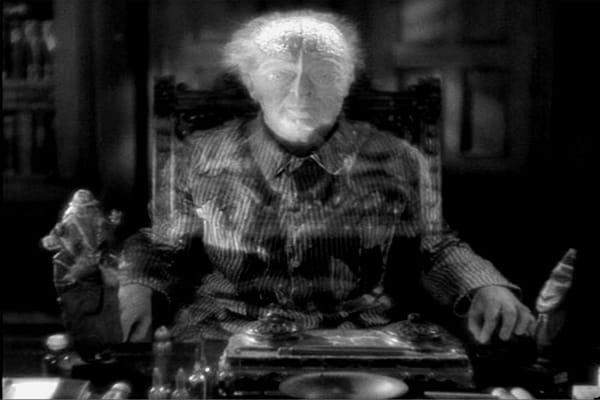 The case being investigated involves a secret group of ruffians carrying out orders from an unknown boss whom gives orders in a room while shrouded unseen behind an ominous curtain.
The men carry out the orders without hesitation, whether it is robbery or murder, threatened that if they fail to follow orders death is imminent.
While all this is taking place Thomas Kent reluctantly joins the group, after having a hard time finding work, as seen in a flashback scene which shows Kent unemployed and mightily disgruntled in a hall for finding citizens jobs.
This scene certainly reflects the desperation and turmoil of the time which had seen the shadow the Great Depression.
Cleverly,
The Testament of Dr mabuse
isn't just a mystery psychological thriller, it is a love story.
Kent meets Juwelen-Anna while down on his luck and looking for work, and confides in her as he becomes reluctant to go along with the others who engage in heinous activities for money and greed.
We have a murder of Dr Braum, the insane asylum run by Dr. Kramm who is shown having visions of the ghostly Dr Mabuse, and then we have the criminal group which are all connected by a secret of duality and strange intellect.
Fritz Lang successfully captures the madness and desperation of the struggle in the 1920s and 30s, Germany and Europe, it shows everything with graceful cinematography, lightning precise effects, brutally effective sounds and sparkling clarity.
Fritz Lang shows quite precisely the capabilities of what people will do when faced with the blunt choice between
destruction and survival
. Crime being the only possible, desperate alternative for a society with no work, no money and no value.
The Testament of Dr Mabuse
is in fact a dark, bleak picture painted with the colours of extermination and the destructive traits of bitterness, of madness and the glowing effigy that is terror beckoning horror.
As commissioner Lohmann rallies towards the truth, we the audience are with him all the way. Rays of light and hope shine towards justice and compassion through the victory of finding an end and conclusion to the impending chaos.
Fritz Lang manages to give us an appetizing show case from a monstrous eyed ghostly apparition that is Dr Mabuse, to mysterious shadows and mechanical trickery.
Whether it is the cleverly executed cinematography behind a murder taking place in an immense traffic jam, with loud beeping and glaring from cars to disguise a gun shot, to the frantic flooding of Kent and his love in a trapped room
The Testament of Dr Mabuse
has it's moments. And what moments they are. This is Fritz Lang's diamond in the rough and while it may not be in the same league as
Metropolis
or
M
it certainly shines with its own unique, unblemished dark style and an intriguing roller coaster of action, and one of puzzling mystery.
''Mabuse the criminal? Mabuse the genius. His intellectual legacy would have turned your world, with its police protection, on its head!''