Weird Translations... English to English
Sort by:
Showing

37

items
Decade:
Rating:
List Type:
Title translations may be necessary in some cases, but sometimes I wonder what the hell went on translator's mind making such horrible and ridiculos choices.
These are Italian titles.
Note
: some translations in English are literal, so they could make no much sense.
This is about the bizzare habit of translating English titles with other English titles.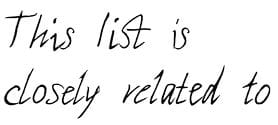 WEIRD TRANSLATIONS... MISCELLANEOUS

WEIRD TRANSLATIONS...
BY SECTIONS
You'll find other translations in:
MY FAVORITE TV SHOWS - CHILDHOOD
MY FAVORITE TV SHOWS - TEEN YEARS
You can check
MY MOVIE LISTS

Added to

6 votes
Aira's Movie lists
(34 lists)
list by Aira
Published 10 years ago

1 comment

3 votes
Serial Lister
(32 lists)
list by Aira
Published 10 years ago

1 comment