1

vote
Top 10 Super Sentai Dances
Sort by:
Showing

11

items
Decade:
Rating:
List Type:

Add items to section
Honorable Mentions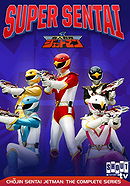 This is just an exercise video set to the theme song and so it would feel wrong to put it on the list proper.





Fun Meter: 3/5
How Easy to Learn: 4/5

* This is a fan version of the dance as there are no LEGIT uploads of the official one.

jenndubya's rating:


Add items to section
Top 10
One of my favorite things about Super Sentai lately is seeing what dance they're going to come up with each year, and then learning the dance so that I can join in at the end of each episode.

These are my top 10 dances for all of Super Sentai, including both the show and movie exclusive versions.

The fun and difficulty meters are based on personal preference. Just because I find it super easy, it doesn't mean someone else would - or vice versa.
Added to

3 votes
My Toku Top Tens
(20 lists)
list by jenndubya
Published 7 years, 1 month ago