11

vote
The soundtrack to Fallout 3
Sort by:
Showing

22

items
The music from Fallout 3 is definitely not what I'd have chosen to provide the soundtrack to the apocalypse. Instead of crushingly bleak instrumental soundscapes, we're bombarded with songs that are unjustifiably upbeat and needlessly patriotic. Here is a list of songs that you'll find on the radio when scavaging the wastes.
GALAXY NEWS RADIO - The remnants of a pre-war news corporation, overseen by the charismatic DJ Three Dog. GNR specialises in swing and big band music, as well as being used to broadcast news and updates on the player's progress. GNR broadcasts from the middle of the Super Mutant infested ruins of Washington DC.
ENCLAVE RADIO - A patriotic propaganda tool for the mysterious Enclave faction. Overseen by the so-called President of the United States - John Henry Eden, who regularly regales tales of his past exploits and long winded monologues about his authenticity as president.
AGATHA'S STATION - Poor lonely old Agatha, living alone in the wastelands with only a violin and a radio antenna for company. Agatha's recordings are broadcast across the Capitol Wasteland and her messages are warm-hearted and sincere. Sombre violin solos? That's a bit more like it...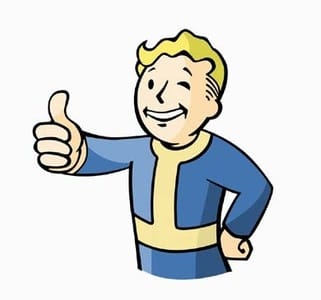 Added to