23

vote
13199 Views Share:
Small guide to Edwige Fenech sexiest movies
Sort by:
Showing

10

items
Decade:
Rating:
List Type:
FOR MEN ONLY...
I doubt any woman can be interested in Edwige Fenech's movies, at most curious.
For the guys, Edwige was so important to me, no she's not my favorite (nudie) actress, but was the first bare naked woman I've ever seen, normally lobby cards was censored, in 70's Italy, can I say heavily censored with fake undies, bras, or black lines or stars...I don't why this lobby card have no black stars or fake undies, the title was quite funny "Giovannona Coscialunga disonorata con onore" more or less is Giovannona (Big Joan) Long-Thigh disihonored with honor, title is quite a non-sense, but Giovannona was Edwige, she was naked and she was no-nonsense to me, 9 year old kid.
Seeing the magical triangle for the very first time was akward to me, and I've different thoughts, the second one was :
Laura Antonelli has bigger boobs...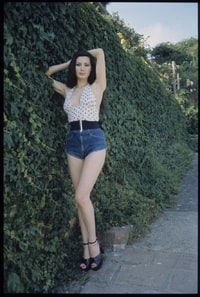 And com'on...you can think to see an uncut Edwige's movie on YOUTUBE...really ???
Added to