12

vote
The Simpsons Vs. Family Guy
Sort by:
Showing

10

items
Decade:
Rating:
List Type:

Add items to section
Round 1: Leading Star
Homer J. Simpson is the crude overweight lazy bald father of Bart, Lisa and Maggie. He is married to Marge who he met in High School! Homer is known for his laziness and selfishness but he's not a bad person!

WINNER: The Simpsons
filmbuilder's rating:

Peter Löwenbräu Griffin is the husband of Lois, the father of Meg, Chris and Stewie and the owner of Brian. He dislikes his daughter Meg and often gets drunk with his dog Brian. He's lewder, cruder and ruder than his yellow counterpart, but you can't argue that he's a rip-off of Homer!
filmbuilder's rating:

Add items to section
Supporting Cast
While Bart was the main character of 'The Simpsons' for the first three years, Series 4 and onwards focused more on Homer! Bart is the oldest son of Homer and Marge and the older brother of Lisa, 8 year old smarty pants and Maggie, 1 year old baby genius! Marge is the thin wife of Homer with beehive hair. She is more healthy than Homer! Homer drinks at Moe's Tavern with Barney, Lenny and Carl, the latter two being employees at the Nuclear Powerplant run by evil millionaire Mr Burns

WINNER: The Simpsons
filmbuilder's rating:

Homer and Peter both having a wife, son, daughter, baby and dog is where the similarities come in! Lois is the wife of Peter and they have three kids; awkward daughter Meg, idiot son Chris, genius baby Stewie who wants to destroy the world and alcoholic talking dog Brian! Peter drinks at the Drunken Clan with his best friends Joe, Quagmire and Cleveland.

Since, the supporting cast rip off 'The Simpsons' more, 'The Simpsons' wins!
filmbuilder's rating:


Add items to section
Animation
Don't know the animators so used the developers
The animation for 'The Simpsons' is actually rather original - yellow skin, stretched out mouths, etc.

And they're very aware of it...

"Bart can kiss my hairy yellow butt"

WINNER: The Simpsons
The animation for 'Family Guy' is actually different, for example; Peter's head is huge compared to Stewie's and Peter has a chin that looks like balls

"His chin looks like balls, do you want me to cover that up too?"

Personally I find the animation for 'The Simpsons' more original and funny!

Add items to section
Magic
Although 'The Simpsons' are going to cross pairs with 'Futurama' at the end of the 25th season, there's never really anything magic about 'The Simpsons', there's just lame magic here - Bob's eye sticking out when being trampled on by elephants, a beast eating Homer's stomach off exposing his insides (without ripping his shirt), etc.
'Family Guy' is more magic because Stewie and Brian can travel back in time and they can travel to different universes using a device!

"We're in the Robot Chicken universe!"

And Brian and all the animals can talk!

"There's enough food to last us forever!"

I think the magic in 'Family Guy' is better

WINNER: Family Guy




Add items to section
Cultural Impact
'The Simpsons' started airing 10 years before 'Family Guy' although many think the show has jumped the shark after the first ten seasons!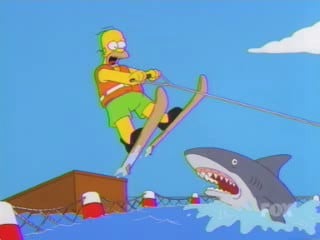 Everyone thinks nothing since Series 10 was any good!
"Change the channel Marge!"
WINNER: The Simpsons
filmbuilder's rating:

People say that 'Family Guy' jumped the shark in Series 12 when Brian was killed (despite it lasting two episodes)
"No Brian!"
"Oh my god! Brian can you hear me?"
"Holy crap! What the hell happened?"
"You've given me a wonderful life, I love you all!"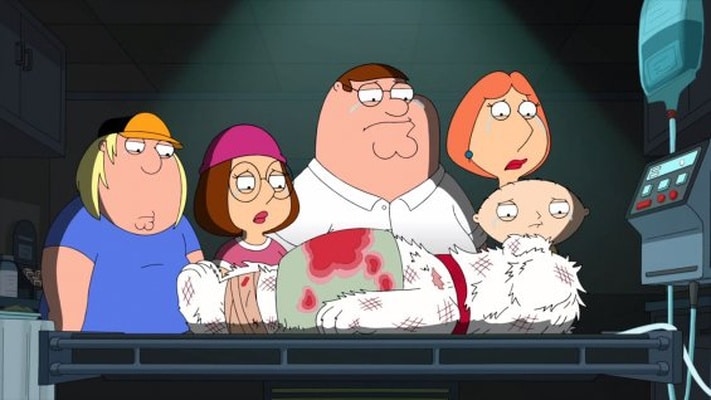 Everyone says that 'Family Guy' remained fresh for longer than 'The Simpsons' but I prefer 'The Simpsons'! Simply put it, everyone knows that without 'The Simpsons', there'd be no 'Family Guy'
filmbuilder's rating:

Welcome to another VS Round and in this installment, we're pitting 'The Simpsons' against 'Family Guy'
Added to