26

vote
Movies the giraffe watched: May 2012
Sort by:
Showing

21

items
Decade:
Rating:
List Type:
The breakdown: 21 films watched - 12 first views, 9 re-watches. Of those 10 were watched on DVD, one in the theatre, and the remaining 10 via Netflix instant. Looking at them by decade, I hit the 20s, 30s, 60s, 70s, 80s, 90s, 00s, and 2010s, with the 80s & 90s accounting for about half the films watched (5 from each).

Lots of films watched on DVD this month between my monthly focus on the Alien series, my year-long Marx Bros. film focus, the ongoing Movie Exchange Program, and watching some of our movies with my daughter. All of the Netflix content consisted of films leaving my queue, a factor I'll clearly always have to deal with so long as I stick with streaming content from them. Fortunately the films they removed were all worth my watching, and they finally got me to watch Metropolis which I've needed to do since last summer when it was one of the top voted films in my "Help me lower my IQ" list. Re-examining the Alien series helped me stay calm while I wait for Prometheus to hit theatres here, even though the 3rd & 4th films weren't quite as good as I'd originally thought. Oh yeah, and I managed to catch The Avengers & thus avoid feeling left out, though I wasn't as impressed by it as some others around here seem to be.

Also I wrapped up the Movie Exchange Program films from phillydude this month with the underrated Quick Change and Empire of the Sun which I didn't respond as strongly to as I might have. Still, all 5 films he sent me were ones I've either been putting off watching for no real reason or would not have watched on my own before, and so that makes this whole endeavor well worth the time and effort. I have no doubt that when I watch Xanadon't's films over the next 2 months I'll still be able to say the same...which is the point & a main reason for us doing this.

And on a final note, I only failed to watch one film I'd hoped to this month which was Battle Royale. Worth mentioning because so far I've managed to watch everything I've planned to, but with that one I know my "wife" wants to watch it so I was waiting for her & it just didn't work out. Maybe next month we'll get it watched.

Best film for May: too many Great films to choose from, so...
Best film for May I hadn't seen before: The Call of Cthulhu (which could also be the best hidden gem, but I'll let another film have that distinction)
Best hidden gem: The Great Train Robbery
Most overrated: The Lion King

Add items to section
Monthly focus: Alien series
My anticipation for Prometheus is at a fever pitch, so I've decided to revisit the quadrilogy while I wait. I intend to watch one film per week in order, which means my June list will likely kick off with my seeing Prometheus on the big screen.

Add items to section
Listal Group Project

Movie Exchange Program
See also this month's lists from:
phillydude
,
Xanadon't
, and
jaytoast
First viewing
- May 7th


New Cult Canon article on the A.V. Club site
I link to the above article because it puts this film perfectly in perspective & echoes my thoughts on it. I loved the beginning third of the film, but the rest of it didn't quite hold up as well. A lot of the major plot points were pretty predictable, but I found myself entertained & engrossed regardless. The various characters & faces of NYC helped enliven the film as it proceeded, and so I think I got more enjoyment out of the smaller roles than I did any of the main roles other than Bill Murray's.
So in the end I found it underrated & worth a look.
Oh yeah, and had I known what I was getting into with this film I totally would have paired it with
The Taking of Pelham One Two Three
. They complement each other nicely I think.
the giraffe's rating:

First viewing
- May 28th-29th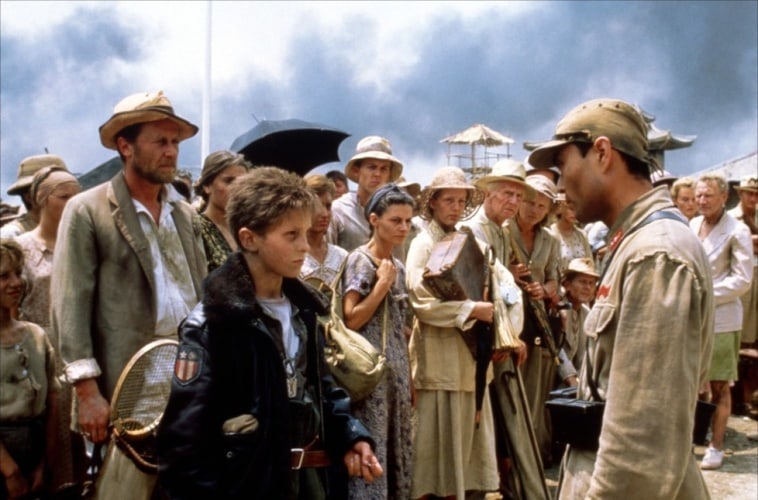 A visual beauty expertly directed & wonderfully acted. And yet for some reason I never connected with it emotionally & was never all that excited by it. Probably I just wasn't in the mood for it, and so your results may differ.
the giraffe's rating:


Add items to section
Big screen attractions
Films caught in a proper movie theatre
First viewing
- May 20th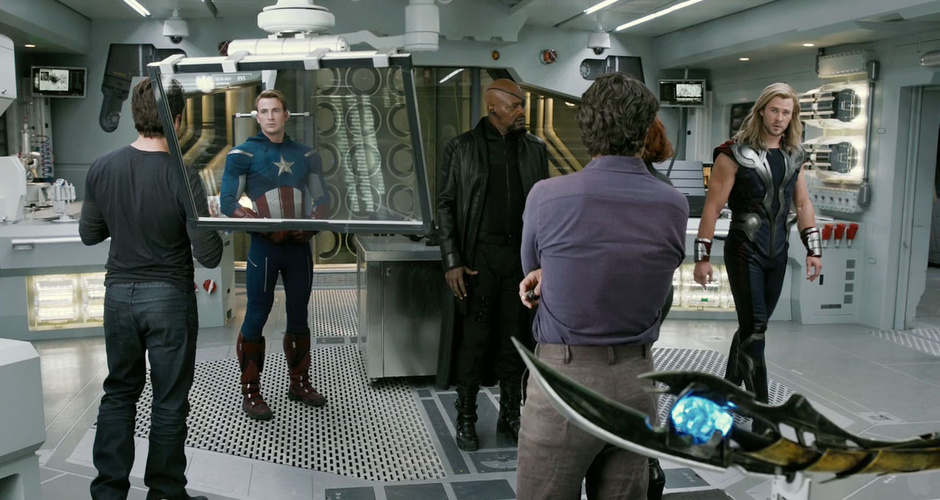 We now return you to this ongoing Marvel series, already in progress...whee episodic filmmaking, which apparently allows the creators to gloss over any actual character development & skip the introductions. That may not be so bad for those of us who have kept up with this series thus far, but for anyone who skips the others & shows up for this one there's a lot of catching up to do & not much provided to do so (just ask my "wife").
Ah, but this is indeed an entertaining film, don't get me wrong. Robert Downey Jr. is back to enjoying himself instead of looking bored & annoyed as he did in
Iron Man 2
& provides most of the comic relief, and if they can keep him interested for at least one more
Iron Man
film I'll give it a shot. All the previous romantic side plots are acknowledged but never allowed to get in the way of the story, which is a relief (sorry Natalie Portman, you get banished this time around). Watching the main characters pick fights with each other is a lot of fun, though one would hope that by adulthood they would have learned about teamwork, sharing, & cooperation already (ah egos, heh). Tom Hiddleston plays Loki well, even if he's not that great of a villain (that seems to be the point by the end though). By far the film's biggest surprise & asset, however, is Mark Ruffalo who perfectly channels Bill Bixby's Banner (which I loved growing up) while succeeding at coming off as the smart dude he's supposed to be (now please give him a Hulk movie so we can finally, hopefully have a really good one).
Now I also have to state that there were a few scenes & several instances of dialogue that fell flat for me, probably because I'm one of the few humans immune to the so-called charms of Joss Whedon's writing/directing. While this is easily the most I've enjoyed any of his work, the weaker moments served as reminders that he was behind it. It also bugs me that we know little about Black Widow and Hawkeye, other than that one can kick ass & the other can hit virtually anything with an arrow. Guessing they don't have any real superpowers. Oh, and I love how this alien race that's supposedly a major threat to Manhattan does nothing more than property damage. Ah but our heroes must triumph, lest we not have more movies.
Anyway, in the end I was definitely entertained, but I also felt like it could have been better especially the more I thought about it afterwards. Rather confused by the 10/10 reviews around here, honestly.
the giraffe's rating:


Add items to section
Year-long series focus: The Marx Bros.
I've decided this year I want to re-watch all of the Marx Bros. movies in order. Since there's 12 of them total, that gives me one per month.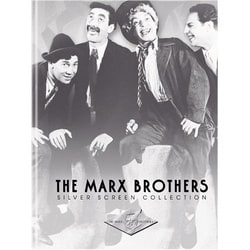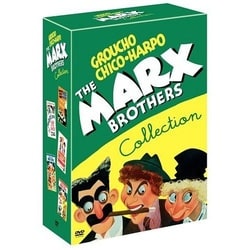 Re-watch
- May 7th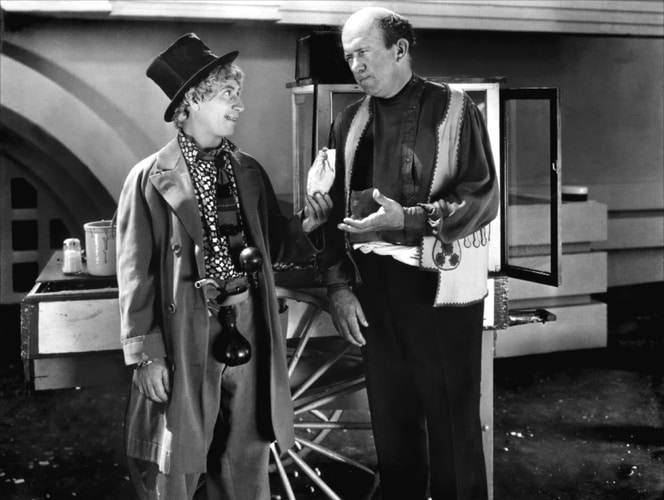 I didn't realize how long it had been since I last watched
Duck Soup
. I'd forgotten most of it (the mirror scene remains unforgettable), so this felt like a first viewing. That said, few movies make me laugh this hard & this frequently. This is the Marx Bros. at their anarchic best. Much like
Horse Feathers
there's more detours from the plot than a focus on it, and the results are always hilarious. The pair of scenes where Harpo's character takes on a street vendor had me in stitches, as did his constantly clipping pair of scissors. Groucho's wit is as sharp as ever & it's refreshing to see Margaret Dumont play his love interest/comic foil again. While it often seems to me like she was oblivious to a lot of his jokes (or maybe that's just good acting), she clearly provides plenty of fodder for him & just looks great sharing the screen with him.
The supporting cast is much better all around than in
Horse Feathers
, and for once they didn't bother with the musical interludes that were the trademark for Chico & Harpo. Without them the film feels tighter overall, though I'd be lying if I said I didn't notice their absence. I'm sure had they indulged in the musical asides the film would've had a longer run-time, but I can see that they wouldn't add anything more than filler to the film.
Also I feel I have to comment on the fact that this is the last of the Marx Bros. films to feature Zeppo. He's essentially the same character as in
Animal Crackers
, and thus doesn't seem to contribute much to the film. His role is serviceable enough, but I felt it could just as easily been played by anybody. Kinda lame he goes out like this since he had a more prominent role in
Horse Feathers
, but I'm sure he was proud just to be a part of this masterpiece.
Currently streaming on Netflix
the giraffe's rating:


Add items to section
Netflix exorcisms
Films that left my IQ this month
Added to
28 votes
the giraffe's movie lists guide
(156 lists)
list by the giraffe
Published 7 years, 5 months ago

1 comment
13 votes
the giraffe's lists for 2012
(18 lists)
list by the giraffe
Published 7 years ago

1 comment