3

vote
Great British Actors and Actresses
Sort by:
Showing

37

items

Add items to section
The Un-British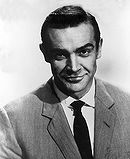 Sean Connery was not a great actor. What he did have, however, was great screen presence - he was a genuine star. He belongs in the pantheon of Bogart, McQueen and Ford. Actors who palpably exude machismo on screen, drawing attention from anyone else sharing it with them. In the right roles and films this can deliver experiences that no other medium can - it could be argued that it's what cinema, as distinct from theatre or photography, was made for. Certainly it can be captivating and in the right films Connery was just that. Cast him in the wrong role or film, however (On the Fiddle for example), and the result is the proverbial sore thumb.

Must see: James Bond made Connery into a star and the first three of those films are all excellent. My choice here though is The Hill, where all of Connery's macho persona is directed towards a different, but equally captivating, end.
The greatest film actors from the British isles, in no particular order.

Honourable mentions go to:

Jenny Agutter
Stanley Baker
Chritian Bale
Linda Bassett
Brian Blessed
Brenda Blethyn
Jim Broadbent
Simon Callow
Robert Carlyle
Julie Christie
Warren Clarke
Robbie Coltrane
Tom Courtenay
Brian Cox
Liam Cunningham
Peter Cushing
Timothy Dalton
Phil Daniels
Charles Dance
Ralph Fiennes
Albert Finney
Edward Fox
Michael Gambon
Cary Grant
Jack Hawkins
John Henshaw
Bernard Hill
Anthony Hopkins
Jane Horrocks
Angela Lansbury
Bernard Lee
Christopher Lee
Geraldine McEwan
Paul McGann
Ewan McGregor
Ian McNeice
Ian McShane
Liam Neeson
James Nesbitt
Bill Nighy
Geoffrey Palmer
Sean Pertwee
Leslie Phillips
Vanessa Redgrave
Miranda Richardson
Alan Rickman
Kristin Scott Thomas
Michael Sheen
Alastair Sim
Maggie Smith
Timothy Spall
Imelda Staunton
Tilda Swinton
David Tennant
David Thewlis
Timothy West
Added to