Added by JxSxPx
on 21 Jul 2017 03:42
1

vote
Favorite Movies - Almost Made It
Sort by:
Showing

25

items
Decade:
Rating:
List Type:

Add items to section
Animation
Director:
Main Cast:
Release Date:

JxSxPx's rating:

JxSxPx's rating:

JxSxPx's rating:

Add items to section
Comedy
JxSxPx's rating:
Director: Mel Brooks
Main Cast: Zero Mostel, Gene Wilder, Kenneth Mars, Dick Shawn, Lee Meredith
Release Date: March 18, 1968
JxSxPx's rating:
Director: Rob Reiner
Main Cast: Peter Falk, Fred Savage, Cary Elwes, Robin Wright, Chris Sarandon, Mandy Patinkin, Christopher Guest, André the Giant, Wallace Shawn
Release Date: September 25, 1987
JxSxPx's rating:

Add items to section
Drama
Director: Erich von Stroheim, et al.
Main Cast: Gloria Swanson, Walter Byron, Seena Owen, Tully Marshall
Release Date: January 1, 1929
JxSxPx's rating:
Director: John Ford
Main Cast: John Wayne, Maureen O'Hara, Barry Fitzgerald, Victor McLaglen, Ward Bond, Mildred Natwick, Francis Ford
Release Date: August 14, 1952
JxSxPx's rating:


Add items to section
Foreign
Director: Ettore Scola
Main Cast: Sophia Loren, Marcello Mastroianni, John Vernon
Release Date: August 12, 1977
At its heart, A Special Day makes the argument that one day, that one brief encounter can profoundly change your life and open your world. The entire film is a two-hander between Sophia Loren and Marcello Mastroianni, the consummate power-duo of Italian cinema of the era, which brings out the best in each other as actors. They create two characters who live and breathe beyond the confines of the film that have enriched each other's lives and don't realize just how deeply they have effected each other, or us in the process.
JxSxPx's rating:
Director: Olivier Dahan
Main Cast: Marion Cotillard, Gérard Depardieu, Sylvie Testud, Jean-Pierre Martins, Emmanuelle Seigner, Pascal Greggory, Pauline Burlet
Release Date: February 14, 2007
JxSxPx's rating:


Add items to section
From Print to the Screen
Director: William Wyler
Main Cast: Olivia de Havilland, Montgomery Clift, Ralph Richardson, Miriam Hopkins
Release Date: October 6, 1949
The Heiress is a prime example of the kind of literary adaptations that Hollywood once trafficked in. Films that fashioned intelligent frameworks from great novels allowing for a kind of cinematic poetry between the finely honed performances and staid melodrama, a type of cinematic language that no longer exists. The Heiress is a slow-burning character study, following one woman's transition from anxious, sweet spinster into a harder persona allowing star Olivia de Havilland to give the greatest performance of her storied career.
JxSxPx's rating:
Director: John Huston
Main Cast: Anjelica Huston, Donal McCann, Helena Carroll, Cathleen Delaney, Rachael Dowling, Ingrid Craigie, Dan O'Herlihy, Marie Kean, Donal Donnelly, Sean McClory, Frank Patterson
Release Date: December 18, 1987
John Huston's career was built upon literary works previously thought unthinkable as films, and The Dead, his swan song and a family affair with son Tony writing the script and daughter Anjelica starring, is a beautiful curtain call to the end of an unparalleled career. Huston finesses James Joyce's prose into an elegiac portrait of a couple who have spent a lifetime together without really knowing each other. Anjelica Huston's portrayal is a remarkable feat of sustained sorrow while Donal McGann's reaction is a moment of shock followed by a besiegement of grace.

JxSxPx's rating:

Director: Nicolas Roeg
Main Cast: Jasen Fisher, Mai Zetterling, Anjelica Huston, Charlie Potter, Rowan Atkinson, Jane Horrocks, Anne Lambton, Brenda Blethyn, Bill Patterson
Release Date: August 24, 1990
Less of a scary children's film as it is a horror film for children, The Witches is one of the most successful adaptations of Roald Dahl's literary works to the big screen. The mundane and grotesque occupy the same space, seemingly unaware of each other until they brush up against each other in visceral impact. Except for the audience tested happy-ending, this is a perfect blend of artistic collaborators (director Roeg, producer Jim Henson, star Anjelica Huston) bringing the best of their gifts to create something truly magical, mordantly hilarious, and completely terrifying.
JxSxPx's rating:


Add items to section
Gangsters, Mystery, and Suspense
Director: Fritz Lang
Main Cast: Edward G. Robinson, Joan Bennett, Dan Duryea, Jess Barker, Margaret Lindsay, Rosalind Ivan, Samuel S. Hinds
Release Date: December 28, 1945
Artists aren't always the best judge on what constitutes their best work, but Fritz Lang dubbing Scarlet Street his favorite of his American films is moment of lucidity and accurate appraisal. Lang, Robinson, Bennett, and Duryea had made the prior year's The Woman in the Window together, and that film feels like a trial run for this one, one of the all-time greatest film noirs. While Robinson and Duryea are dependably great, Joan Bennett's femme fatale makes the whole thing tick whether she's making you believe she enjoys the masochistic relationship with Duryea or capable of luring Robinson to his doom.
JxSxPx's rating:
Director: Fritz Lang
Main Cast: Glenn Ford, Gloria Grahame, Jocelyn Brando, Alexander Scourby, Lee Marvin, Jeannette Nolan
Release Date: December 7, 1953

JxSxPx's rating:
Director: Alexander Mackendrick
Main Cast: Burt Lancaster, Tony Curtis, Susan Harrison, Marty Milner, Sam Levine, Barbara Nichols, Jeff Donnell, Joe Frisco
Release Date: July 4, 1957
JxSxPx's rating:


Add items to section
Musicals and Films About the Arts
Director: Dorothy Arzner
Main Cast: Maureen O'Hara, Lucille Ball, Louis Hayward, Virginia Field, Ralph Bellamy, Mary Carlisle, Katharine Alexander, Edward Brophy, Walter Abel, Harold Auber, Maria Ouspenskaya
Release Date: August 30, 1940
JxSxPx's rating:

Esther Williams Spotlight Collection, Vols. 1 & 2
Directors: George Sidney, Richard Thorpe, Edward Buzzell, Robert Alton, Mervyn LeRoy, Charles Walters
Main Cast: Esther Williams, Red Skelton, Van Johnson, Lucille Ball, Ricardo Montalban, Johnnie Johnson, Jimmy Durante, Peter Lawford, Betty Garrett, Howard Keel, Victor Mature, Fernando Lamas, Tony Martin
Release Dates: July 1944 – December 25, 1953
I fully admit it, this entire entry is nothing but an admission of my guiltiest movie-watching pleasures. The world of an Esther Williams aquatic musical is a strange one, populated by a never-ending parade of musical guests, vaudevillian comedic bits, some light romance, and the generous sight of Williams leaping, gliding, and tumbling into and out of the water. The best of the bunch (Million Dollar Mermaid, Neptune's Daughter, Dangerous When Wet) treat her as America's mermaid-next-door, and the worst (Fiesta, Easy to Wed) are at least fascinating in their extreme miscalculations.
Director: Rob Marshall
Main Cast: Renée Zellwegeer, Catherine Zeta- Jones, Richard Gere, Queen Latifah, John C. Reilly, Christine Baranski, Taye Diggs, Colm Feore, Dominic West
Release Date: December 27, 2002
24-karat cynicism at its most entertaining. Chicago is a solid racehorse of a movie musical, and it feels more classic in its presentation than many of its contemporaries. It might skirt some of the deeper thematic material at play, but it gives us, as crooked lawyer Billy Flynn sings, the old razzle dazzle and has us begging for more.
JxSxPx's rating:

Add items to section
Science Fiction, Horror, and Fantasy
JxSxPx's rating:

JxSxPx's rating: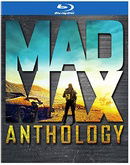 Mad Max Anthology
Directors: George Miller, George Ogilvie
Main Cast: Mel Gibson, Hugh Keays-Byrne, Vernon Wells, Tina Turner, Tom Hardy, Charlize Theron
Release Dates: April 12, 1979 – May 15, 2015
Society has broken down and in its ashes arises a series of imaginatively outfitted roving band of gangs, and our wandering hero Max, something of a Man with One Name, find himself in the middle of the personal vendettas and skirmishes between the parties. There's high-octane cinema, and then there's the ludicrous spirit of daring and adventure that propels these films. George Miller has crafted a vision of the post-apocalyptic future that is both visually compelling and the thinking person's thrill ride.

Add items to section
Western and War-Related
Director: Martin Ritt
Main Cast: Paul Newman, Melvyn Douglas, Patricia Neal, Brandon De Wilde
Release Date: May 29, 1963

JxSxPx's rating:
Director: Sergio Leone
Main Cast: Clint Eastwood, Lee Van Cleef, Eli Wallach
Release Date: December 23, 1966
A tough and stark piece of cinematic art that nearly pulls off the impressive feat of being a piece of purely visual storytelling. There's no true hero to be found and anyone could die at any minute, so we're a long way off from the safer waters of a John Wayne-style western. Sergio Leone's cinematic genius is alternating between populating his film with panoramic shots that knock you out with their beauty and alternating towards close-ups that prove claustrophobic in-between bouts of broad humor, violence, and epic scope.
JxSxPx's rating: