High school is pretty much a love it or not like it to anyone. I thought it went well in my case while it does have it's hard times with exams and homework. However what if you went to a high school where you have to be social to level up a special link which lets you power up your Personas which you summon by using a special type of gun to shoot yourself to use it's skills/spells against enemies in a huge tower at a dark hour. Has that type of concept caught your eye? When welcome to the world of Persona 3. For those who don't know, the Persona series is a side series part of the main series called Shin Megami Tensei where in the games you have to negotiate with countless demons to join your team while dealing with odd situations. The series started with it's first Japan only game called Digital Devil Story: Megami Tensei released for the NES while later titles on the main and different side series released in different consoles some of the more recent titles finally released to other parts of the world.
The plot has our main character just getting to his location at Port Island while he feels something is off walking to the dorm he's staying in. At the dorm you were greeted by a mysterious person giving him a contract about something he looks at and signs it. He goes to school the next day getting use to everything while meeting the other people at his dorm. At night the chairman of the school board Shuji Ikutsuki and two other people Mitsuru Kirijo and Yukari Takeba are watching over him due to his potential of having a Persona. A Persona is another soul that is in your body that releases when the person is facing a very odd ordeal. There the only one to combat the creatures called Shadows that are around the area during the Dark Hour. The Dark Hour is an odd time at midnight where only people that have the potential to summon a Persona can see while a normal person will be in a coffin unaware of anything going on. One evening a huge Shadow attacks the dorm. Yukari wakes the MC up and gives him a weapon to defend himself. At the rooftop they ran into it. The MC picks a special type of gun called the evoker. He pulls the trigger that summons his Persona to defeat the Shadow. He passes out and awakens in a room called The Velvet Room in his mind. He encounters a strange person called Igor that provides some interesting words and you find out that you have an ability to have more than one Persona and can switch them anytime as you please. After waking up in a hospital since the attack. He joins the group with Yukari, and Mitsuru called SEEDS to take Shadows down at a huge tower called Tartarus.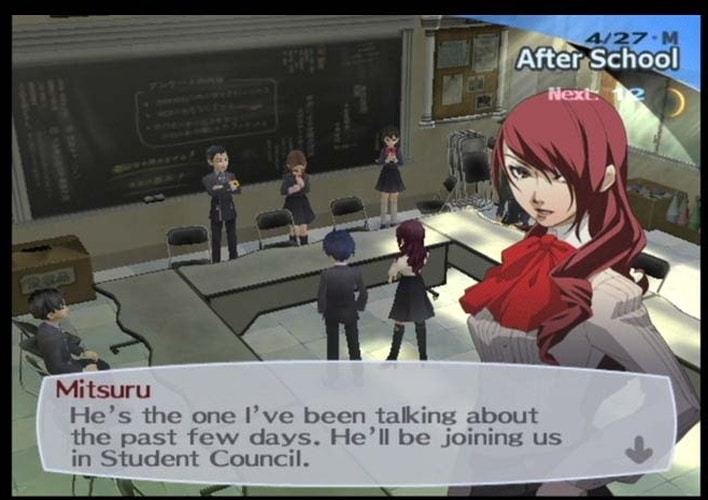 During the day, you head to school unless it's a holiday or summon vacation day. One thing that is important is to increase your everyday stats like charm, courage, and knowledge that can help you out in the social links. A way to increase your stats is answering questions at random times from the teacher, staying awake at school and other hobbies like seeing a type of movie. An extremely important routine to do is the social link. You have to create as much as possible as joining a club, or talking to certain people getting to know them to level up that one link. When you level up your link to one person. That one class for persona can get a bonus EXP when you fuse to one that you have a link to that one Persona class at The Velvet Room. After school, you have the choice to go somewhere else like the mall, Port Island, the Naganaki Shrine and other places to hang out or raise stats. Once you head back to the dorm it turns to evening, you have the choice to sleep, study, or go to Tartarus for grinding.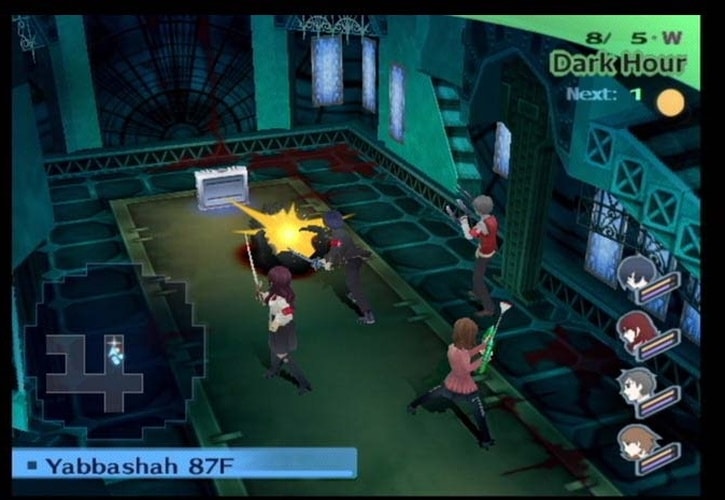 At the main door to the tower, you get to choose your teammates depending on their condition. If you rest well, your battle stats will increase due to your condition. If one of the characters or you are tried or sick, your or their stats will decrease and you will have a hard time at a battles until you leave Tratarus. You also have access to The Velvet Room or in the mall during the day. At that room, you can take requests to do a single objective. After you have finished it, you get a reward. The biggest feature is fusing two or more Personas to make one powerful Persona. You need to think about this as well because the newly fused persona gets the other offering's skills/spells so you need to consider what skills you like to have to survive the floors of the tower. You could also buy Personas you once had for a fee. At the floors, you explore the tower looking for the next floors to a boss floor until you reach a dead-end for now until you unlock it for story reasons. Also there is a wrap point where you switch floors from the recent one back to the main door. You are able to combat shadows or avoid them. If you hit them first, you get the advantage to attack first. However if the shadows attack you first than they go first instead of you. This game has a turn based combat you can choose you usual attack, defend, item, escape with also the option to choose another Persona for that turn, wait for the next turn, and tactics to give to your AI controlled teammates. At battle using the enemies weakness to your advantage is very important since it knocks the enemy off the ground giving you an extra turn or if all enemies are knocked out, you can all-out attack for more damage. One thing to watch out is the status ailments, one could mess you up in battle unless you heal it before it's too late.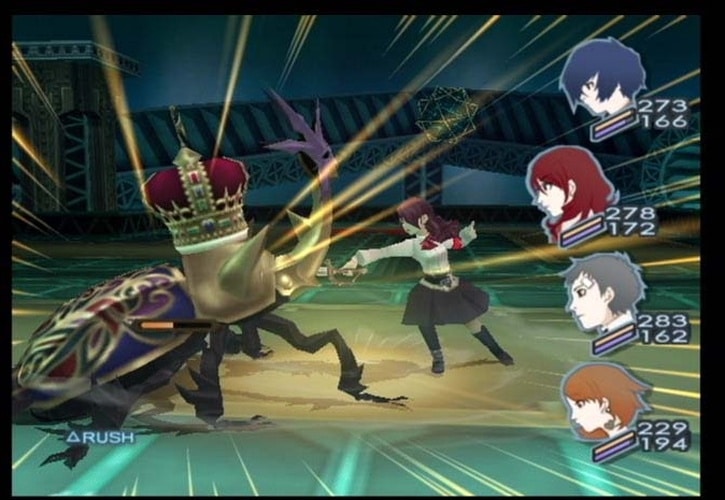 Now on to the good and the bad aspects of this game. The concept is really interesting exploring to a huge tower at night fighting shadows by summoning Personas by using a evoker while in the beginning of the day being social and dealing with high school everyday. A concept like that grabs your attention and gets you very interested. The story is done really well with very developed characters from your dorm and at school. You get to know each one's motives, past, and other facts about them while seeing them grow during the game making you root for them and want them to go for what they like to do and there final decision later on. The battle system is engaging to get into with countless personas to customize to be ready for anything and having a strategy feel with the weaknesses, and much more. There is two minor things I didn't get is the whole if the MC dies in battle, game over. It didn't make any sense since your party members might have items to heal and not to mention, one even has a spell to revive someone in battle so I wonder why they do nothing after you are down. Lastly the AI on your teammates can have their dumb moments like an enemy cast a repel spell on a certain element and one of your guys cast that element it repels back to you damaging or killing you. I revive that person and that same person does that last command again until you change his tactics to prevent that person from that. The music is pretty catchy with tunes that be stuck in you head for a while. Content wise, this has a really good amount of it with personas to collect, many social links to choose from, a random dungeon you unlock later and new game plus to play after beating it the first time. I didn't mind it but this aspect someone may not mind or some may not like a lot because there is a very noticeable repetitive nature of the game because of doing the same route of going to high school, hanging out with people, and grinding at night on a tower that floors like the same aside some background differences on another block.
Overall with some minor things and one aspect that may ruin it for some. Persona 3 is one game you should try out with its concept, story, and the really good amount of content to try out. I highly recommend this.
On a random side note, am I not the only one to find Jack Frost to be adorable?