Sanshiro (Penguin Classics)
Written by
Lists

3 votes
Read in 2016
(5 items)
list by ToniJJJ
Published 2 years, 11 months ago
Pictures
Website:
Amazon
Description:
Natsume Soseki's only coming-of-age novel, Sanshiro depicts the eponymous twenty-three-year-old protagonist as he leaves the sleepy countryside to attend a university in the constantly moving "real world" of Tokyo. Baffled and excited by the traffic, the academics, and-most of all-the women, Sanshiro must find his way among the sophisticates that fill his new life. An incisive social and cultural commentary, Sanshiro is also a subtle portrait of first love, tradition, and modernization, and the idealism of youth against the cynicism of middle age. For more than seventy years, Penguin has been the leading publisher of
... (more)
Manufacturer: Penguin Classics
Release date: 23 February 2010
ISBN-10 : 0140455620 | ISBN-13: 9780140455625

Tags:
My tags:

Add tags

Add Review

Picture

Video
Update feed
ToniJJJ
added this to a list
2 years, 2 months ago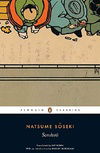 Read in 2016 (5 books items)
"October Read in English A nicely pessimistic and bittersweet Japanese classic. The somewhat relatable main character and his surroundings(I also started studies, after being five years outside the school system) keep this interesting from start to finish. Very early 20th century Japan is something I don't know much about so the book also had an educational side to it."