Gamers old enough to have been a part of developer Crytek's progression from 2003's
Far Cry
to their recent forays into the free-to-play world with
Warface
will agree that the their success has been polarizing. The firm's success
is
deserved, though it could be argued that their achievements didn't come without hefty compromises. Crytek were one of the most visible proponents of PC gaming during the 2000s, taking every opportunity to push high-end hardware as far & as often as possible. Their fan base adored them for it despite the company's games being all but unplayable on low-end builds. 2007's
Crysis
quickly gained recognition for its stunning graphics, graphics Crytek themselves admitted were a good three years ahead of their time. What other company could stake the claim that, yes, if you were playing their game on the highest settings possible the day of release then you really ought not to?
How quickly the cards toppled when
Crysis
's groundbreaking visuals didn't translate into groundbreaking sales. Its hyped sequel,
Crysis 2
, went from most-anticipated to most-reviled in the blink of an eye when the PC community caught wind of Crytek's decision to make it the company's console debut. Longtime players, specifically those that wanted a PC-only future for Crytek, were understandably disheartened by the revelation. Business is business and by that point being PC-exclusive wasn't bringing in the right figures, and not just for Crytek. That compromise, deciding to keep PC gamers in the loop while not alienating the console market, has thus far proven lucrative for them. Despite the PC versions of both
Crysis 2
and
Crysis 3
graphically surpassing their console counterparts by a large margin, PC gamers were and still aren't over the decision to go multi-platform.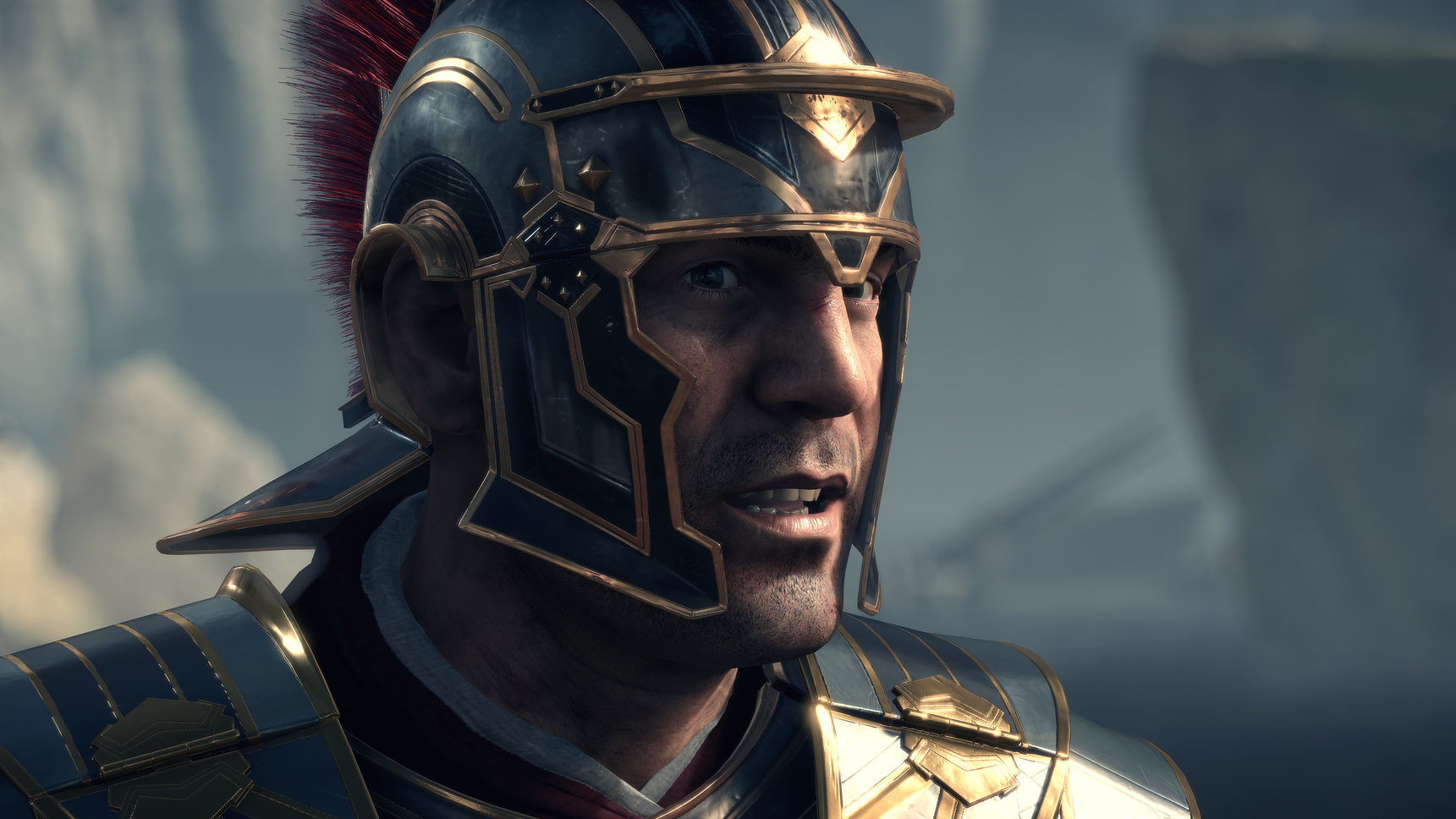 With the recent launch of new consoles from Sony and Microsoft gamers aren't wrong to expect bigger and better graphics the second their system of choice finds its power cord into the nearest electrical outlet. Who better to answer that call than Crytek? These guys have built a reputation on delivering gorgeous high-end visuals for over a decade now and their latest,
Ryse: Son of Rome
, is everything you'd expect from them. Barring CEO Cevat Yerli, whose consistently off-the-cuff, candid, and outright disrespectful remarks do very little for the developer's public image, Crytek are the sort of game developer I love to see succeed. They are continually pushing technology forward, finding new ways to blur the line between game & reality, and making good on their promise to provide players with beautifully immersive game worlds to lose themselves in. The Crytek of 2014 are certainly not the Crytek of 2007, having now fully enveloped themselves in console development and undoubtedly sacrificing a set of loyal customers in the process.
Ryse: Son of Rome
is a very interesting title, more so when you consider all Crytek have done up to this point are first-person shooters. What you've got here is a combination of
God of War
-style hack 'n ' slash, a stylish,
300
-inspired presentation, and a revenge-fuelled story ripped straight from Ridley Scott's
Gladiator
.
Ryse
wants to be a Hollywood sword-and-sandals epic and I'll be damned if it doesn't give it all its got to achieve its ambitions. It's a fascinating concoction for several reasons, the biggest of which being its Greek setting and accompanying mythology.
Ryse
doesn't just borrow the cinematic hacking-and-slashing elements from Sony's famed
God of War
series but also its core concept: a tale of revenge set in ancient Greece. Comparisons should stop there, however, because
Ryse
's take on Greek myths & history couldn't be any more dissimilar to
God of War
from that point onward. Harpies, Gods, demons of the underworld, undead armies, and the brutal slayings of deities isn't what this game advertises.
Ryse
is comparatively grounded, only dabbling in mild fantasy elements when the line between fact and fiction is meant to be ambiguous. Gods are present in the forms of a female Spirit of Summer and a male Spirit of Winter. Do they even exist? Are they a figment of main character Marius Titus's (John Hopkins) fractured psyche? Crytek ain't tellin' and I prefer it that way.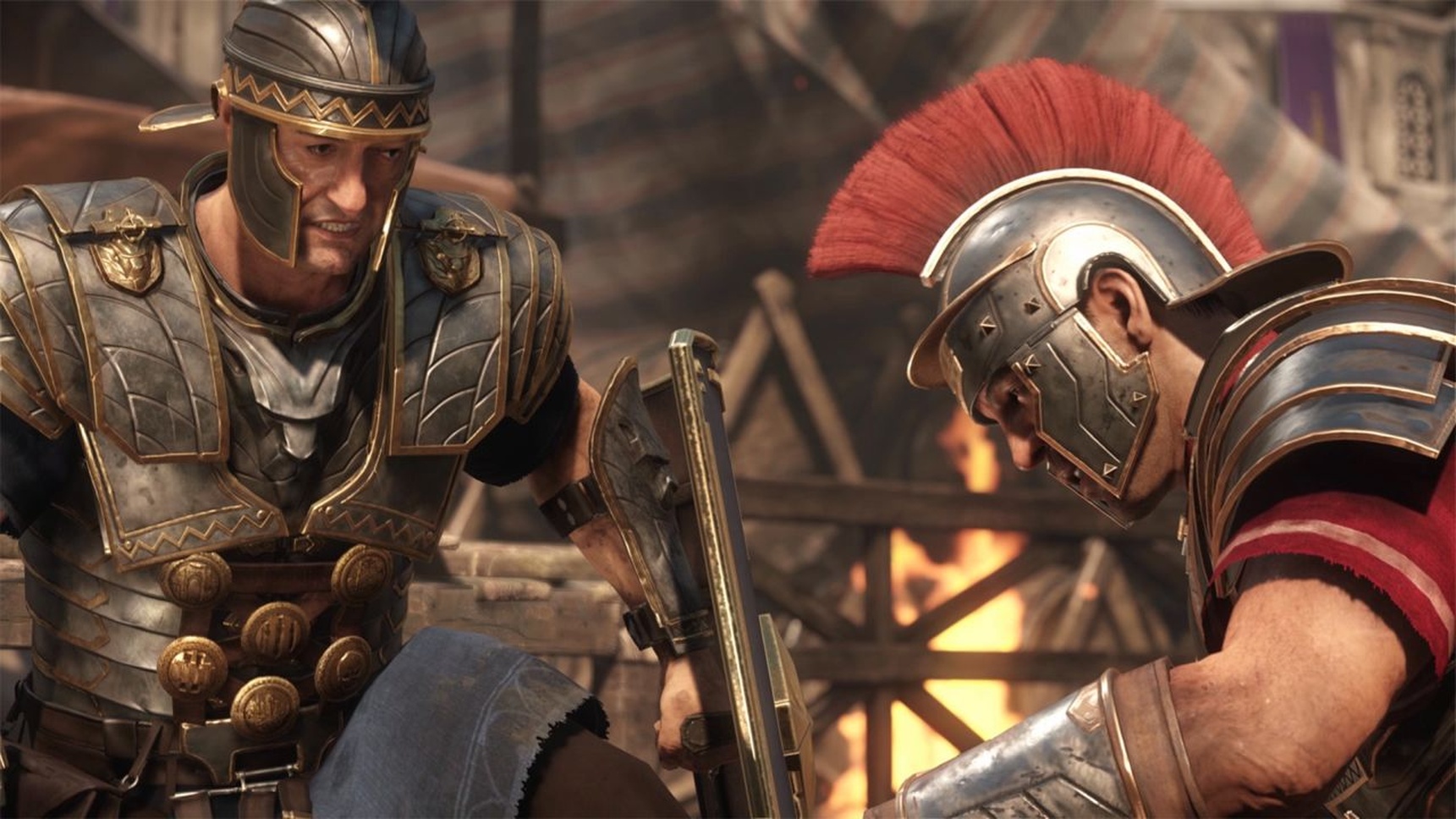 All of the actors involved seemed very game (pardon the pun) and dug into their characters far more than was necessarily required. John Hopkins did a fine job as Marius, likeable & fearsome, and turning up the intensity during the last half of the game admirably. Outside of Hopkins, Tim Treloar as Commander Vitalion and Sebastian Abineri's Emperor Nero are further highlights. Treloar is excellent as Vitalion, a fearless Centurion who quickly befriends & mentors Marius, and Abineri makes the slimy, cowardly Nero a villain worth remembering.
Ryse
's plot makes bold statements about government corruption and the real victims of war. The character of Nero is the classic two-faced politician, unaware and uncaring of how his devious meddling and lust for power is sending the Roman Empire into oblivion.
Unfortunately in
Ryse
's case, if you've played one button-masher then you've played them all. Crytek are masters of visual fidelity but have been criticized over the years for placing more importance on graphics than gameplay.
Ryse
isn't any different in that regard and that revelation comes as something of a shock to me. When this game was originally announced at E3 2011 as a Kinect-only Xbox 360 exclusive I thought to myself, 'Self, that looks mind-numbingly awesome.' If anything at all, if it were to fall short in
any
category, I figured gameplay wouldn't be one of them. As a standard fare beat 'em up attached to the launch of Microsoft's Xbox One console, how ironic then that gameplay suffers most. That's not to say the scenarios Crytek comes up with and the core action of the title is
bad
, just largely unspectacular.
Ryse
has a very intuitive combat system though and that's something it should be praised for. Crytek's game incorporates a sword attack and a shield attack - relegated to the X and Y buttons - along with the prerequisite dodging action by way of the left analog stick and button B. One thing
Ryse
has going for its combat is the option to parry attackers. You can stick to plain ol' dodging if you'd prefer, but the parrying mechanic incorporates some defensive depth in what is an otherwise purely offensive fighting system.
During battle the player, as Marius, will be given the opportunity to dispatch foes with extremely gory kill moves called Executions. After chipping away at an enemy's health you'll see a skull icon appear over their head which you can respond to by pressing RT. That triggers a quick time event where your foe's body will faintly glow yellow or blue, indicating which button should be pressed to continue the animation. The better timed your button presses are the more experience points you'll earn for one of four categories. Each of those four groups has its own Executions and gameplay advantages. I'll hesitantly admit that the graphic Executions were one of
Ryse
's biggest selling points for yours truly, but before long those jaw-dropping kill moves started feeling like exactly what they are; repetitive displays of brutal violence for the sake of shock value. Remember those sequences in
300
where the Romans were laying waste to the Persians in a series of successive attacks where each stab, slash, and impalement was punctuated with a pronounced slo-mo money shot?
Ryse
's Executions are literally
just
like that, and how much you enjoyed those aspects of
300
will determine how much you like or dislike these kill moves.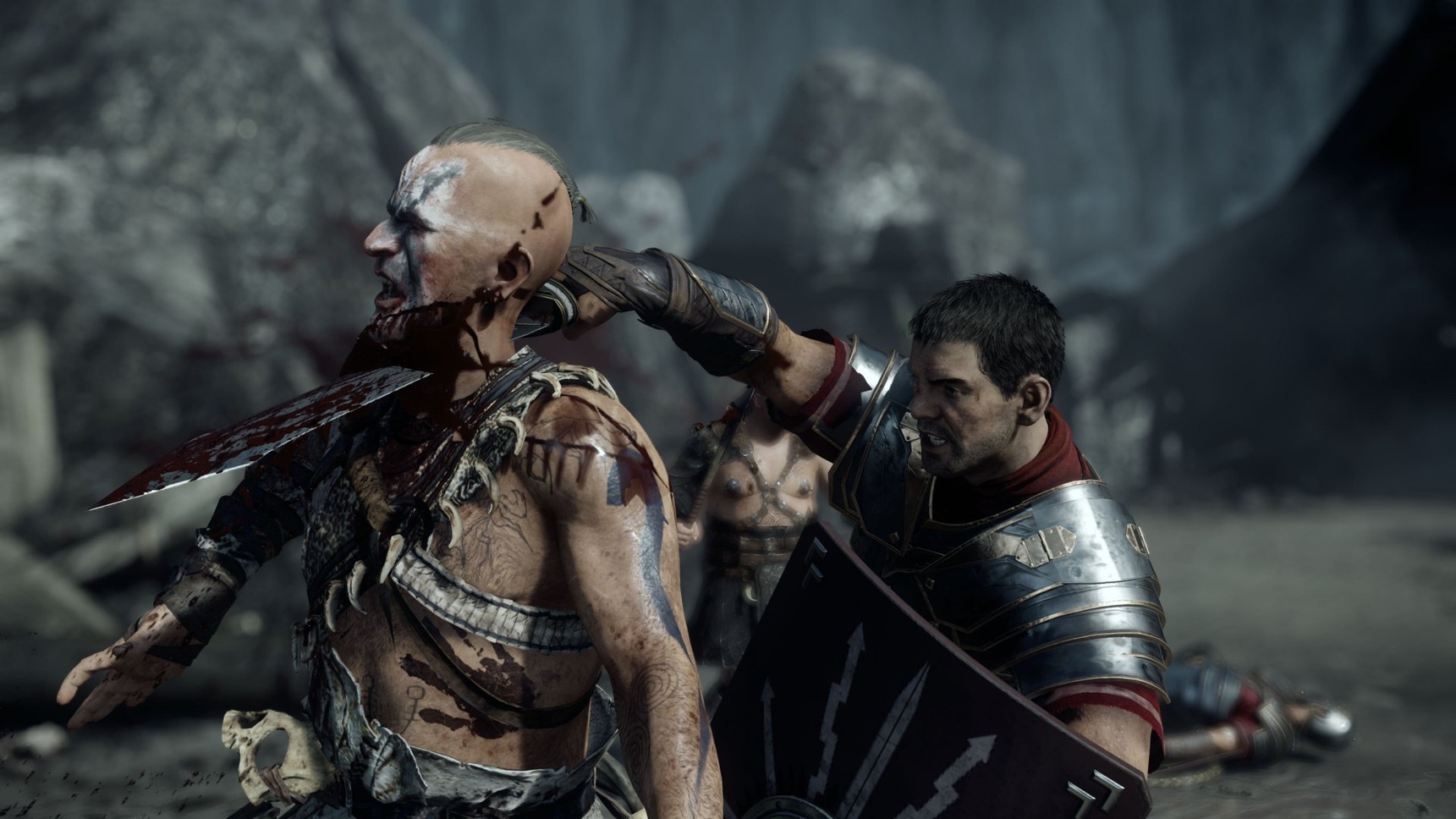 Despite being impressed by the Executions initially, there's only so much of it I could take before I found myself totally desensitized to them. As the game wears on you'll be awarded XP to purchase additional Executions with, which means at the very least you won't be seeing the same moves as frequently as at the game's start. A bulk of the upgraded Executions are context-based such as rear or side-facing as well as granting Marius the ability to take down more than one enemy at a time. These dual Executions are of particular note as they encourage juggling multiple opponents at once, adding a nice strategic element to the mix. Taking on five or more enemies all the while perfectly timing your blocking & parrying, finishing off two simultaneously, and then focusing on the remaining baddies in much the same manner is immensely satisfying.
Eventually you'll be treated to sections where you're required to pick off enemies from a distance using pila, a sort of Roman spear. Varying the gameplay in such ways is appreciated although the end result is a bit of a bore. Throwing pila requires little effort on your part other than deflecting/dodging incoming arrows and charging LT until Marius locks on to a target. Control is never fully given to the player and that's a woefully disappointing decision. Other segments will task Marius with leading a battalion of Roman soldiers down narrow paths where you are to shield yourself from incoming arrows as you slowly progress forward. Again, I'm immediately reminded of a scene from
300
where the Romans group their shields together to protect themselves from a shower of Persian arrows.
Ryse
shares so much in common with
300
that spotting its riffs becomes a game unto itself. That doesn't mean it isn't enjoyable to play through this derivative stuff, it's just that enjoyably derivative is still derivative. It won't take you long to see all the game has to offer, and while the combat is nicely polished and responsive, repetition and a complete lack of complexity eventually tears away at the seams.
What
Ryse
lacks in gameplay it certainly makes up for in graphics. No cross-generation hijinks going on here,
Ryse
was built specifically for the Xbox One console and it shows. From the opening moments of the game with Marius fending off a Barbarian assault during a meeting with his father, Leontius (Nick Brimble), you're met with some of the best looking graphics to date. The power of the CryEngine is no more apparent than in a sequence where Marius and his fellow Legionaries are attacked on their ships. Giant harbor chains designed for the sole purpose of destroying these massive watercraft are raised into position and tear them apart in splendid fashion. What most games last generation relegated to pre-rendered cut scenes
Ryse
presents in real-time. Marius dodging exploding fireballs while a ship sails into the rocks behind him, its flag burning and sending glowing red embers swirling into the air, looks frighteningly lifelike. There are no noticeable transitions from cut scene to gameplay simply because there would be nothing to transition to. Everything you see in
Ryse
- sans a couple of noticeably grainy pre-rendered cut scenes - happens in-engine.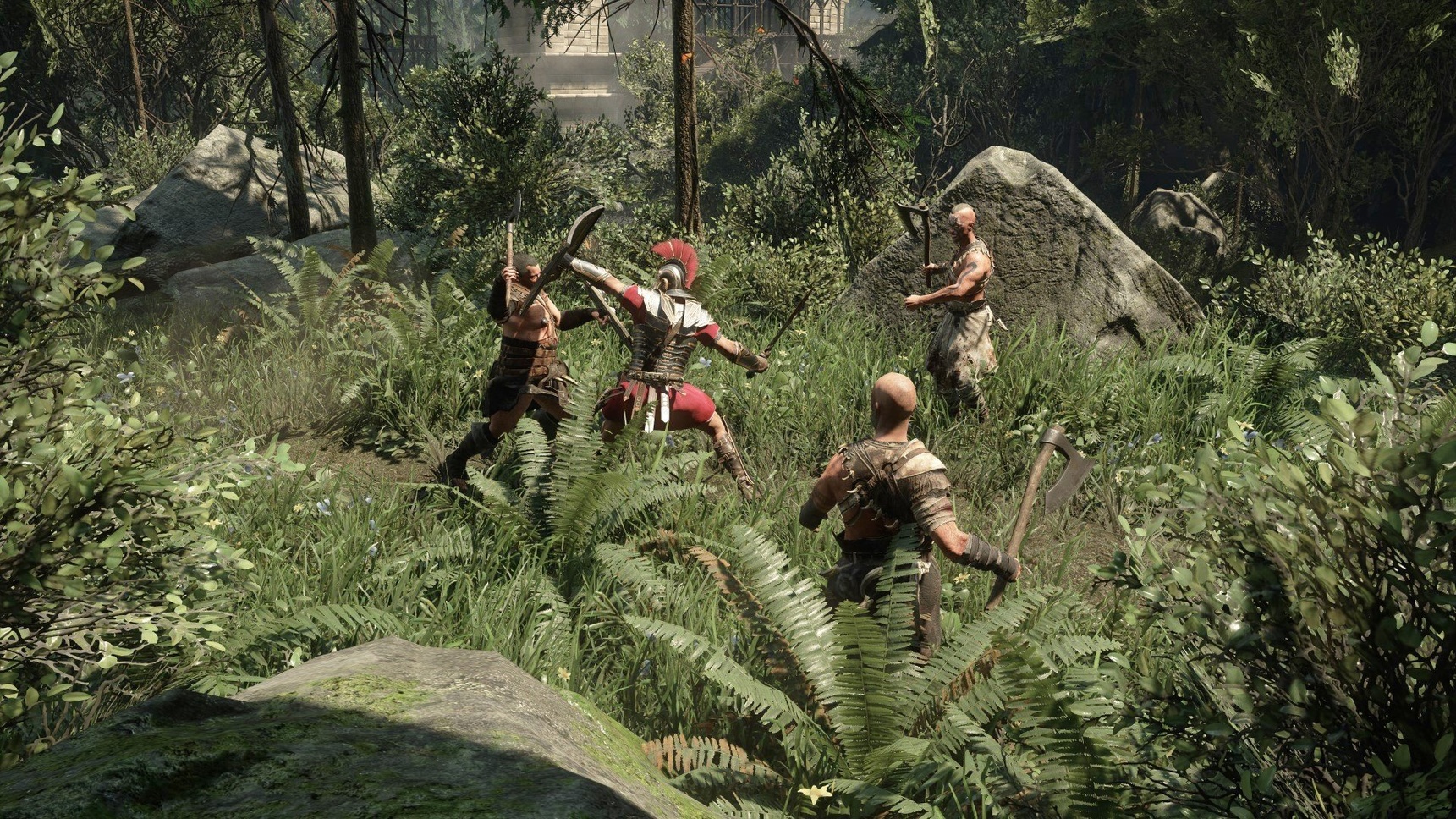 As soon as you think you've hit the precipice of
Ryse
's visual goods, on comes another impressive moment that's guaranteed to leave your jaw hanging around your ankles. Absolutely nothing bad can be said of the game's visual presentation. If there's one aspect that stands head and shoulders above the rest of the game it's the character models. They are some of the most realistic looking, moving, and acting I've seen in a videogame. The environments - namely rendered grass and awe-inspiring water physics - are positively lush. I was taken aback numerous times while playing, losing myself in the surrounding environs as I took note of the photorealistic textures and stunning lighting effects on display. No doubt about it, friends,
Ryse
is the bleeding edge of videogame graphics.
And that's something every last review of this game has in common: none of them have denied
Ryse
's graphical legitimacy. You wanted shiny next-gen graphics and Crytek is more than happy to sate your appetite. Graphics whores have plenty to dig their greedy little mitts into whereas those craving a strongly playable title will probably find themselves checking out of this buffet unsatisfied.
Ryse
is a lot like that pretty girl in high school every guy wanted to date. On the surface she looks fantastic and as far as you can tell she's the best looking chick in town. Someone that pretty couldn't possibly be anything less than perfect, right? You smooth talk your way in, score yourself a date, and after two hours of what you imagined would be the best night of your life... she's fairly unremarkable. Pretty face, great body, great features, and after all is said and done you can't figure out for the life of you why it didn't click. You
should
be head-over-heels for her, but you're just... not.
Ryse
is a lot like that girl. She's perfectly attractive, you have a good time getting to know her, and in the moment you find yourself wanting to spend more time with her. After eight hours of hacking, slashing, and executing ad infinitum with nothing breaking up the monotony except for some mindless spear-chucking here and there you quickly realize why true beauty is only skin deep. I've been playing games like this for years now, most of them much deeper & rewarding than
Ryse
, and no amount of visual sheen or over-the-top gore is going to mask that. If you've never tried your hand at a a hack 'n' slash title before then
Ryse
's decidedly entry-level appeal should do nicely for you.
Ryse
isn't a bad game, though. Seriously impressive from a purely visual standpoint and its gameplay, while simple, is satisfying enough and perfectly refined. A reinvention of the wheel this is not and with some vexing flaws that a veteran studio like Crytek could have easily dealt with prior to release,
Ryse
is a moderately fun diversion that's execution never quite matches its potential.
7/10