When Sly Stallone first announced his idea for the original
Expendables
film - getting all the big '80s and '90s ass-kickers together in the name of nostalgia and blowing shit up - what action enthusiast
didn't
go nuts for it? It sounded so awesome yet so unlikely. What was the probability of getting all of these guys together at the same time, all of them agreeing on the script, and all of them getting along well enough to make it happen? If you grew up on these types of movies then you understand exactly why
The Expendables
' sales pitch was as enticing as it was preposterous.
Stars signed on for the project then signed off, the promising potential cast list dwindled ever lower, and by that point I'd pretty much stopped caring. A pipe dream that wasn't going to happen, I assumed. Backed by Sylvester Stallone's impressive directing chops,
The Expendables
did eventually happen and opened to a solid box office reception the summer of 2010. Every single cast member looked to be having a good time and the novelty of seeing Sly, Dolph Lundgren, Jet Li, Jason Statham, Steve Austin, Arnold Schwarzenegger, Bruce Willis, and Eric Roberts sharing the same screen was nothing short of awesome. The content of the film, however, paled in comparison to its lofty ambitions with Stallone's scattershot script being more or less the main culprit. '80s action was fast, funny, and sometimes subversive.
The Expendables
had a good time with itself occasionally, parting the doom & gloom for witty one-liners and glib funnies, but most of the film was too heavy-handed for its own good. Sly wanted to tell a story about honor & redemption, about doing the right thing when it needed to be done. Plain and simply put it wasn't the time or place for Stallone to tell that tale.
Don't get me wrong, I enjoyed
The Expendables
' brand of fun and excitement, I just wanted more of it. I wanted self-deprecation & outrageousness, not straight-faced brutality and moral grey areas. In steps
The Expendables 2
, and when I say "steps" I mean "blows the fucking doors down." Sly vacates the director's chair this time out, ably replaced by action vet Simon West (
Con Air
). Stallone is a ballsy director; not afraid to experiment and not afraid to explore the ugly side of violence. As such it's best he not direct every script or idea he has, and I'm glad to see that his ego isn't above letting another director take the reins. Depending on how you like your action you're going to feel one of two ways about this movie. Before the opening titles are even underway you've got Hale Caesar (Terry Crews) telling Trench Mauser (Arnold Schwarzenegger) that if he fails to return his AA-12 automatic shotgun to him that his "ass is terminated."
If you think that level of self-reference is totally unnecessary then get ready to hate the dish
The Expendables 2
asks you to muscle down. Even the plot takes a turn for the absurd with Stallone enlisting the likes of Scott Adkins (
Universal Soldier: Day of Reckoning
) and '90s box office king Jean-Claude Van Damme as black market arms dealers. Not enough for you? Adkins puts on his best Russian accent for the part of Hector while Van Damme gleefully chews the scenery as the merciless Vilain. No, no, that's not a typo: Van Damme's character is in fact named Jean Vilain. You know, 'cause he's the villain. Juvenile and low-brow? You bet. Though I'd be lying if I said it didn't get a chuckle out of me. Barney Ross's (Sylvester Stallone) cadre of mercenaries are to retrieve a mysterious case from a downed plane in the Albanian mountains as ordered by the mysterious Mr. Church (Bruce Willis reprising his role from the first) and accompanied by Maggie (Yu Nan), whom Church handpicked himself. One thing inevitably leads to another, the group runs afoul of Vilain, and eventually Ross's team are on the hunt for the stolen case and payback for the death of one of their own.
Simon West starts things off on the right foot with the opening action sequence, featuring our gang of anti-heroes rescuing a Chinese billionaire. It's loud, funny, and bloody as hell. Before you know it you've got Gunnar (Dolph Lundgren) spraying machine gun fire from the side of a steel-encased humvee, yelling "Eat shit" as he mows down bad guys. The action is immaculately staged with the film's R rating doing its job of delivering bloody bullet hits, blown off heads, and shot off limbs. The way West orchestrates the action makes it obvious that he comes from a different era of action filmmaking: easy to follow, well-paced, and with distinctive crescendos. West does everything right. And not just during the film's incredible opening sequence but with all the film's exciting set pieces. Sly's direction in the previous film was a bit muddled and hard to follow, but West has a great handle on setting and where to place the camera for maximum efficiency. In short, he's a vast improvement.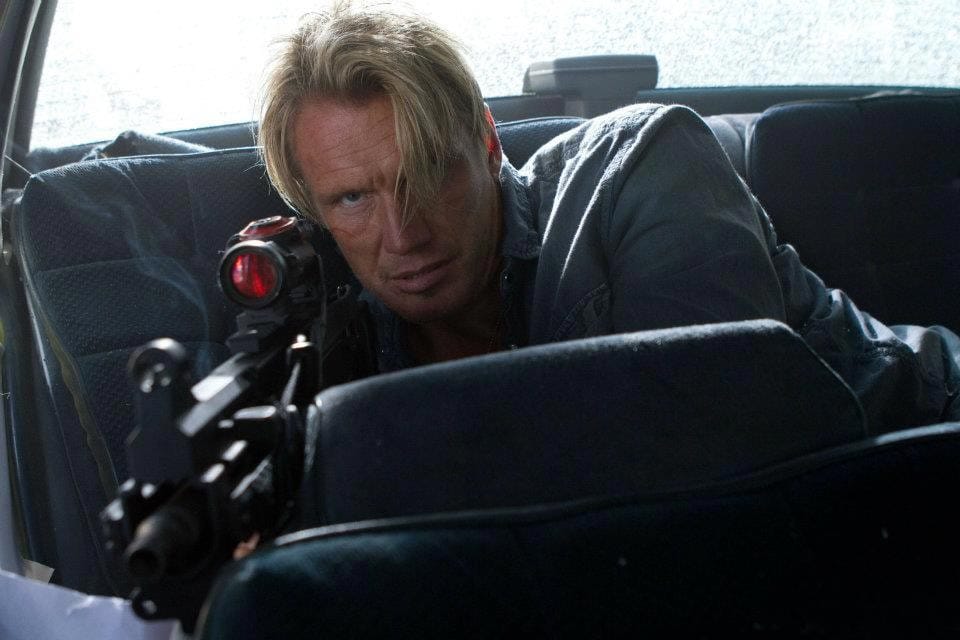 How much you enjoy those sequences depends, of course, on how well you dig raucous, over-the-top action. Not that the first movie was a lesson in Newtonian physics laws, but
The Expendables 2
goes the typical sequel route of making sure everything is bigger and louder. None of what happens in this flick is particularly believable, so if you can check your brain at the door you're going to have a blast with
The Expendables 2
's explode-y goods. The dark tone of the first made it a lot harder to swallow the more outrageous moments because it asked us to take them seriously whereas West's tongue-in-cheek handling of the material means the audience isn't asked to believe the on-screen carnage in
The Expendables 2
any more than the filmmakers do. They're laughing right along with us and that goes a long way towards downplaying the sheer gratuitousness of the stunts & pyrotechnics.
Fans leveled complaints at Stallone and co-star Jason Statham for taking up nearly the entire runtime of the first film, complaints that aren't without merit. Sly and company got the message, it seems, because
The Expendables 2
makes better use of its cast and gives each one of them a stellar scene or two. Ex-UFC fighter Randy Couture (Toll Road) isn't much of an actor and, unlike a majority of the cast, doesn't have a laundry list of roles to his credit. With that said it's not surprising he wasn't given a whole lot to do in the first other than offer humorous anecdotes now and again or pop a couple heads when necessary. He works well as comic relief, as evidenced by the first movie, and he's utilized even more effectively in the second. His exchanges with Hale Caesar are highlights unto themselves.
The Expendables 2
has no shortage of humor, and lucky for us it's far funnier and organic than in the first. A conversation about having one's last meal comes to mind as Caesar asks what everyone's preferred dish would be. Caesar telling Toll his would "Probably be cereal or some shit" and Toll's response, "And what the hell's wrong with cereal?," is priceless. The best lines are often handed to Lundgren's Gunnar, an unstable yet horrifyingly intelligent ex-chemist (no kidding). Lundgren is having a great time with the part and it shows. Blowing his nose with a napkin in which he's written Einstein's Theory of General Relativity on, asking Yin Yang (Jet Li) if he were to leave who else he would have to pick on (and Yang's comeback, "You will find other minority"), attempting to build a makeshift bomb with phosphate rock, and on the list goes. Nearly everything Lundgren does or says is gold. Gunnar was a standout in the first movie and I'm ecstatic that the character gets more screen time in the second.
The one actor I wish had gotten more to do, however, was Jean-Claude Van Damme. He turned what could have been a predictably one-note bad guy into a nasty, detestable, yet strangely charismatic bad guy. Within 60 seconds of our introduction to Vilain, Van Damme outlines him perfectly. We know what he wants, we know how far he'll go to get it, and we see that he finds solace in his cruelty. West wants us to hate him and knows exactly how to achieve the desired result. Despite Vilain's wickedness, Van Damme is having a visibly great time with it. The best performance in the film belongs to him, but there's just not enough time to fully enjoy it. You've likely guessed that Vilain ends up going toe-to-toe with Ross by the end of the film and that a Stallone/Van Damme match up sounds damn satisfying. Again, after an entire hour and a half of build--up, once these two finally go at it, it lasts all of five minutes with Ross dominating Vilain. Anti-climactic isn't
nearly
the proper descriptor. Unsatisfying, disappointing, wasted potential... take your pick.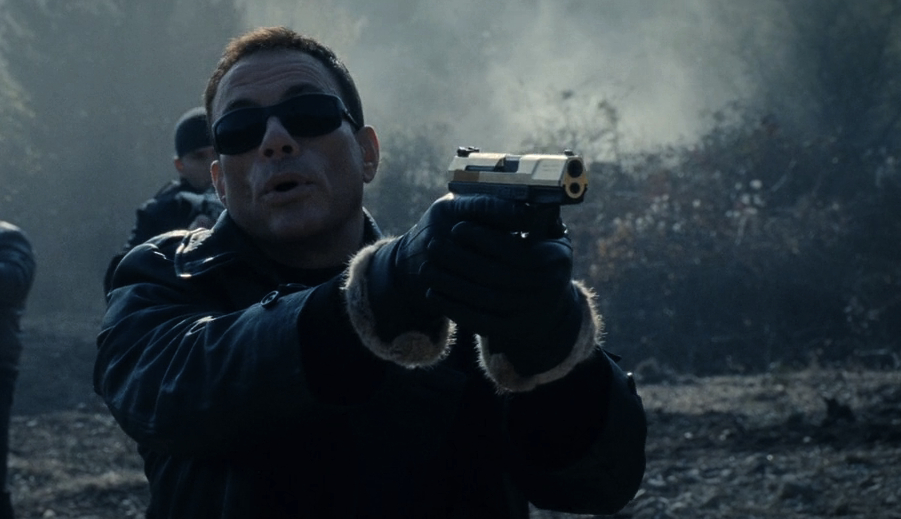 The Expendables 2
's pre-release rounds in early 2012 found Stallone chatting it up with various websites and he eventually let slip that the film was being considered for a PG-13 rating. He tried this song-and-dance with the previous film where he and producer Avi Lerner sat test audiences through both PG-13 and R-rated cuts of it, with the R-rated version obviously winning favor. In the case of
The Expendables 2
it seemed as though Chuck Norris - who gets a brief cameo as Booker, a fellow mercenary - asked the producers to ensure the film was a PG-13 or he would no longer participate. He hadn't, in fact, requested a PG-13 but that the movie's filthy dialogue be toned down. The miscommunication isn't surprising given the interview was conducted by Kazeta, a Polish newspaper. Unsurprisingly there's nary an F-bomb to be heard, but the violence is undeniably R. While most of the harder bloodshed is rendered via CGI, observant folks will make note of many instances where practical blood squibs were used.
It's disappointing that Jet Li is sidelined sans the beginning of the film, that Van Damme's screen time is cut so short, and that the middle portion of the movie feels so leaden. Plot-wise
The Expendables 2
is also pretty inconsequential and it makes sense that the halfway point tries to squeeze in all the story elements. It's boring because, frankly, none us checked into this one for an involving plot. In every other way
The Expendables 2
is a marked improvement over the solid first installment. I don't want to be asked to take this stuff seriously and I love that the film didn't want me to. I wanted to have fun and it served it up in spades. Check your brain at the door and you're guaranteed an explosive hour-and-a-half of machismo-fuelled excess. If you're old enough to remember thinking to your 10-year-old self how awesome it would be to see Stallone, Schwarzenegger, Willis, and Van Damme in one movie together, then
The Expendables 2
was signed, sealed, and delivered with your name on the postage.
9/10