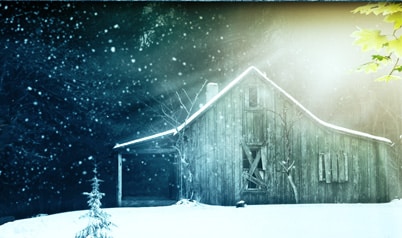 After his young daughter is abducted and presumed killed by a serial killer, a father sinks deep into a private world of melancholic suffering. That he couldn't understand why such a fate should befall his innocent child, devoid of all rational explanations, blames God and turns his back on Him.
     Years later, a message arrives. It's from God. And He is pointing him in the direction of a rundown shack--the place his daughter was killed. And God would be waiting for him. A once-in-a-lifetime personal meet-up with the Almighty and time for some spiritual healing.
     The rendezvous with God isn't enough, though, the father also meets the rest of the Holy Trinity: Jesus and the Holy Ghost as he is whisked to a place, a Heaven on earth paradise and there in an instant, his faith is restored. Who wouldn't? In the course of his stay with the celestial beings, here, taking the forms of ordinary people and displaying a passion for life, even doing simple chores were all meant to impress the father as his many questions are answered, albeit too poetic.
     "The Shack" is a story that overwhelms and inspires---that is, if you're a devout Christian in need of an inspiring story and believes in the power of miracles. God, Jesus and the Holy Spirit are portrayed here as all-knowing and all-benevolent, and have the answers for everything. And you'd be a fool not to get carried away. The character in the story and YOU—the reader.        
     Sadly, the story overflows with an excess of spiritualism, that's all too one-sided. The fact that the poor guy is sadly manipulated, his thinking bent, and even forced to forgive his child's killer, much with the help of a Fourth of July fireworks display. And all these, while God talks about free will.
     But William P. Young's intentions are good, his formula effective: many dose of hearty laughter and emotional one-on-one's, the story is movie-ready for consumption.
3/10