Shovel Knight
might be one of the best [modern] old-school platformers ever made.
It's not just old school in terms of how it plays, bit also in how it looks and sounds. It takes its cues from the color palette of the days of the NES (with the addition of the SNES era effect of Parallax Scrolling). It also makes use of a soundtrack that wouldn't be out of place on any NES game.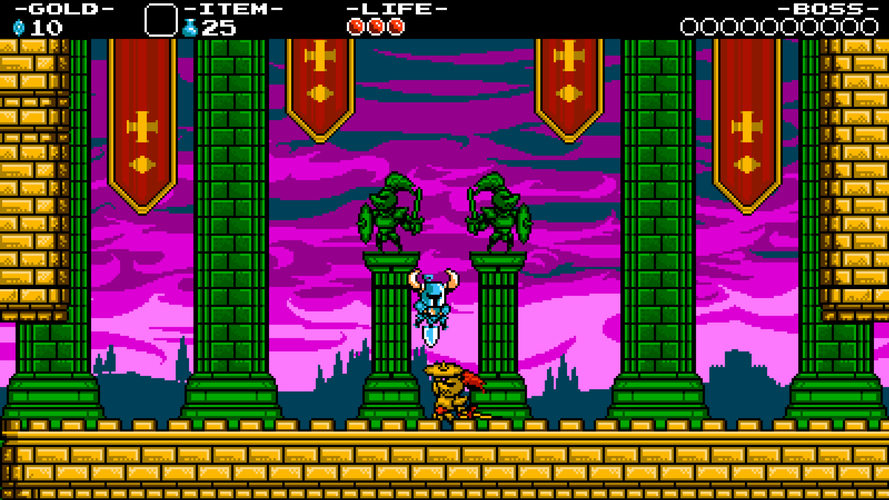 This game has an almost perfect difficulty curve, requiring ever greater precision the further along you progress. I didn't notice any significant difficulty spikes, which speaks to the care that was taken with every single level and boss. Though this game isn't easy by any stretch of the imagination, it never gets to
Volgarr the Viking
levels of difficulty either.
Part of the reason why this game isn't as challenging as it could be is that there is a fairly generous checkpoint system. However, you do have a risk/reward option to keep the checkpoint intact, or destroy it to gain extra treasure. Why would you want this extra chance at treasure? Well, there is an upgrade system that requires you to acquire greater and greater riches to upgrade the Shovel Knight's shovel, armor, health, and magic, with additional subweapons becoming available for purchase frequently.
Shovel Knight
incorporates the
Dark Souls
idea of dropping money when you die and then giving you the opportunity to reclaim that money by making it back to the point of your death. If you can't do that in one try, then that money is gone forever.
There are new enemies in each level of the game, ensuring that the game never feels repetitive. Each boss has a unique theme to go along with their respective level, much in the same way that the
Mega Man
games had unique bosses for each level.
Most importantly (to me, at least) there is an actual STORY. Now, it might not be exactly riveting, but it's definitely something that I wanted to see through to the end, which is certainly more than I can say about most platformer games. The titular Shovel Knight is on a quest to reunite with his partner, Shield Knight, who was separated from him during an adventure to the Tower of Fate. Standing in his way is the Order of No Quarter, led by the wicked Enchantress. Maybe this isn't blowing your socks off yet, but there is always a back-and-forth dialogue with the bosses whenever our hero encounters them, and that really helps flesh out the story of this quest. One other nice little touch I appreciated was how each of the townsfolk could be talked to, similar to
The Adventure of Link
.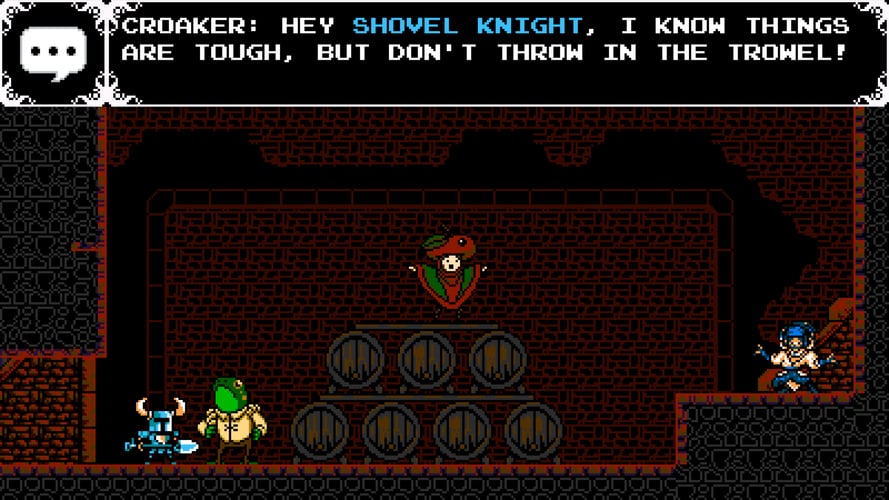 This indie gem can stand proudly next to the best AAA developed games of this generation, proving that you don't need to have the most impressive graphics to have an impressive game. All you need to do is have incredibly solid gameplay and a good story. This is easily one of the best games released this year, and should not be missed by anyone.
9/10